In the early '90s, Matt LaChappa seemed destined for greatness. He was a towering presence on the mound, a hard-throwing lefty with a knee-buckling curveball and an even better pick-off move.
So when Matt LaChappa graduated from high school in 1993, it was little surprise that the San Diego Padres selected him in the second round of the Major League draft. (The first player selected that year was Alex Rodriguez).
LaChappa was fast becoming a rising star in the Padres minor league organization, when, on one evening in 1996, something went horribly wrong. As he was warming up to enter the game from the bullpen, he suffered a massive heart attack, the first of two he would endure that night.
A virus had formed around his heart: A condition that would have been missed by a standard physical, which LaChappa routinely had. One only detectable, it turns out, by advanced hospital machinery.
He was lucky to have survived at all, but his dreams of making it to the Major Leagues would forever be put on hold.
"He had so much potential and for his potential to be cut so short at a young age, is heartbreaking," says his brother, Eagle LaChappa.
But what happened next was completely unexpected — a direct result of one woman's unwavering compassion and desire to "do the right thing."
Priscilla Oppenheimer was the director of Minor League operations for the Padres for over 15 years. In that role, she was a drill sergeant, confidant and den mother to the minor leaguers who passed through the organization. She bonded with LaChappa while he was a player and grieved with his family after his incident.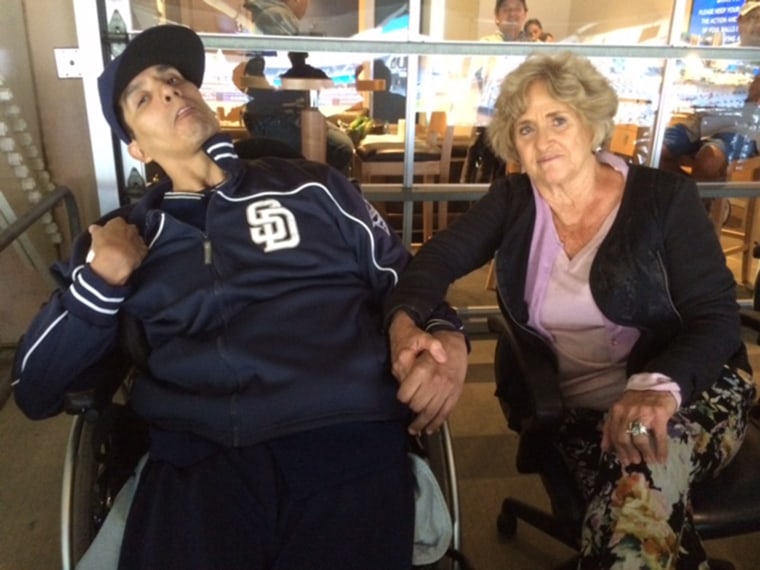 "He had amazing character, good makeup, he had it all," said Oppenheimer. "To have everything wiped away so fast, it was like, oh my God, why did this happen?"
Oppenheimer was determined to make things right, and decided soon after LaChappa's career-ending episode, to resign him the following season to his existing minor league contract.
"Every year I would just give him a new contract, it was for a minimum amount of salary, but it was the insurance that really helped, especially since he needed 24 hour care."
Twenty years later, Matt LaChappa is still a Padre, still signed to that same minor league deal that Oppenheimer drew up all those years ago.
Today, LaChappa is confined mostly to a wheelchair and has difficulty moving or speaking. But he still has his trademark smile, and on a recent visit to Petco Park to watch the Padres take on the Arizona Diamondbacks, it was beaming brighter than ever.
Padres Assistant General Manager Fred Uhlman Jr. was one of the many Padres who greeted LaChappa on the field prior to the game.
"I think it's good for our players and our staff to understand Matt and his story and what he's gone through," said Uhlman Jr. "I know they're always happy when he's here at the park."
For Oppenheimer, also on hand, it was a bittersweet moment.
"You think about the career he could have had, and what might have been," she said. "But I'm so very happy the Padres have continued to honor his contract this many years later. It just shows what a classy organization the Padres are."