ATLANTA — When Jane Little first saw the double bass in her teens, she was horrified.
"I thought now why would any girl want to play that big thing," she said.
But the double bass is the instrument that a skeptical Little ended up mastering, playing with the Atlanta Symphony Orchestra for an astounding 71 consecutive seasons — a feat that landed her in the Guinness World Records as the world's longest-serving symphony musician.
The double bass is the orchestra's largest and lowest instrument. Wrapping your hands around it requires a great degree of physical strength — something that at 87 years old and 4 feet, 11 inches, Little does with ease.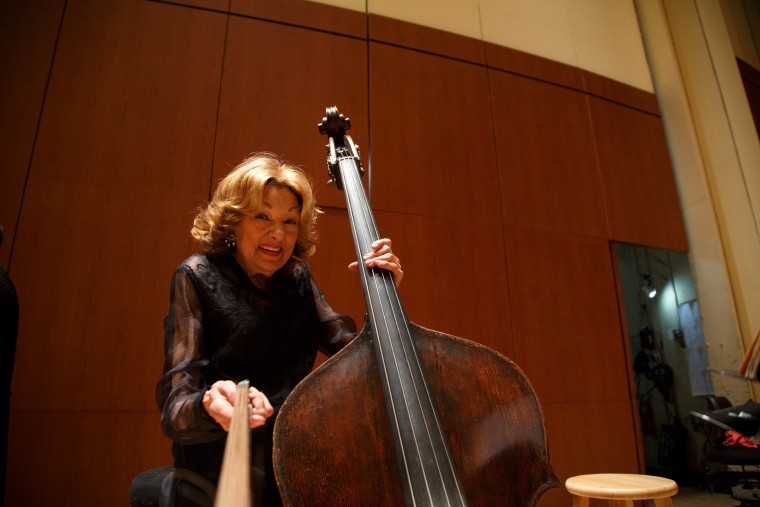 "That's why you see mostly men playing the bass," she said.
But that wasn't the case when Little joined her first major orchestra in the 1940s — the Atlanta Youth Symphony — which consisted of an all-girl bass section.
"That was probably the only all-girl bass section in the world," she recalled.
By 1945, that orchestra transitioned into the Atlanta Symphony Orchestra, where for many years she was the only female musician in its fold. But it was also where she met Warren Little, the orchestra's principal flute player, who would become her husband of 49 years until his death in 2002.
The couple didn't have children. In the orchestra, where they were known as the Littles, they were inseparable.
"He would carry my bass and I would carry his flute," she said. "If people saw me carrying my bass around to rehearsal, they'd say, 'Well the Littles aren't getting along today because she's carrying her bass.'"
For Jane Little, keeping her musicianship up for so many years hasn't always been easy. She suffers from multiple myeloma, a form of cancer, and only just returned to the orchestra in February after suffering a fall late last year.
"I want to get my bass guitar and start a band called The Grannies."
But coming back was well worth it, especially when well-famed choral conductor Robert Shaw took the helm of the orchestra.
Shortly after Shaw became the Atlanta Symphony's new music director, he re-auditioned every single member of the orchestra, including Little.
"That year, I told my family Christmas is gonna have to be on hold," she said. "But when I went in, (Shaw) couldn't have been more gracious and I played better than I probably ever did in my life."
Little has traveled the world with the symphony and her husband before his death, fondly recalling a concert in East Berlin where audience members filed into the hall one by one.
"That was perhaps one of the best audiences I've ever had in my life," she said.
Now her eyes are set on retirement, and even ponders putting the bass aside for a new venture — albeit one that would still employ her talent to make instrument strings sing.
"I want to get my bass guitar," she said, "and start a band called The Grannies."