Olympic National Park is typically one of the wettest places in America, with 10 feet of rainfall a year, but this summer it's the site of a wildfire that has been burning for weeks.
So it goes in Washington state and in neighboring Oregon, where hot, dry conditions have already spawned more blazes this year than last summer and where experts are bracing for the situation to get even worse.
Twenty-one fires are burning this week in the state, and officials say they're breaking out earlier than usual. On top of that, the western part of the state was blanketed with smoke this week from more than 100 fires in Saskatchewan, Canada.
"It's a very abnormal, unusual year," said Peter Goldmark, the public lands commissioner for Washington. "And we're already seeing fire behavior unlike we've seen for a long time."
Meteorologists say a stubborn ridge of high pressure hanging over the region since the spring has blocked cooler weather. The July 4 weekend was the hottest on record in western Washington, and the record for consecutive 90-plus days was just tied.
"We typically see those hot and dry conditions later on but we're getting them right now which is not a good thing," said Mary Lee, the meteorologist for NBC affiliate KING5.
"Because of that we are talking about an incredibly high fire danger."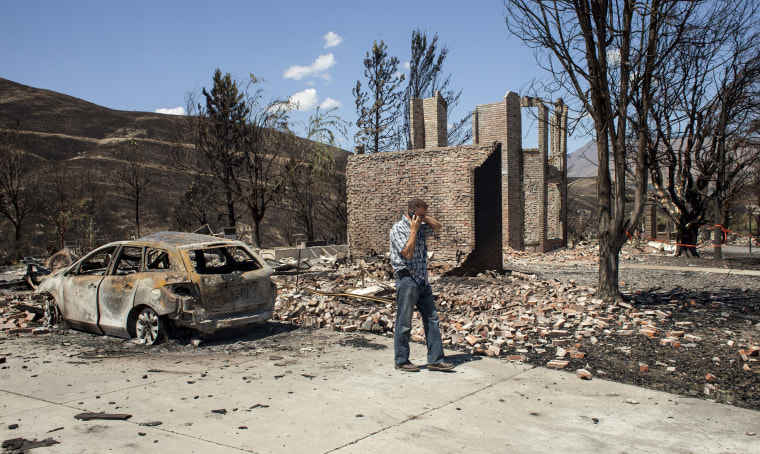 In response, Washington has banned outdoor fires on state land until Sept. 30 and issued an emergency order that will make it easier to call in the National Guard if things get too bad.
"Unfortunately, I think one of the bylines for what the weather's doing these days is to expect the unexpected," Goldmark said.
In Forks, Washington, on the outskirts of the Hoh Rain Forest, the 3,500 residents go to bed not knowing what to expect.
"All we can do is pray every day and hope that when you wake up in the morning, you've gotten thru the night OK," Mayor Bryon Monohon said.
The city averages 10 feet of rain a year, but it's so parched this summer that the July 4 fireworks show was canceled.
And in Wenatchee, a monster fire destroyed nearly 30 homes last week, about half of them on the same block.
Scott Marboe lost his home of 16 years.
"It was a firestorm," he said. "I mean, that's what Mother Nature does."
He grabbed some computer equipment and pictures, but so much was left behind to be consumed by the flames.
"You think you have a plan and when it comes time to go, you you think you grabbed everything — but you didn't grab everything," Marboe said.
"It was an awesome house. It had a lot of our personal touches to it and it's where I raised my family," he said. "it meant a lot to us, but hey — you can't take away memories, right?"