The British edition of Elle Magazine made headlines last week when the publication released a 45-second video on its website that starkly depicted the under-representation of women in positions of power globally.
The message: it's lonely at the top for women.
The video's title, "More Women," has spawned a Twitter hashtag, which the magazine says has been seen more than 8 million times.
In the video, men are scrubbed out of pictures of various gatherings of world leaders to show the lack of women in influential positions.
Among the highlights: A photo where Lena Dunham stands alone as the only woman in an SNL skit; one where Queen Elizabeth is shown alongside German Chancellor Angela Merkel, Argentine President Cristina Fernandez de Kirchner and several empty seats at the 2009 G-20 summit in London; and another of then Secretary of State Hillary Clinton sitting alone in the infamous May 2011 photo taken in the White House situation room on the night that Osama bin Laden was killed.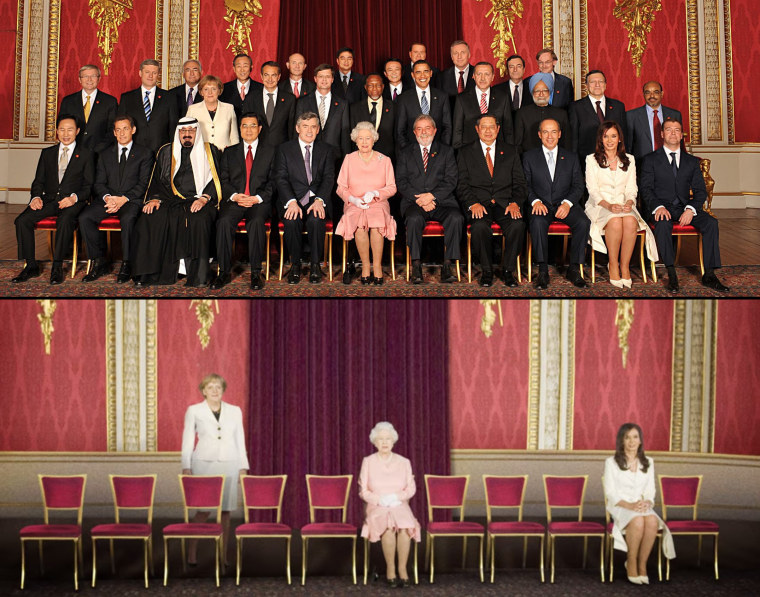 ELLE UK's Editor-in-Chief Lorraine Candy called the photos both powerful and jarring.
Candy told NBC News that the magazine got the idea for the video from young women on social media who praised its coverage of actress Emma Watson's speech at the United Nations in September 2014, where she harshly condemned gender inequality.
"There's a huge gender gap all around the world in places of power where women are needed," said Candy. "And we felt that the only way to highlight that was something [video] that's shareable and global and resonates."
The magazine says that, in just over a week, the campaign ignited fierce debate online and inspired hundreds of women to support the movement by sending in photos of significant women in their lives.
"Social media gives young women an access point," said Candy. "It gives them a voice from their homes to the rest of the world and it means that they can be listened to globally by other young women and work as one force."