CHENGDU, China — Good news on rising panda numbers in the wild has been tempered by the outbreak of a deadly panda virus, which has triggered an emergency meeting of experts in Beijing this week to discuss urgent measures to contain it.
The positive news has come from the results of a panda census by government researchers, who found that numbers are up by a sixth over the last decade.
"The survey is very encouraging," said Zhang Zhihe, the director of the Chengdu Panda Base breeding center, which is currently home to about a hundred of the iconic animals. But "the virus is a big problem for the captive panda population," he said.
Researchers spent three years counting endangered pandas, covering nearly 12 million acres of mountainous forest. They followed tracks and panda droppings and studied evidence from camera traps before concluding that 1,864 remain in the wild.
The survey also found that the area in which pandas live has increased by 11.8 percent, including 27 new reserves that were created in the past decade. Zhang Hemin, the director of the China Panda Conservation Research Centre, the country's biggest captive breeding facility, credits greater efforts at protecting habitats and also a much stronger public awareness of conservation.
"People are much more willing to pay attention to conservation," he said. "Everybody now realizes that pandas are vital and worth protecting."
But the survey also warned that while panda habitat areas have grown, they have become more fragmented, largely as result of rapid economic development — such as roads and hydro-electric dams — which present the biggest challenge in the years ahead.
The breeding centers are now home to a record 375 captive pandas. Some 23 cubs were born last year in captivity, including what are believed to the world's only surviving triplets.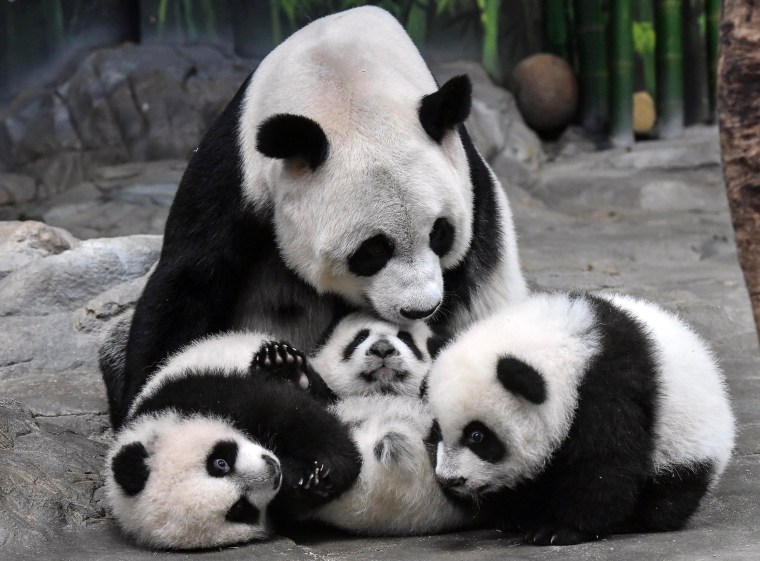 The research centers are now looking at ways of re-introducing captive pandas into the wild in order to bolster isolated populations. But Zhang Zhihe warns that that will need to be done cautiously — in what he calls a "step-by-step, slowly, slowly" approach.
The Bifengxia Panda Base in Sichuan Province provides ample evidence of the success of China's breeding program. Bifengxia is Mandarin for Green Peak Canyon, and the sprawling facility sits high on a mountainside, which at this time of year is shrouded in mist. The cold and damp conditions seem to penetrate the thickest of coats, but that hasn't deterred a steady stream of young volunteers from around the world, who pay around $50 dollars a day to feed the pandas and clean their cages.
"Everybody now realizes that pandas are vital and worth protecting."
Bifengxia has China's biggest panda nursery — 18 cubs ranging in age from 1 to 1-1/2, which is part of the attraction. And although the virus, measles-like and known as canine distemper, has not reached this area, they are taking no chances, limiting the volunteer program and tightening sterilization procedures. Across the country, panda facilities are introducing physical check-ups of staff who have pets at home. The virus is also deadly to cats and dogs.
The virus, so far, has killed four pandas and sickened another four in a facility in Shanxi Province in northwest China. Twenty-one have been sent to other parts of the country as a safety precaution. There is no vaccine immediately available.
"It's the biggest threat right now to the panda population," said James Ayala, an animal behaviorist from New York, who is currently working at the Chengdu Panda Base. He says the virus could be devastating if it were to break out into the wild population.
This week's panda summit will bring together experts from around the country. The virus is providing a stark reminder that giant pandas remain vulnerable, even while the result of the census has bolstered confidence that possibly China's most beloved animal might at last have turned a corner.