BOSTON — At first glance, the Daily Table looks just like any small grocery store. But a closer scan of prices can trigger double-takes — 29 cents a pound for bananas, a buck more for a dozen eggs, far cheaper than the national average.
Daily Table is a new nonprofit experiment bringing a "wow" factor to the working-class Dorchester neighborhood. A clean, well-lit 3,500-square-feet space offering fresh, healthy food — no chips or sodas on these shelves. It's also food that might otherwise rot in a landfill if not for founder Doug Rauch, former longtime president of Trader Joe's who spent years studying a retail concept that could bridge two pressing issues: food waste and hunger.
Nearly a third of America's annual food supply — 133 billion pounds — goes uneaten. The U.S. Department of Agriculture estimates that a family of four wastes closer to $1,500. Meanwhile, one in six people around the country struggle to find food.
For Rauch, the solution to that combination was obvious, if difficult to tackle.
"The one thing that really struck me is the fact that 49 million Americans are struggling to eat well, and because of that we are suffering from major health issues," Rauch said. "And so when you are economically challenged, you end up not being able to afford the things that you should be eating, and as a result you eat the things that lead to increases in diabetes, heart disease, obesity, etc."
Rauch and his team at Daily Table intercept food that is deemed beyond its prime — often nearing its freshness expiration date — and extends its life by pricing for quick sale or directing the staff's classically trained chef to prepare ready-to-eat dishes, which account for roughly half the store's sales in its first month in business.
It didn't take long to attract a loyal customer base.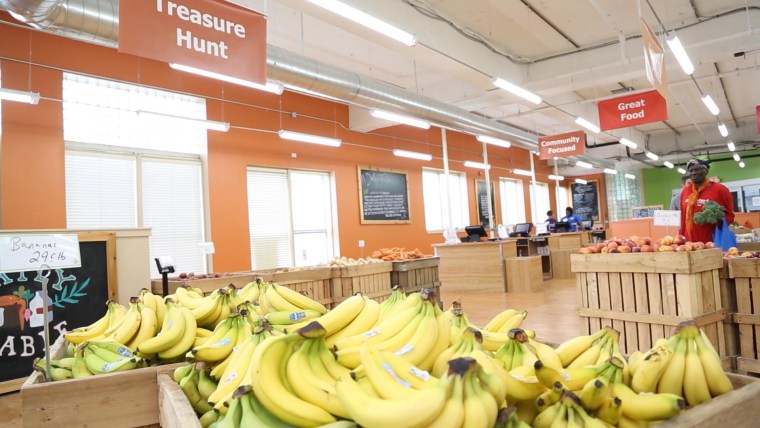 "I was just saying, 'Wow, this is nice,' you know, 'cause everything looks so clean," said Mona Lisa Pleasant, who shopped recently with Alcora Dumas. "Pure. Fresh. And that's inviting. You see a lot of great prices. A dozen eggs for $1.29. Who does that?"
"I kept saying, 'Is there a dollar missing?'" Dumas added. "'Is there a '1' missing?' I couldn't believe the prices. I mean, wow. We kept looking for another price."
Rauch said the ultimate goal for Daily Table is to help low-income families realize the benefits of choosing fresh food instead of junk food, which he classifies as empty, cheap calories.
"The other day we had blackberries that were 99 cents for a tub of blackberries. Beautiful blackberries," Rauch said. "And a lady came in and said, 'I've never been able to afford blackberries in my life. I'm going to splurge.' Bought two or three of them.
"We've got cereal for 79 cents. Tuna for 50 cents a can. These are all items that can be staples that they're utilizing to build a healthier diet. So that's really encouraging."
And Rauch is encouraged by Daily Table's early success. The organization is looking to expand to other Boston neighborhoods to determine if the concept can work on a larger scale.