When veteran Jason Kander pulls up to the Veterans Community Project office, he feels right at home.
"There's a real sense of community here," he told NBC News.
Kander served in Afghanistan as an army intelligence officer and then went into politics, serving as Missouri's secretary of state and a member of the Missouri House of Representatives. But he made headlines last fall when he dropped out of the Kansas City mayoral race to get help for PTSD. Today, while continuing his own treatment, he's working with VCP to expand their program to cities across the country. VCP, based in Kansas City, is as a veteran outreach center, offering a "one-stop-shop for every type of veteran facing every type of problem."
"This is not just a Kansas City problem," Kander said. "They've really accomplished their mission in large part in Kansas City. I just want to see that happen for the rest of the country."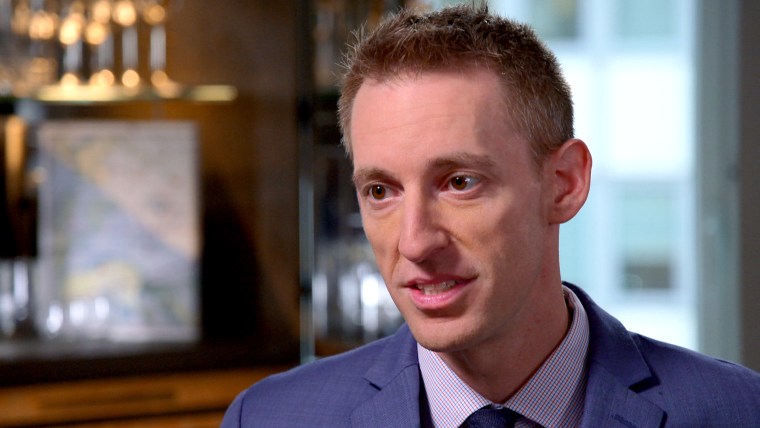 Kander's mission is to make sure mental health treatment is accessible. Kander assessed enemy threats during his four-month tour and suffered from depression and anxiety when he returned home. He says he had violent nightmares and went almost 12 years without a good night's sleep. In an exclusive interview with NBC's Lester Holt, Kander said mental health treatment changed his life.
"My mission here is for people to see that post-traumatic growth is a real thing, it's worth it to get treatment," Kander told NBC News. "It's been really worth it for me."
One of his first calls was to VCP, the project helped him maneuver who to call and how he could get help.
"I walked through these doors just like the thousands of other vets in Kansas City who Veterans Community Project has looked after and helped out," said Kander. "And they took care of me. They made sure that I could navigate that system. They helped me do it and they made sure that I got the mental health treatment that I needed at the VA."
Veterans Brandonn Mixon, Bryan Meyer and Mark Solomon started the organization in 2015 and say they don't turn away any veteran looking for help.
"When a vet is ready for help you have to be able to turn quickly and then be ready to help them," said Solomon. "And that's not where you want the hoops and the barricades, right? So that's where we just said, 'let's go make this happen.'"
VCP is also working to tackle veteran homelessness. According to the U.S. Department of Housing and Urban Development, 37,828 veterans are homeless on any given night. VCP is aiming to change that number.
"We're not just ending veteran homelessness in Kansas City," said Mixon. "Our end goal is to end veteran homelessness nationwide."
The men have built more than two dozen tiny houses - forming a military community for veterans. Meant to be temporary, having a place to sleep eases the burden for veterans who are looking for work and permanent homes. They're also designed in a way that creates a safe space for veterans returning home.
"These houses are designed to make somebody feel comfortable," said Meyer. "So the bed faces the door. There's windows only on one side… you can always see who's walking up to you."
The houses have proved to be a success, helping form a community that veterans can call home.