The former tennis pro who was shoved to the ground and arrested in a case of mistaken identity was embarrassed by the incident — and said he hopes the police officer involved never gets his badge back.
"It's really infuriating to know that I was in such a vulnerable position, and I was taken advantage of by someone that wears the NYPD badge, and in my opinion tarnishes that badge," said James Blake, who was tackled and handcuffed near Grand Central in Manhattan on Wednesday while waiting for a car to the U.S. Open.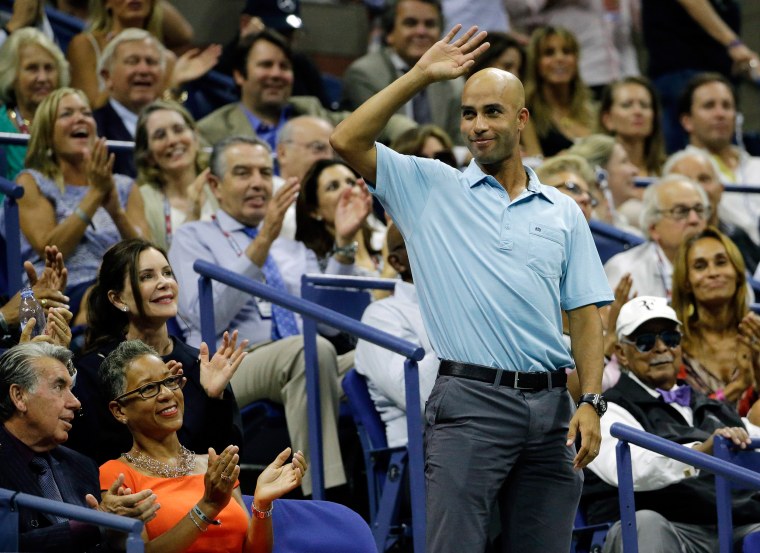 Blake, who retired from tennis in 2013 and was once ranked among the top 10 professional tennis players in the world, told NBC News he had no idea what was happening when the plainclothes officer lunged at him outside the Grand Hyatt New York Hotel.
RELATED: Former Tennis Star James Blake Calls for Police Change After Mistaken Arrest
"My initial reaction being naïve, I guess, is this is probably a fan or someone just having fun and giving me a big hug, someone I don't recognize from high school," he said. "About three seconds later, I realized it wasn't someone giving me a friendly hug, that's for sure."
The undercover officer, James Frascatore, had been working with a courier to catch suspects in a fraudulent online credit card ring, authorities told NBC New York. The courier misidentified Blake to Frascatore as a suspect.
The officer has been placed on modified duty and stripped of his gun and badge pending an investigation.
Blake, 35, told NBC News he was terrified, and showed his U.S. Open credentials to Frascatore after the officer "took me down pretty hard" by kneeing him in the back.
RELATED: Video Shows NYPD Cop Tackle Former Tennis Star James Blake
"Physically, I'm OK. The emotional scars are going to take a little more time to heal, because I was embarrassed," he said. "I was embarrassed to be handcuffed, in the middle of the day, on 42nd Street."
The encounter was caught on surveillance video and has prompted personal apologies to Blake from New York Mayor Bill de Blasio and the city's police commissioner, Bill Bratton. But Blake doesn't feel that that's enough.
"I still don't think the person they were looking for deserved to be treated the way I was treated."
"It was completely unnecessary, whether I was a criminal or not," he said. "I still don't think the person they were looking for deserved to be treated the way I was treated. So that is the bigger issue right now, correcting that kind of behavior."
Blake said he has hired an attorney and is considering legal action.
"I'm lucky to be in the position I'm in to get a phone call myself from Mayor DeBlasio to say I'm sorry, that's really nice," he said. "But I've also spoken to a lot of people these past few days who have a had similar situations happen to them, got emails from people saying it's happened to them, their brother, their father, their sister — and those are the people that deserve to get apologized to."