On a practice field in the shadow of Utah's tranquil mountains, ponytails dangling from helmets may be the only giveaway that this isn't your father's football game.
This is the country's first known tackle football league for fifth- and sixth-grade girls.
"I don't know, it just gives me a rush, I guess," said quarterback Maddy Bracken, 12, "Hearing the pads, like, click makes me smile, I guess."
Twelve-year-old Sam Gordon, a 4-foot-6 running back who made headlines as a gridiron girl a few years back, helped get it started.
Three years ago, after her highlight reel went viral, Sam graced the front of a Wheaties box.
The video showed Sam breaking tackles and scoring touchdowns in a full-contact league for boys.
But she knew that didn't appeal to every girl. So they created a league of their own, with room for 50 players on a total of four teams.
All the spots filled up in just three days — "That tells me that a lot of girls wanted to play tackle football," Sam said.
Those spots went to girls like Jonna Tucker. A couple years ago she documented her dreams, in a letter: "When I'm 30 years old, I want to be the first female NFL player," she wrote.
So you can imagine her excitement when she heard about the league. "My mom, she got the email at 6:30 and had me signed up at 6:35 'cause she knows how much I wanted to play."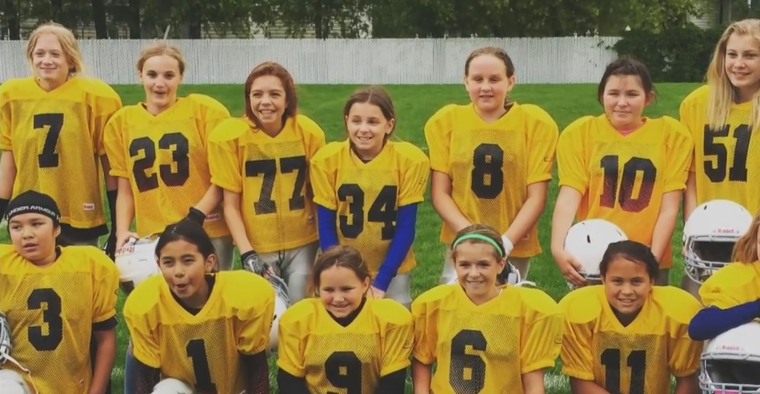 Tessie Mae Arce coaches the White Hawks. "Just being able to see them know that, hey, it's OK to hit, it's OK!" she said. "You can be a girl off the field, but on the field, you're a football player, so I need you to be aggressive."
Yet, this new program comes at a time of heightened concern over concussions. But the adults who run the league say all its coaches are certified to teach safer tackling and blocking techniques.
"And they know all the safety protocols that they need to implement in order to run a better and safer football league, and they've been doing that brilliantly," said Samantha Rapoport, director of football development for USA Football.
Jonna tucker's mom knows the risks — but trusts the league.
"She's doing something that she loves, and far be it from me because I have a fear of that happening that I don't allow her to play," said Dawn Tucker.
And what these girls truly hope to tackle are stereotypes.