When Roger Leggett's granddaughter Felicity was diagnosed with a brain tumor in 2011, he was devastated.
Leggett, 62, and his son Chad made every effort to be near Felicity's side at the Egleston Hospital of Children's Healthcare of Atlanta during what was a difficult time for the Leggett family. But while at the hospital they saw the struggles of moving sick child patients from one point to the next.
"We almost pulled an IV out of Felicity trying to get into an elevator," Leggett said. "So it really highlighted the need for something to be done."
And he did do something. Roger proposed moving kids around in a wagon with an IV pole attached. But tragedy struck again: Chad, 24, died of heatstroke around six weeks after Felicity's first surgery.
"Right after losing Chad, I had about decided to give up on the project," he said.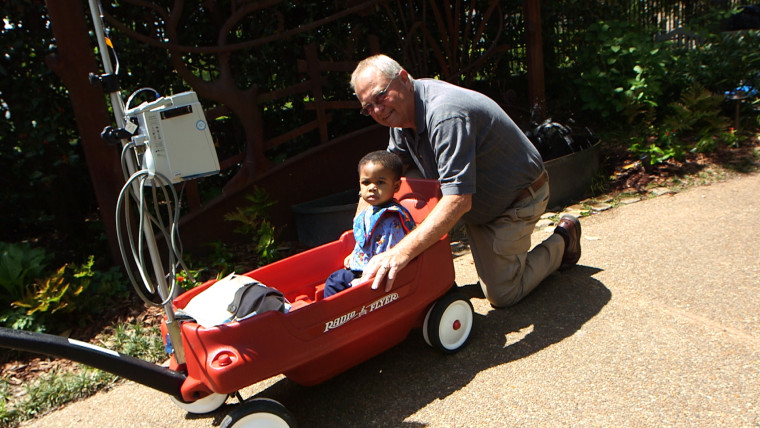 But Leggett's former colleagues at Lockheed Martin stepped in to help him carry on and build the red wagons with IV poles attached for use at children's hospitals in Atlanta.
"We sat down and came up with a design for it," he said. "We tried to make it better with each change that we did on it."
The wagons have become so popular that now there are now more than 140 of them in eight states, with one wagon going as far away as Scotland. Every wagon created bears the label "Chad's Bracket" in honor of Leggett's son.
"He's the one that looked at me one day as the elevator closed and said, 'There's gotta be a better way to do this,'" he said.
Chad's Bracket has even helped families beyond the hospital room. Alisson and Lee Plumley found the wagon to be the perfect tool for their 2-year-old son Keegan, who was born with an abdominal wall defect. With Roger's wagon they can now even take casual strolls in the park.
"These simple little things might be an everyday thing for a normal family, but these are special moments with us," Lee Plumley said. "So anything that makes it easier is a blessing."
And after years of chemotherapy and cancer treatment, Leggett's granddaughter Felicity is now cancer free.
"It's a wonderful thing. That's what it's about," he said. "I keep on telling people, it's not about me, it's about these children."
Leggett has been supported by many donations to continue building wagons at children's hospitals and doesn't make any profit through the project.
"I don't make a penny off of it," he said. "If I can make one child feel better, while they're in the hospital and going through such a life-changing thing that happens to these children, that's all I need."