For nearly a century, thousands of fossils belonging to the massive creatures that once roamed North America — saber-toothed cats, dire wolves, lions — collected dust in a bell tower in the heart of the University of California at Berkeley.
But now, this enormous collection of bones — housed in a tower nicknamed the "Campanile" — is giving scientists a unique window into why these animals died off 12,000 years ago and what role humans and climate change played in their extinction.
"We really want to learn from the past so that we can understand how to best preserve what we have now," the collection's senior scientist, Pat Holroyd, told NBC News.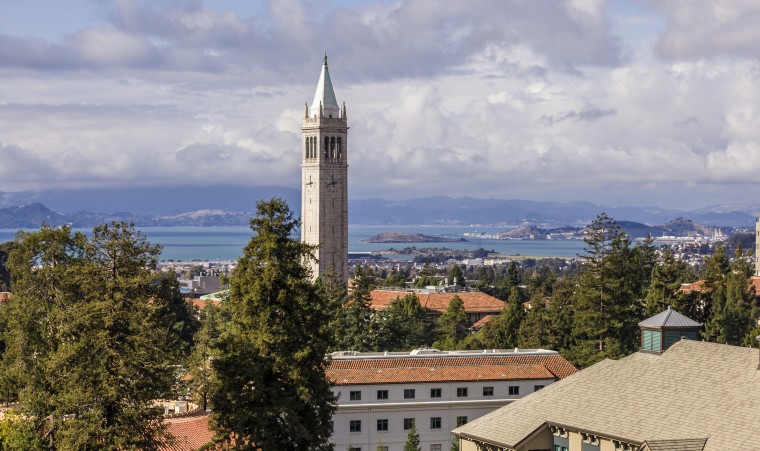 The Campanile contains the first scientifically collected set of fossils that were excavated from the tar pits that are just west of downtown Los Angeles. Among the cats and wolves, scientists working a century ago also found giant sloths, mammoths, camels and condors.
The bones were from 24,000 years ago, and they are among the 20 tons of fossils that were stored at the Campanile.
"We have more fossils for that time period than any other museum, and that gives us a unique window on the history of Southern California," Holroyd said.
The collection was placed there as the tower — officially called Sather Tower — was being built. It was completed in 1915, and the hope was that future researchers would use it to develop new questions. But then, the collection was largely forgotten about.
Few people have had access to the Campanile, and over the years, it gained a mythic reputation on campus as kind of a "secret society," Gene Stroman, a Berkeley student, told NBC News.
"Not many people know much about the Campanile, even though it's the tallest thing on campus," he said.
Now, Holroyd and a handful of other scientists are trying to change that, cataloging the collection and placing those records online. They're also learning as much as they can about how these animals responded to the arrival of humans and to dramatic environmental changes — to things like drought and what happens when a creature loses its prey.
"One of the things we know about the animals who are going extinct today is that it's people — it's us," Holroyd said. "So understanding how people may have caused extinction in the past may help us to prevent us from doing it again today."