More than seven decades later, the memories of war and despair are still fresh for Nelly Toll. As an 6-year-old girl, she and her mother, Rozia locked themselves in the tiny room of a Christian family's home in 1943 Nazi-occupied Lvov, Poland — present-day Lviv, Ukraine — for more than a year.
Toll's younger brother had been taken by Nazi forces two years prior when her family was forcibly moved to the city's Jewish ghetto and, unknowingly to Toll and her mother at the time, her father would soon be killed before he could fulfill his promise to return to them.
In the small room, as a war raged outside her small window, Toll painted to pass the time.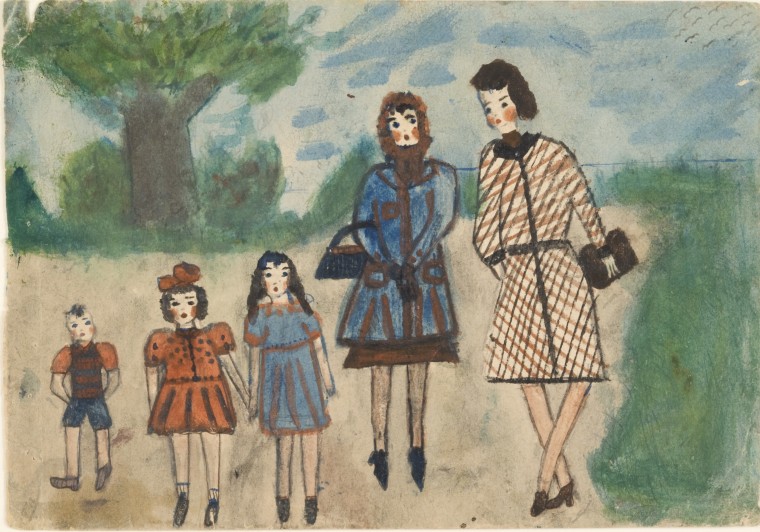 "I painted a better world," Toll, now 80, told NBC News from her home in Vorhees, New Jersey, a Philadelphia suburb.
That world that Toll created in her imagination was the antithesis of all she had ever known. It was magical and joyous, and the subjects, most notably, were jovial and even careless in their serene environments.
In "Girls in the Field," two girls are walking through a lush green pasture with flowers. In another, Toll re-creates the Cinderella fairy tale, but with a twist: A princess takes the place of the mythical Prince Charming, inviting Cinderella — based on the strong-willed female characters in Russian literature — to live in her castle. There, Cinderella finds a pianist, who is meant to depict Toll's mother, who soothes her with her music.
"I was very happy doing those pictures," Toll said. "I completely forgot where I was."
Toll's two watercolor paintings are part of the "Art From the Holocaust" exhibit at the German Historical Museum in Berlin. The exhibit, organized by the Holocaust memorial group Yad Vashem, features 100 paintings, drawings and sketches from Toll and 52 other Holocaust-era artists. At least half of the artists were killed during the war. Toll is the only living artist whose work is presented at the exhibit.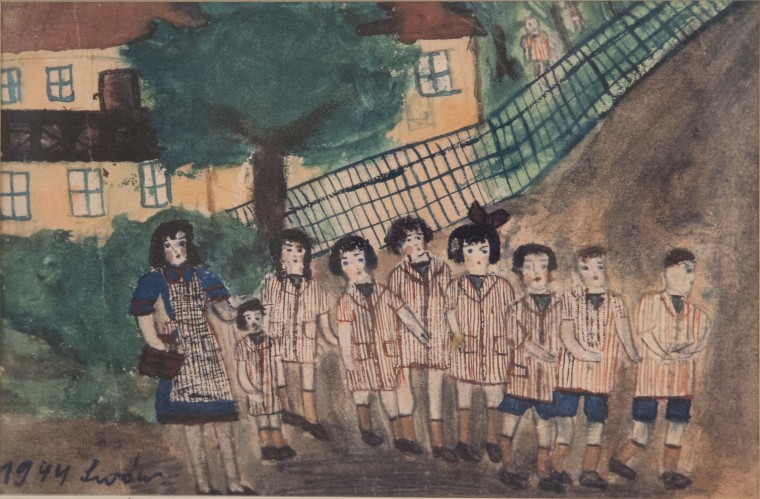 The paintings, selected from an estimated 6,000 Holocaust-era donated artworks, show life in the Jewish ghettos and Nazi concentration camps of wartime Europe but others portray the resiliency of the Jewish and, to a larger extent, human spirit.
"The portraits are portraits of beautiful people, of proud people," Dorlis Blume, a director at the German Historical Museum, told NBC News in Berlin. "Not of victims, or destroyed people, as you usually see."
For these artists, supplies were scarce and creating the art itself could get them killed. At least one of the paintings in the exhibit was done on a potato sack for a canvas. But the risk was worth it if it meant their stories could carry on, exhibit curator Eliad Moreh-Rosenberg said.
"It was their hope that if they would not survive, at least something of them would survive through their art," Moreh-Rosenberg said.
At the exhibit's opening in Berlin last month, Toll alongside her husband, Herb, was granted an audience with German Chancellor Angela Merkel. In front of the world's press, Toll looked at ease with the world leader. They together posed in front of Toll's paintings and even exchanged laughs. "She was just a joy!" Toll said.
For Toll, the exhibit serves as a reminder of the continent's darkest days — something, she says, that might be difficult for young people to grasp in peacetime Europe. She embodies that history.
At least one day a week, Toll teaches European history at the University of Pennsylvania to students from all over the world. And, all these years later, she continues to paint.
"It puts me at ease," Toll said as she painted at an art studio near her home. "The art is a light into my soul, it's been quite a journey."