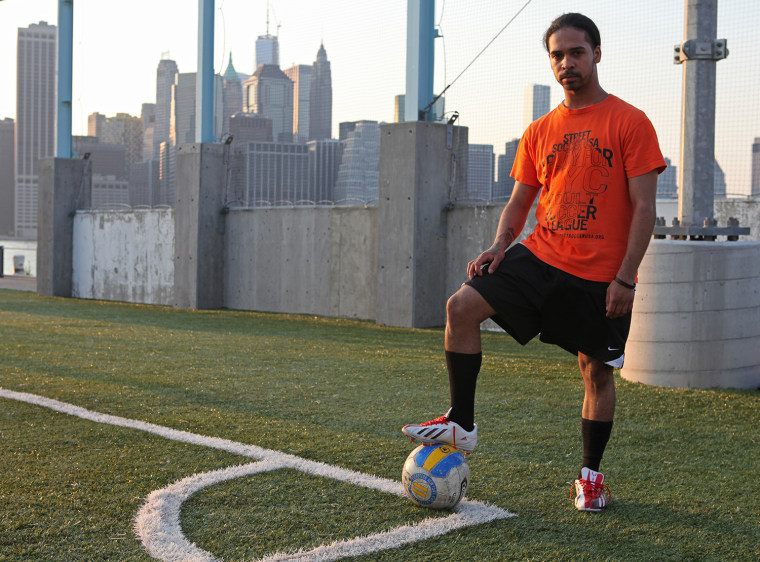 By Alexa Keyes, NBC News
During his last stint in jail, Dennis Diaz came to a startling realization: "I knew people in there," he said. "I didn't like that. I was getting used to being in jail and I couldn't have that."
At a young age he had started dealing marijuana and other drugs, eventually leaving home as a teenager. With no place to go, he ended up living in a New York City homeless shelter.  
"I just got tired of it," Diaz said of his arrests, some of which were witnessed by his little sister, the person he says he loves most in this world. "It's not a life at all."
Knowing Diaz wanted a change, the director of his shelter introduced him to Street Soccer in April of 2012.
Street Soccer, a nonprofit that hosts weekly practices and games, offers time away from the shelters and the streets -- but more importantly, a positive community.
"This was an opportunity to actually change and do something better for myself," said Diaz, 23. "It motivated me to be better on and off the field."
Within a year Diaz, moved into his own apartment and now works as a security guard at the Doe Fund, where he participated in a work training program. He'll begin taking EMT classes at LaGuardia Community College in the fall, bringing him one step closer to his dream of becoming a paramedic. 
A team on and off the field
Since it began in 2006, Street Soccer has grown, with teams now in 20 cities around the country. Relying primarily on donations, sponsors include the Sheila C. Johnson Foundation, the New York Cosmos and the U.S. Soccer Foundation.  The organization also runs two adult recreational soccer teams, "I Play for NYC" and "I Play for SF," and all fees go directly to Street Soccer.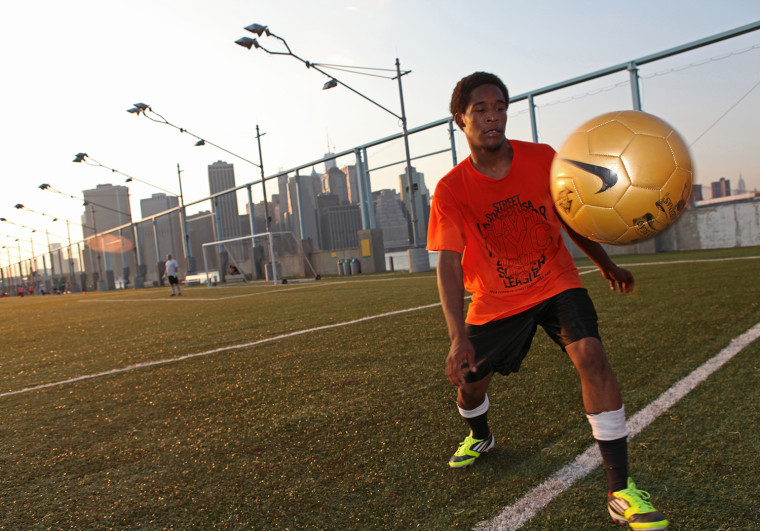 "Sports just seemed like a natural way to build support and community," said founder Lawrence Cann.  "And soccer is the people's sport around the globe."
The New York City team brings together native New Yorkers with immigrants from countries such as Colombia, and Trinidad and Tobago, building a social network among teammates.
It is connections like those that inspire Cann, who first saw the power of community when he was nine years old and his family home burned down.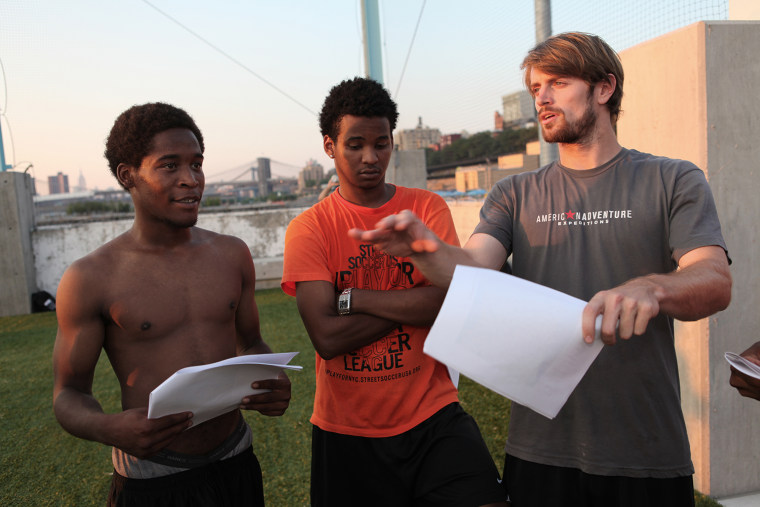 Friends and family supported him, his parents and his brother through the daunting process of rebuilding their lives, and though the family never ended up homeless, the experience drove Cann to help others who fell into more difficult situations.
"But I didn't really want to make sandwiches for people," he said, referring to volunteering at a shelter. "I wanted to engage at a different level."
'It was a nightmare' 
Before donning his orange soccer jersey, Donnie Nicholson had struggled with cocaine addiction for 10 years.
"It was a nightmare," said Nicholson, 37, who was diagnosed with depression and bipolar disorder in 1988 while living in Texas. After a particularly frightening binge, he had a nervous breakdown and was forced to acknowledge how serious his condition had become.
"I was doing too much," Nicholson said. "I wasn't in control of myself anymore."
He admitted himself to a state hospital soon after. When he was four weeks clean he bought a one-way ticket to New York, where he found shelter with the help of the city's homeless services.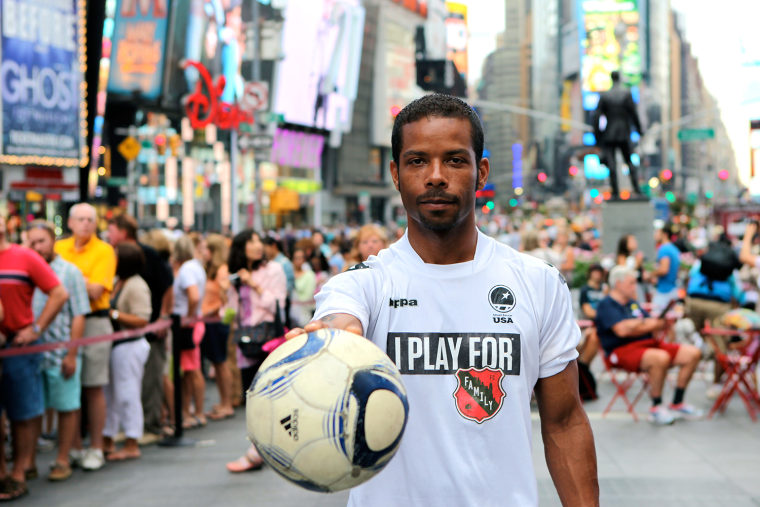 That's when a friend invited him to play with Street Soccer.
"I would not have made any connections with anybody here in New York but for playing Street Soccer," he said.
Today, Nicholson lives in a studio apartment, works at a wine bar in Rockaway Beach and is a freelance photographer. He has begun to make amends for his past, which includes taking responsibility for his addiction and apologizing to his loved ones.
Nicholson played in the 2012 Homeless World Cup in Mexico City and is now considered a Street Soccer "graduate."
"The curriculum that we teach is building triangles," said Street Soccer's National Director, Rob Cann, who is Lawrence's brother. "In soccer, that means having a person to pass to on your right and on your left."
The players then need to build that same triangle in their lives off the field.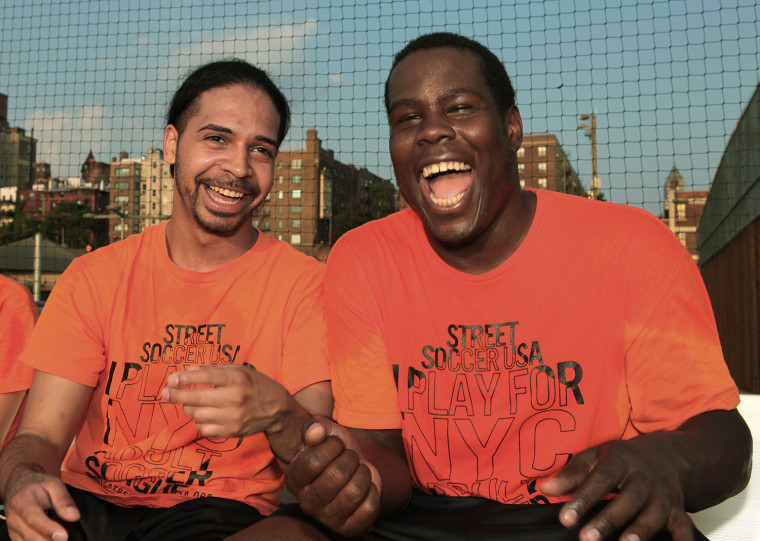 Brandon Chapman, 22, grew up in and out of foster care and found himself on the street once he aged out of the system. When the coaches met Chapman, they said he appeared depressed and angry.
Since joining the team in 2012, he has reconnected with his brother and was recently accepted into a community college where he will study psychology. He calls Street Soccer his family.
"I plan to finish college, do something with my life," Chapman said. "I give thanks to Street Soccer for bringing my life back on track. And for just teaching me the game."
"I got the love for it now," Diaz said of the game. "I want to keep going. The sky is the limit."
As for Nicholson, a former addict, he says this is the happiest he's been in a long time.
"I wouldn't want anybody to package this in a pill," Nicholson said. "This is perfect as it is."
On Monday, Times Square will host one of Street Soccer's biggest events, the National Cup. Winners will then qualify for August's Homeless World Cup in Poland.