On the court, the Portland High School Bulldogs are reigning Maine state basketball champions. But, during most games this season, the crowd often finds it inspiration from what's happening on the sidelines.
Freshman Kamron King is the team's mascot and "sixth man." Dressed in an over-sized gray Bulldog outfit, King often runs the sidelines getting the crowd into a frenzy. He's also deaf and can't hear any of it.
"Being a mascot is kind of a very cool job to do for the school and I kinda love it," King told NBC News.
Deaf from birth, the 15-year-old student has mastered sign language and how to lip read and speak. He says he uses his eyes and his energy to get the crowd fired up. To compensate for what he cannot hear, he observes the movements of those in the bleachers, getting a feel for the emotion of the moment. "I try to get the crowd louder [so] that they know I am supporting them," said King.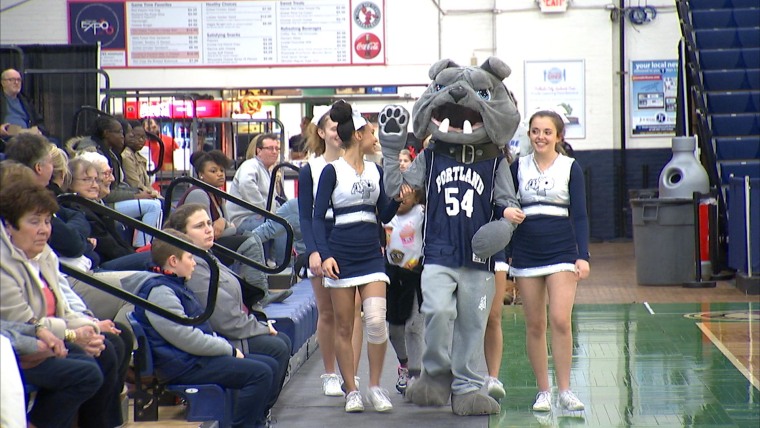 At home, he's affectionately known as "Kam the Ham." His parents, though, were initially wary of the idea of their hearing impaired son — who like many deaf children struggled with balance — taking on the mascot role.
"I thought, good Lord, he's gonna put this thing on and be out in front of a hundred people and trip and fall over," said Michael King, Kamron's father.
Those concerns proved to be misplaced. Kamron has thrived this season and made a little history as well, becoming Portland High School's first ever deaf mascot.
"He brings up all the spirit," said a team cheerleader. "He makes everyone happy and it just makes the entire experience better."
Kamron's achievements behind the mask have also served as an inspiration to other deaf young people, says John Jones, director of instruction at the Maine Educational Center for the Deaf and Hard of Hearing.
"I think he's setting a great example for other students who are deaf and hard of hearing who may be reluctant to try new things," Jones told NBC News.
For Kamron, though, his disability is "no big deal." He says he usually is more concerned with staying cool in the furry costume.