Will and Deb Binion speak passionately about their goal to give hope to families across the country. After losing their son Jordan in 2010, the Binions decided that they didn't want another family to suffer the heartbreak they had.
At 17, Jordan, known as Jordie, committed suicide. He had struggled with what at the time his parents thought was depression since he was 15, but had never been given a thorough psychiatric evaluation.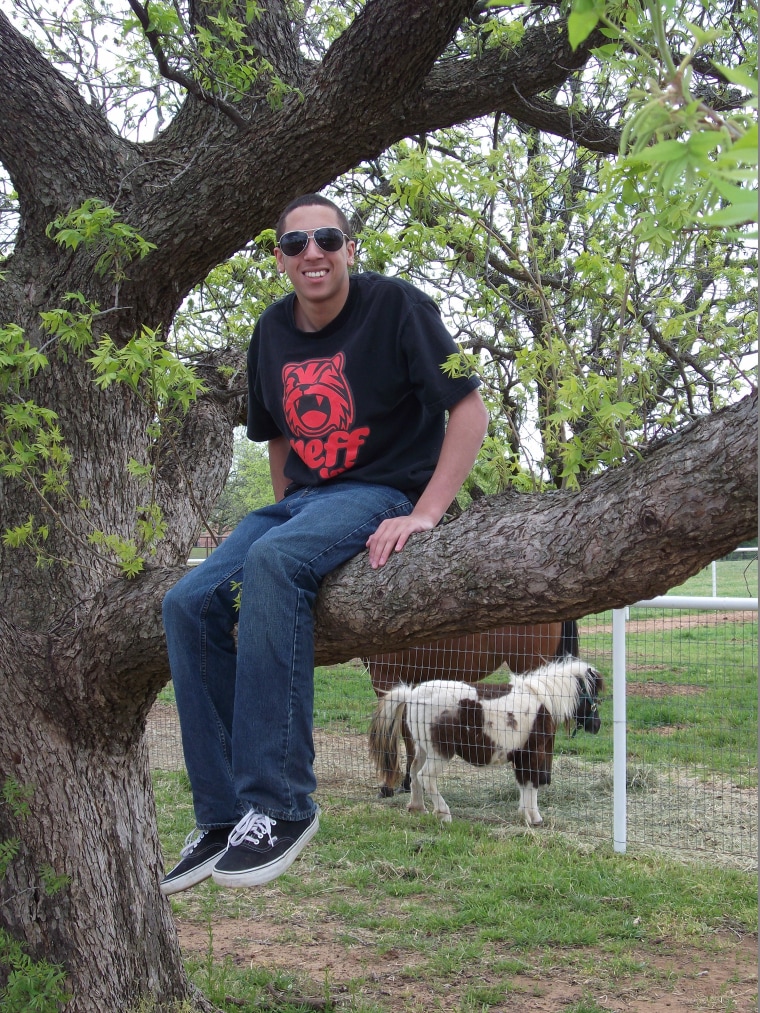 His parents believe that he might have been suffering from schizophrenia.
Cynthia McFadden has more of this story Tuesday night on "NBC Nightly News With Lester Holt."
"We kept feeling like maybe had somebody come into Jordan's school and talked to him about what mental illness is and what it's not and had actually given him a sense of hope that there was effective treatment available to help him, maybe things would have turned out differently," said Deb Binion.
The Binions created the Jordan Binion Project to provide resources to others about mental health — especially to high school students — and to work toward reducing the stigma surrounding related issues.
It began with an invitation from one of Jordan's former teachers. Will and Deb went back to his Seattle-area high school to share their family's story.
One of Jordan's former teachers, Karri Singsaas, said she invited Deb to come speak for several years, "mostly to get some tips on how I could teach differently, or how I could recognize students or be accepting of students more."
And Singsaas said she found that the students were so grateful to have the Binions talk "that they would stay after class to ask questions, and they would ask me to have other people in. And it just really has become powerful."
The response was overwhelming. The Binions estimate that they have talked to 75,000 high school students in Washington State. They have saved bins of letter from the students who wrote expressing their gratitude, letters like this one:
"I have attempted suicide twice. I have bipolar disorder ... after hearing this presentation I may still struggle, but I now have hope."
The letters often described the difference that it made to have someone come to their school and actually talk about mental illness, said Deb Binion — how they viewed others with mental illness, how they felt about themselves if they had a mental illness. "And I've kept them because they really touch my heart," she said. "In fact, I cry every time I read them."
But the Binions wanted to reach an even larger audience, and in their research they discovered a mental health literacy curriculum that was being taught in Canada. In 2016, the free lesson plan was introduced at Jordan's school and a few others — and now nearly 100 school districts in Washington State are using it, according to the state Office of Superintendent of Public Instruction.
"We basically went from educating the students to now educating the teachers," explained Will Binion. "And it is so rewarding at the end of one of those trainings, of 30-plus teachers, for eight-hour periods, knowing that we have now empowered them to increase their mental health literacy."
Eighty-four percent of the students who took the course improved their mental health knowledge, according to the Office of Superintendent of Public Instruction. And the same study revealed that 66 percent of the students who took the course improved their responses to questions that related to stigmatizing attitudes about mental disorders.
"We just kept hearing over and over from so many kids ... how every student should hear this message, you know? Because it is so empowering and it's real," said Will Binion.
Students at Jordan's old high school told NBC News that the course has helped remove the stigma of talking about mental illness and has increased their compassion toward kids who are struggling.
"It's immensely important," said student Aubry Broderick, a senior. "Super-important that you just tell them what's going on, so hopefully they can help you, or you can help them. And so that they can get help later, or you can get help later in life."
The Binions want to expand their program and say they've already received interest from other states.
"We're just getting started," said Will Binion. "We're getting started here in the State of Washington, but we want this over the entire nation. We now have an evidence-based, adolescent mental health curriculum that can change the mental health of this nation. And that's huge."
Tony Binion, Jordan's brother, took what he calls a first step to making a change by running for City Council in Enumclaw, Washington.
"I need to see a need for mental health services, on a small scale," said Tony Binion. "Even from a town, from a small city, there's help [needed] out there for mental health services, and I want to be that champion."
Tony wants to progress in politics and build relationships that he hopes will help families.
"One of the main ways you can is by getting involved," said Tony Binion. "And now that I'm involved, doors are open for me to meet with legislators, to meet with my congressmen, and be heard."
Asked why she has devoted herself to trying to help other families, Deb Binion said. "I wanted them to know that somebody cared. Somebody cared, and that they weren't alone. There was other people out there that were dealing with things that they're dealing with. "
And, Deb said, helping others has in fact helped her.
"It was really probably the biggest healing factor for me."
That's a sentiment that her husband and oldest son are living by as well.