Hank Sanders is only 17, but he knows exactly how fortunate he is to have a roof over his head and food to eat.
That's because once a week, he and 20 to 30 of his classmates at Lincoln High School in Portland, Oregon, have dinner with the area's homeless youth. First they cook, and then they eat — together.
"It makes you open up your eyes," Sanders told NBC News. "You are so much more grateful for every single thing that you have, for every dollar that you're given, for every meal that is on your plate."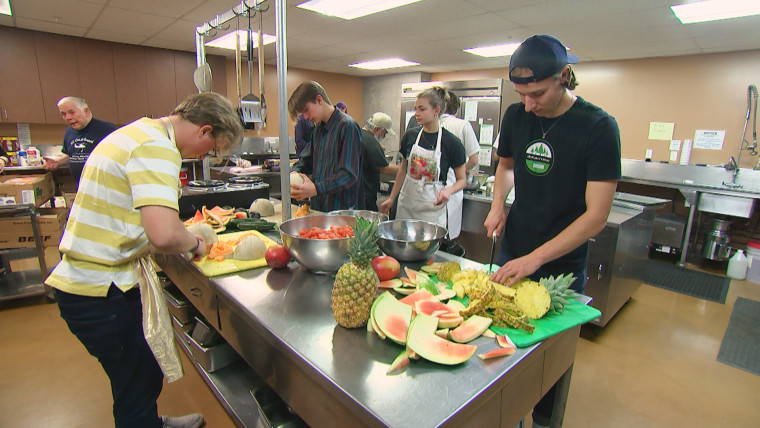 Sanders started the program CardsCook — the school mascot is a cardinal — two years ago as a way to integrate himself and his classmates with Portland's less fortunate youth. According to officials with Multnomah County, where Portland is, there are at least 700 to 800 homeless teens in the county at any given time, a number indicative of an even larger crisis that the city has been battling for years.
Government officials declared the homeless problem a "state of emergency" three years ago, citing a lack of affordable housing as one of the leading factors.
The concept of CardsCook is simple: Student volunteers get together at a church where they prepare a planned menu of healthy meals that they can make in large quantities. When they're done cooking, they grab some of the food and join everyone while they eat, talk and play games.
"We play the same video games, we read the same books, we watch the same movies," Sanders said. "We can relate. So with every single meal, we're making that connection stronger.
Since it began, CardsCook has served 27,000 meals and raised thousands of dollars for the community. Perhaps their biggest contribution, however, is listening.
"They actually come out and they talk with us and they interact," said Kyle Pillsbury, a homeless 29-year-old who attends the dinners every week. "It's humanizing."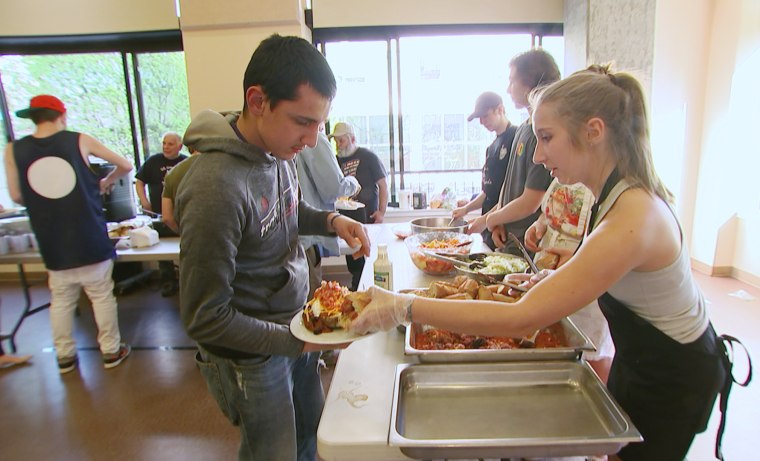 The teachers from Lincoln have also taken up their students' mission, often joining the dinners to give lessons on everything from drawing and poetry to managing personal finances.
Henry Hooper, the program's adviser, who spent 30 years in business before becoming a teacher, is inspired by the teens.
"This is unusual," he said. "That's a combination of being social entrepreneurs as well as active students. They really want to do something to make a difference, and it's extraordinary."
Sanders said he hopes to keep serving meals while working with the city to find long-term solutions to homelessness in Portland.
"There are so many negative connotations that come in people's heads when they're looking at homeless people," Hooper said. "We've got to change that. Not just as 15 students, not even as 100 students ... we've got to change it as a city together."
See more of Lester Holt's reporting from Across America all week on "NBC Nightly News."