Mike Brannigan is obsessed with running. The repetitive motion. The rhythm he finds. The way he can focus on his body and nothing else.
"I love to work hard and have fun. And just beat my personal best and keep improving to that next level," he says.
At 17, Mike Brannigan is one of the top 10 high school runners in the whole country. He's so lightning fast he can run a mile in four minutes and seven seconds flat. His coach says he is the hardest working athlete he's ever trained.
He also happens to have autism. And that may be part of the reason he's as good a runner as he is. Whenever he runs (and it's every day, sixty plus miles a week), he's able to hyper-focus on speed. Sometimes, his coach has to slow him down so he won't hurt himself.
Brannigan is so talented that more than two hundred colleges have reached out to him — including many Division One schools and some of the top running programs in the country. He's heard from the University of Colorado, the University of Oregon, Duke, Georgetown, Syracuse, Wisconsin, UNC, Virginia, Stanford. The list goes on and on.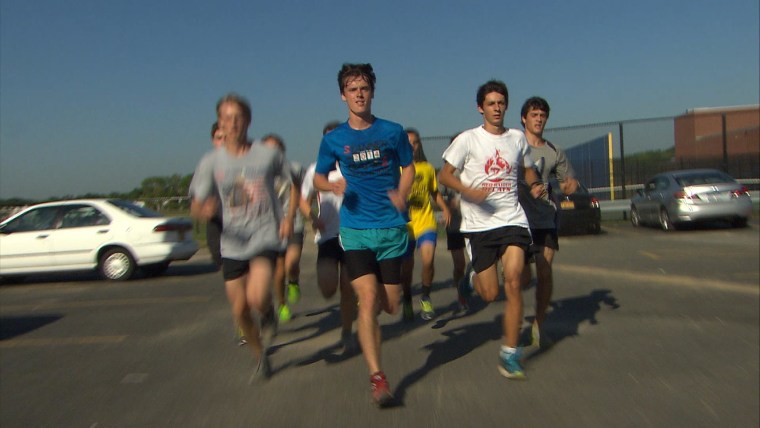 Despite doctor's predictions early in his life that Brannigan would need a special school and a group home, he is now a senior at Northport public High School on New York's Long Island. He does very well academically with an 84 grade average.
"I know what running's done for Mikey," says his mom, Edie Brannigan. "It has allowed him to focus -- in such a way that his academics soared after he started running. It was something in his brain was able to calm down and focus on the academics."
That doesn't mean it will be easy for Brannigan to head off to an intensive college experience. Edie Brannigan says they'll need to find a school that will support Mike academically. And they're not sure he can handle taking the SATs, which are required by the NCAA for student athletes.
"Mikey's dream is to go to a Division One school and succeed there academically and run against the best college runners in the country," Edie Brannigan says. "That's his dream. And we want to support him in that dream. But with the NCAA academic requirements, educational requirements, we don't know if it's possible."
Sign up for The Nightly newsletter from Brian Williams and the Nightly News team.
But Brannigan is determined to keep pursuing his running dreams.
"I want to be a professional athlete," he says.
And one day he hopes to maybe even go to the Olympics.
"I had a dream-- a day dream of them," he says. "Wearing my USA jersey, and representing my country… and the whole nation… a whole America watching me."