HOUSTON — At an amateur track meet last month at Rice University in Houston, an eclectic group of runners from young children to the elderly gathered to compete in their respective heats.
Amid the punishing Texas humidity, the so-called open meet — the most democratic of track and field competitions where all are free to compete regardless of age or skill level — was especially busy on this muggy Thursday evening.
Amongst the group were a handful of elite sprinters and long-distance runners in search of a rare opportunity to crack the nation's professional circuit. One athlete, however, stood alone in his ambition: his eyes were on next month's Rio Olympics.
"I'm trying to make the Palestinian Olympic team to run the 100 meters," Mohammed al-Khatib told NBC News as he warmed up alone along the far, isolated end of the pristine blue track. "I never dreamed of training here [in Houston] but I see this as one step on my journey to Rio."
'It was full-on war'
For years, Khatib dreamed of becoming an Olympic sprinter. He just first needed a track.
As a native of Hebron, a divided city in the southern West Bank where tension between Palestinians and less than a thousand hardline Israeli settlers runs high, Khatib never had access to sports facilities of any kind. Most were destroyed in the Second Intifada — the period of intensified Israeli-Palestinian violence across the Palestinian territories between September 2000 and February 2005 when an estimated 3,000 Palestinians and 1,000 Israelis lost their lives.
"It was full-on war," said Khatib. "The last thing a lot of people think about [in that environment] is sports."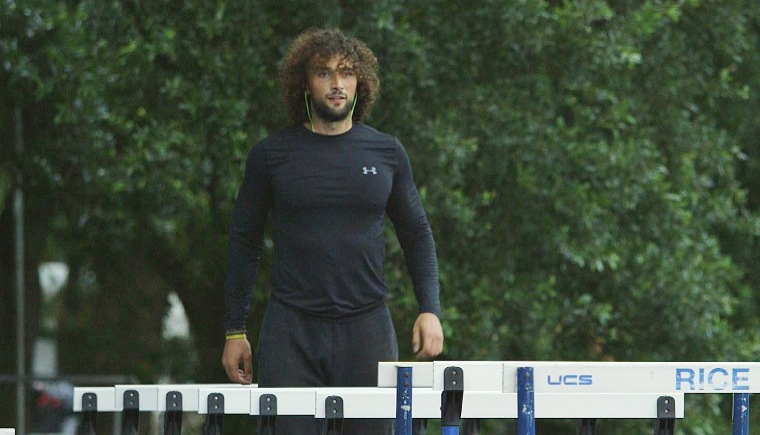 In an interview with NBC News in their home just south of Hebron's city limits, Mohammed's parents vividly remembered the time. "We all slept in one room together" to protect themselves from the shelling, Mohammed's mother Latifa told NBC News through a translator.
A schoolteacher, she says she did not work at all during much of the worst violence that wracked the city from 2000 to 2003, staying home to care for her children. Every day, she says, was about mere survival.
Despite the obstacles, Mohammed — the youngest of the four siblings — dreamt of a future outside the confines of Hebron, said his father, Awni, and projected an air of confidence in his natural athletic abilities.
"Mohammed always thought of himself as a champion," said Awni, a chemistry professor and university dean in Bethlehem. If Mohammed can make it to Rio, "it would be bring great joy to the Palestinian people," said Awni, growing visibly emotional at the prospect of his son making history as the first Palestinian male sprinter to ever compete at the Olympics in the 100-meter — widely considered the most prestigious of all track and field events.
Track Dreams
When Khatib arrived to study at Birzeit University, just outside the West Bank's administrative capital of Ramallah, in 2010, track and field was not something even on his radar.
That all changed for Mohammed in August 2012 when he began to avidly follow the male track and field events at the London Olympic Games. Many runners, he noted, hailed from smaller, developing countries that typically went unnoticed in the world of global sport.
"As I watched them [the athletes], I realized that this is what I wanted to dedicate my life to," said Khalib. "The hope and joy that it would bring for all Palestinians throughout the world" to see one of their own competing excited Khalib to dare to dream.
With no access to any professional coaching, he scoured YouTube for instructional videos on the techniques of track and field. Techniques from how to position at the starting line and accelerate your speed to muscle recovery; he found them all online.
He put into practice what he learned on the internet on his university track. The track, by any barometer, failed to meet even the most basic of international standards. It was only 200 meters around, not the standard 400 meters, and the straightaway was 84 meters long, as opposed to the recognized 100 meters. Moreover, the track was asphalt, a surface potentially hazardous for runners' knees.
By 2014, though, Khatib was one of the fastest sprinters in the West Bank. However, with no prospects to further progress and only tepid support from the Palestinian Olympic Committee, Khatib knew he had to go abroad for proper training to get even a fighting chance of securing the Olympic qualifying time of 10.16 seconds for the 100 meter event.
He reached out last fall to an old acquaintance, Bill Collins, in Houston. Collins, one of the most decorated sprinters in U.S. track history to never run in an Olympic games, is a well-known track coach in Houston and had met Khatib in 2013, briefly training him at Rice's track. The young sprinter, Collins says, was raw. He owned no running spikes and had never seen a starting block before.
In an e-mail, Khatib plead for help.
"He said he felt he could make the Olympic standard [for the 100 meter]" with proper coaching, Collins told NBC News. Collins was skeptical, telling Khatib that the qualifying time was likely two to two and a half seconds faster than he had ever run before. "He said, 'I could do it' and then I accepted the challenge."
Invigorated, Khatib launched an Indiegogo crowdfunding page to raise roughly $9,000 that would cover airfare, three months of training with Collins and accommodation. The page went viral and Khatib raised $12,000 in just 72 hours.
"I didn't expect to get that support," said Khatib, who noted that donations came in from backers all across the world sympathetic of his cause. Khatib set his sights on Houston.
'I believe in miracles'
When Khatib arrived at Rice University's track stadium in January for his first full training session with Collins, he immediately noticed the quality of other runners at the track. Olympic hopefuls from all over the world use Rice's facilities as their base.
"I immediately felt 'wow, this is the real deal," said Khatib.
Collins had a seemingly Herculean task: he had five months to get a 26-year-old sprinter with no real track experience to within a chance of the Olympic games.
"I didn't think Mohammed could do it until I met him," said Collins, laughing. "There's no failure in Mohammed."
Since January, they have worked from scratch on every aspect of Khatib's form. Khatib is the only athlete who Collins coaches that puts in two-a-day practices. Khatib lives in a bare apartment a few miles from Rice's campus and has virtually foregone any social life in his time here. With no access to a car, he typically rides his bicycle to practice.
"I'm focused on one goal, which is making it to the Olympics," said Khatib.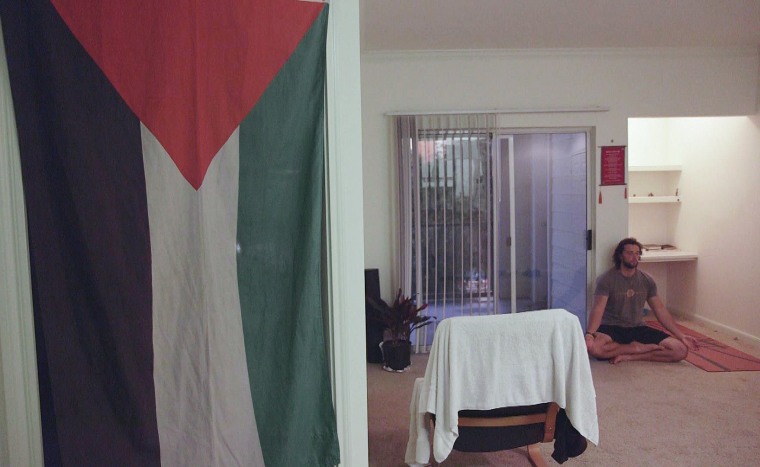 Khatib's time — his best time in an official race is 11.3 seconds —has come down just more than a full second in his time in Houston. However, with only weeks to go before the International Olympic Committee's July 11 deadline, Khatib is running out of time.
"I don't know if I'm going to make it," said Khatib. "But if I didn't believe I could make it, I wouldn't have made this journey so far."
He has at least two more meets before the IOC deadline. If Khatib fails to achieve the qualifying time, the Palestinian Olympic Committee could petition the IOC for what is known as a guest exemption, typically offered to smaller countries.
In a statement to NBC News, a Palestinian Olympic Committee spokesman confirmed that Khatib was on the committee's radar but would not comment on the possibility of filing for a guest exemption.
For now, Khatib says he's focused on getting to 10.16 seconds, but is introspective when asked what it would mean to fall short of getting to Rio.
"Personally, I'm at peace for what I've achieved," said Khatib. "All I could say is I believe in miracles."