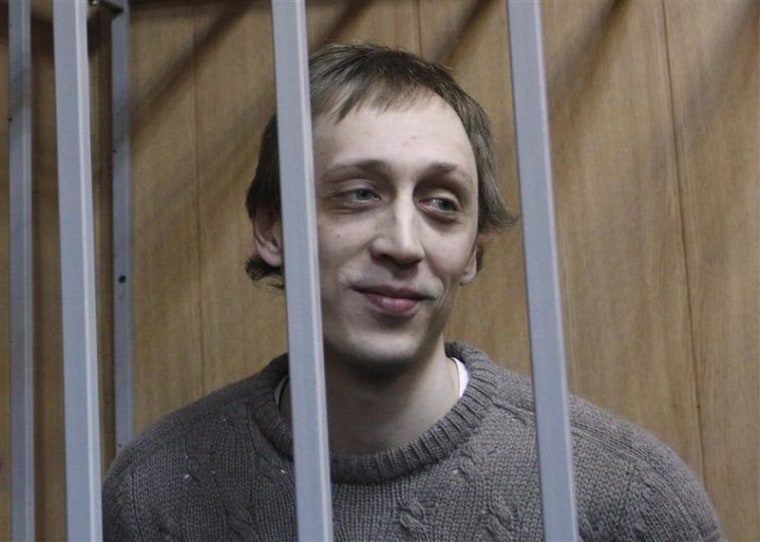 By Jim Maceda, Correspondent, NBC News
The Russian dancer accused of throwing acid in the face of the Bolshoi Ballet's artistic director appeared in court Tuesday, where his trial got off to a rocky start.
Pavel Dmitrichenko was escorted into a Moscow courtroom in handcuffs and placed inside a metal cage along with two accomplices, including the alleged get-away driver. He refused to answer reporters' questions except to deny his guilt.
"I do not admit that I am guilty," he said.
All three men face up to 12 years in jail if convicted. Dmitrichenko has already confessed to wanting to rough-up artistic director Sergei Filin and teach him a lesson. He has accused his boss of playing favorites by giving lucrative leading roles to others and passing over Dmitrichenko's girlfriend, Anzhelina Vorontsova.
But an acid attack, he said, was never part of his plan.
"My client had no direct connection to this crime of inflicting harm on Filin's health, because for him this acid attack was also completely unexpected, and he couldn't even imagine that such a course of events was possible," said Sergei Kadyrov, Dmirtrichenko's lawyer, to reporters in the courtroom.
After one of the defense lawyers failed to show up, the court adjourned a short time later. It's slated to reconvene on October 29, just a week before the Bolshoi's next major event, the premiere of "Marco Spada", an acclaimed 19th-century French ballet which should bring out the best in the world's most famous -- if troubled -- ballet theater.
The attack on Filin could have been a scene from the kind of edgy and dramatic ballet the Bolshoi Theater is famous for. But it actually happened, last January.
One evening, after a hard day's work, Filin was walking home in the winter snow. He heard his name called out, then someone in the shadows tossed a bottle of sulfuric acid in his face and fled, leaving him writhing in pain and screaming for help.
The accused hit man: an unemployed Russian with a criminal past. The alleged mastermind: 29-year-old Dmitrichenko, a Bolshoi soloist known, ironically, for his portrayals of evil characters, such as the homicidal czar in "Ivan the Terrible" and the dark sorcerer Von Rothbart in "Swan Lake."
In the nine months since the attack, Filin has undergone almost two dozen operations to save his eyesight and treat a disfigured face. He returned to work last month to mark the opening of the iconic theater's 238th season.
But he needs more surgery in Germany and it's unlikely he'll take up his full-time job in the near future. David Hallberg, the American soloist who was hired by Filin, said he's happy to see his mentor back in the Bolshoi's hallowed halls.
The crime still reverberates there. "Art is a release and sort of escapism for the public, and to infiltrate an artist or an artistic house in such a way ... I have no words to describe how unacceptable and shocking something like that is," Hallberg said.
The attack threw a stark light on simmering jealousies within the storied troupe. After the incident the Bolshoi fired its managing director and another star soloist, who were said to have helped fuel a poisonous atmosphere.
Meanwhile, the company has tried to put the horror behind it, and focus on getting back to basics, starting with the Bolshoi's damaged image.
"First and foremost, everyone wants to dance," Hallberg told NBC News between rehearsals. "This is our calling in life. This is our passion, and what we spend hours and hours honing in on and perfecting. And like dancers everywhere, these dancers want to be in a company and dance successfully."