At just 18 years old, high school senior Joshua Streater already has had friends shot and killed on the streets of Chicago.
"It's hard," he told NBC News. "You won't believe what happens to your friends."
For Crespin Luna, 17, the sounds of gunshots are an all-too-familiar part of daily life.
"You'll hear a gunshot or something and know that somebody's passed away," he said.
Despite living in a city where violence abounds, these young men are finding their way with the help of a powerful supplementary school program.
The "Becoming A Man" program, or BAM, is a social and emotional learning program for at-risk male students offered by the nonprofit organization Youth Guidance at Chicago-area schools. It seeks, in large part, to provide a lifeline to young male students before violent street gangs take hold.
One of its guiding principles centers on cognitive behavioral therapy — first implemented at the Cook County Juvenile Temporary Detention Center — in which violence can be prevented if those who are agitated can be helped to slow down and think before they act on their impulses.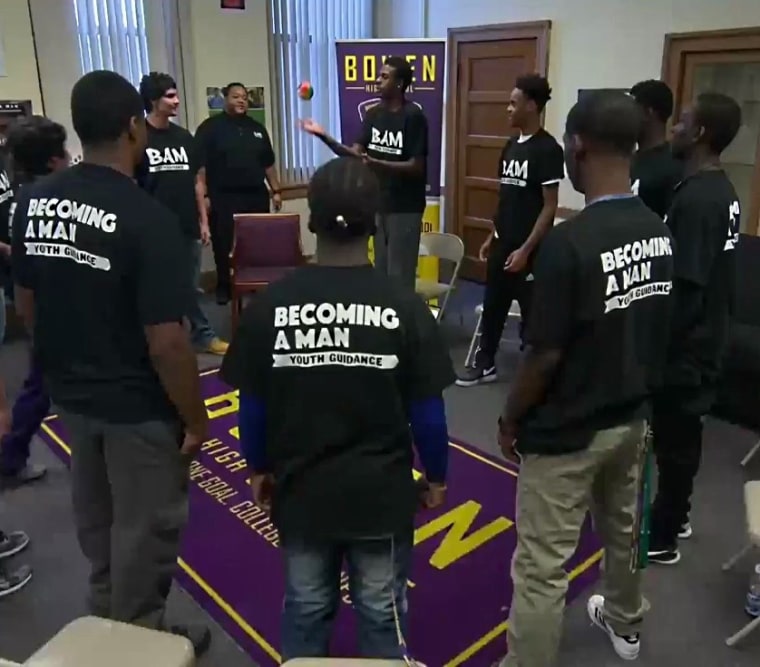 The group sessions aim to help the young men work through their emotions and discover alternatives for responding to altercations, both big and small.
And the results are impressive — the program has cut violent crime arrests by 50 percent and increased high school graduation rates by 19 percent for those in the group.
Anthony Ramirez-Di Vittorio, BAM's founder, knows just how rare and necessary the program is for young men in the area.
"It's a safe place to come check in," he said. "And to deal ... with everything that's happening out there."
Mayor Rahm Emanuel is also making this program a priority.
The latest expansion is part of a three-year, $36 million drive by the mayor to invest in the program. The added investment could dramatically extend the program's reach throughout the city's most crime-riddled neighborhoods.
"BAM has made me become more responsible, respectful and made me have more control of my actions, my behavior," Streater said. "It's made me become a better person."