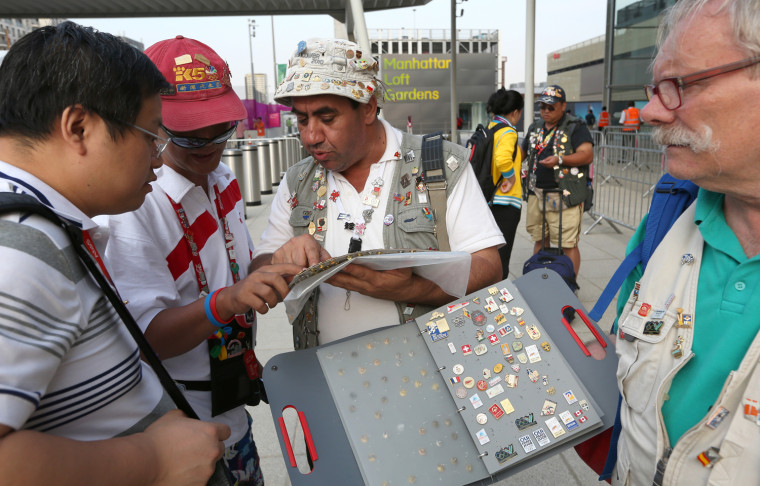 By Catherine Treyz
NBC News
While athletes in London are set on winning Olympic gold, self-described "pinheads" are focused on collecting Olympic brass. Pin traders from across the globe have gathered in London -- not just to watch the international competition, but to find unique, sought-after pins.
"Some people are fanatics," said Don Bigsby, 72, of Schenectady, NY. Bigsby, a retired telephone engineer, is preside­nt and founder of the world's largest Olympic pin and memorabilia club, the Olympin Collectors Club. "I'm well past that sort of thing."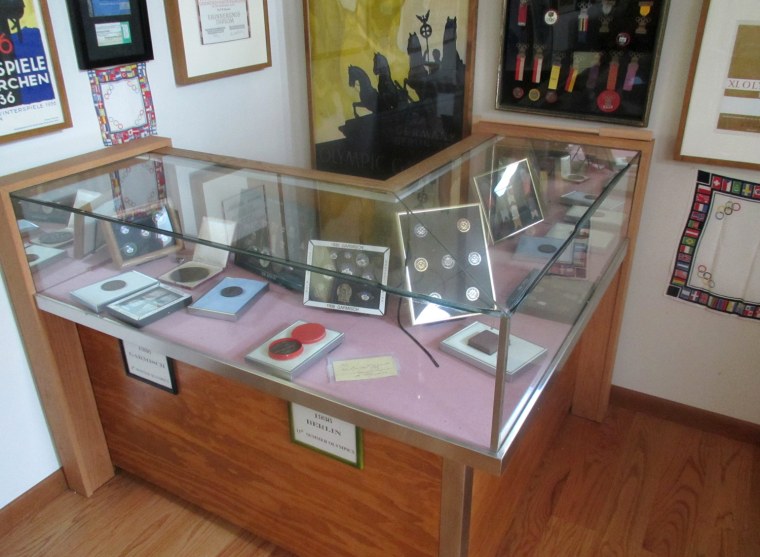 Since 1980, Bigsby's Olympic collection has grown from just pins to include programs, torches, tickets, medals and more. To accommodate all of this he has turned his house into a museum. In 1999, Bigsby spent $150,000 to build a two-floor, 1,700-square-foot addition to his 1,000-square-foot house to hold his memorabilia.  
"[Because of pin collecting] I know more about the world than I ever learned in school," said Bigsby, who carries a book of flags with him to help him "chase pins" by national colors and symbols.
At the Games, merchandise and memorabilia are in high demand. Sales at London 2012 shops, according to the London Organizing Committee of the Olympic and Paralympic Games, have increased by 115 percent since the start of the Games. The Opening Ceremony pins have sold out.
Although certain commercial pins are especially popular, true "pinheads" are not at the Games to buy or sell, but to trade. "Pin collectors, athletes, media people, etc. are really into pin trading, maybe more than ever before," wrote Bigsby in an e-mail from London. "Every day, the 'rules' change for collectors. Where to trade, how many pins to wear ..."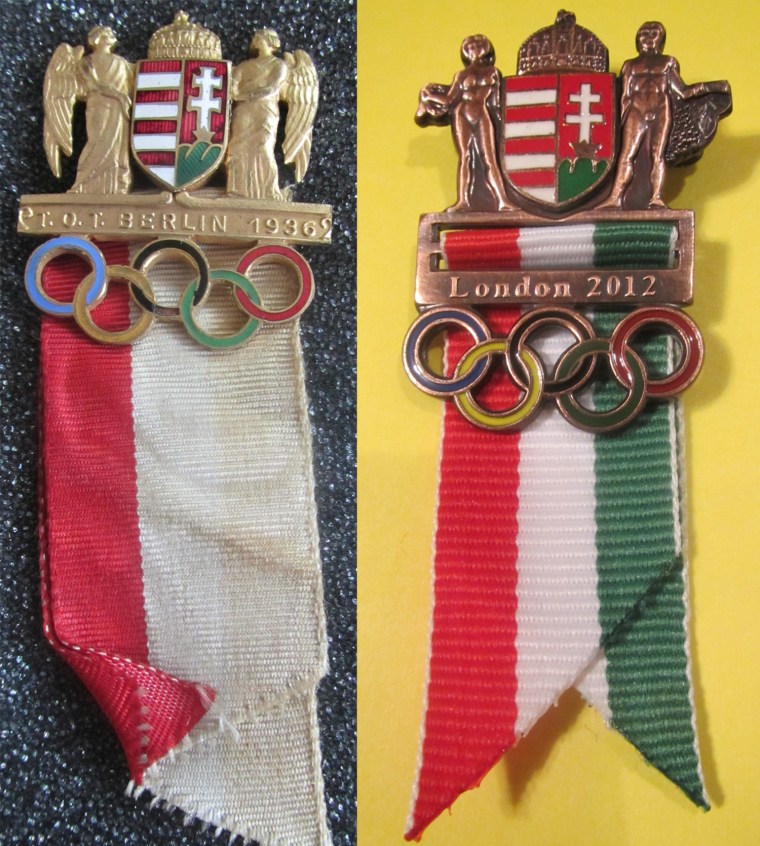 This year, one pin in high demand among niche collectors is Hungary's athletes pin. Made by the Hungarian Mint, this year's pins look almost identical to Hungary's athletes' pins of the past.
When a trade is finished, however, returns aren't allowed.
"It's a deal. Move on. Find somebody else to trade with," said Bigsby said.
Athletes join in the fun
Earlier this year, tennis player and gold medalist Serena Williams recently told USA Today that she has been an avid pin collector since Sydney 2000.  Shooter and three-time gold medalist Kim Rhode of Team USA makes her own pins and gives them away on Twitter. She tweeted, "To win a pin I'm going to ask trivia type questions while I'm here @Olympics and the person who responds first with the correct answer wins." So far, Rhode has given away three.
Rhode is one of many pin traders who have shared their hobby online. The London Pins website, for example, is dedicated to organizing information about all of this year's pins. On Twitter, users have expressed their surprise about how popular the hobby is and how surprised they are that they have, too, become addicted. "I didn't think it would happen but I've become obsessed with collecting pin badges #gamesmaker," one person tweeted. 
Pins are usually made of metals like brass, copper, and tin. It's the sentimental value, not the monetary value, that keeps "pinheads" trading and inspires more traders each Olympiad.
"Pins really have no monetary value," said Navid Khonsari, whose 2007 documentary Pindemonium provides a lens into the Olympic subculture of pin collecting.  "Pins are really a vehicle for people to really interact with one another."
Pin trading: where it all began
Khonsari said most of the American pin traders got their start at Lake Placid in 1980 or in Los Angeles in 1984. Although pins have been a part of the Olympic tradition since the first modern games in Athens in 1896, the Summer and Winter Olympics in the 1980s marked a turning point in the demand for Olympic collectibles with special venues emerging for the purpose of trading and selling commemorative goods. According to Coca-Cola, one of 10 worldwide Olympic sponsors, 17 million pins were traded at the 1984 Los Angeles Summer Games.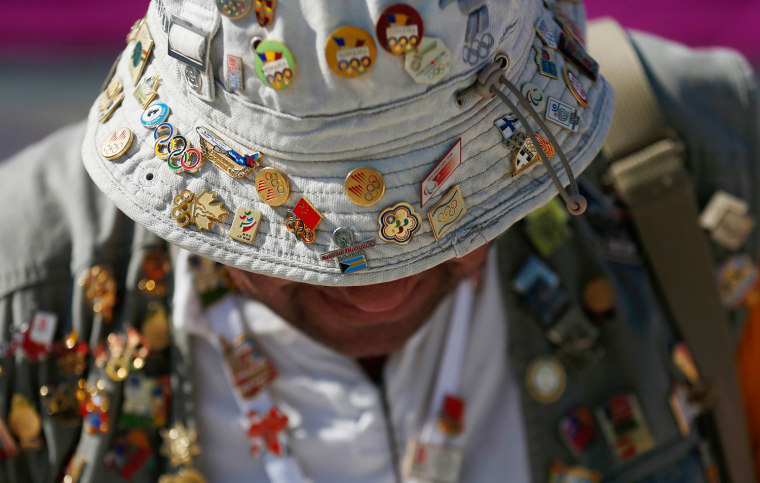 Bigsby, who was one of the three recipients of the International Olympic Committee's Juan Antonio Samaranch Medal for Olympic Collecting this past June, began trading and collecting pins after attending the 1980 Winter Olympics in Lake Placid, NY. It was the year of the US men's ice hockey team's underdog victory against the Soviet Union and Eric Heiden's record-setting five gold medals in men's speedskating.
"How could I not get hooked?" Bigsby said. "I love amateur sports and there I was in Lake Placid in the middle of it."
'It's amazing how it just takes over the Games'
According to Maxine Chapman, marketing director at Coca-Cola, it's an unofficial rule that if you're wearing more than one or two pins, you're a trader. "A pin from the Olympics is so highly coveted," said Chapman, who manages Olympic showcasing for international sponsor Coca-Cola. "It's amazing how it just takes over the Games."
Since the 1988 Games in Calgary, Coca-Cola has opened pin trading centers at the Olympic Games. Khonsari filmed many of his interviews for Pindemonium at the Coca-Cola Pin Trading Center in Torino in 2006. This year's pin trading centers are at two locations: London's Olympic Park and Hyde Park. "The response has been very, very good," said Chapman.
One feature of this year's trading centers is a giant map of the world where people tack pins they receive, encouraging Olympic fans to trade with the world.
In an e-mail update from the Games, Bigsby wrote, "My daughter Calyn and I traded pins with two North Koreans, then three Iranians and had a great time chatting and gesturing a conversation. Made me wonder why everyone can't get along."
More from NBCNews.com