NEW YORK — Jane Lynch is busy.
As she scuttles into a Manhattan bar just opposite Rockefeller Center, her energy quickly infuses the room. Warm, self-deprecating and unusually candid; it becomes immediately apparent why she's gained a legion of fans in recent years.
"I'm here, start the cameras!" Lynch shouts. She's here to sit-down with NBC's Kate Snow for the inaugural episode of "The Drink," a new digital-only series where Snow will speak to news makers who've reached the pinnacle of their professions — all over a drink.
Lynch is best known for her role on "Glee" as the tracksuit wearing no-nonsense Coach Sue Sylvester. These days, though, she wears many hats. She's hosts the popular NBC program "Hollywood Game Night," is a co-host on an upcoming live National Geographic program, and plays former U.S. Attorney General Janet Reno in a TV series about the "Unabomber" case.
And, she recently joined the Pittsburgh Symphony Orchestra for an on-stage musical and comedic performance. And then there's a cabaret side-gig she loves.
"It is the most amazing killer job," Lynch said of her career in entertainment. "I love to act; it's my calling if there's such a thing."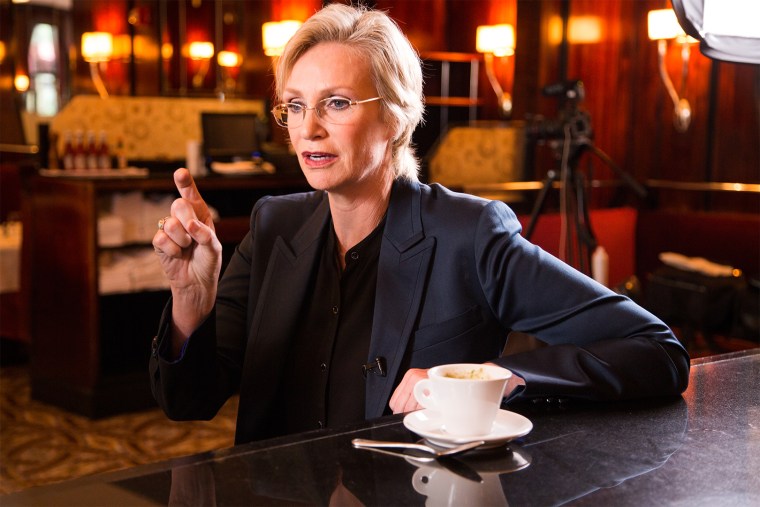 Lynch's career didn't take off until she was 40, past the typical age for a burgeoning TV star. For years, she worked as an improv comedian at "Second City" in her native Chicago and as a TV commercial actor in Los Angeles. In between, she guest-starred in a number of TV series throughout the late 1980s and '90s. Today, at 56, she describes the past nearly two decades, essentially, as a perfect storm of luck and circumstances.
Though Lynch often plays a comedic figure on television, she opened up in her 2011 memoir "Happy Accidents." In the book, Lynch reveals her long struggle to become comfortable with being gay, her issues with maintaining relationships, and her bouts with alcoholism. She says she's been sober since she was 30. The book seems written as much for herself as for readers. Lynch said, surprisingly, that the biggest obstacle she's faced in her career has been "my own self."
"I can't say that being a woman has been an obstacle. Being gay has been an obstacle. Being six feet tall has been an obstacle," she added.
Though now a mainstream name with a social media presence that reaches millions of followers, Lynch says she still hustles for every gig that comes her way. That drive, she explains, is borne out of her passion for her craft. She doesn't recognize her years of trying to "make it" as difficult, but just part of a long, unwieldy path that brought her to where she is today.
"I was 40 by the time I started making money at this ... and I was happy before that," she said.
She finishes the interview with advice to striving young actors everywhere: Don't try to set out goals for the future. Life, she explains, is too unpredictable.
"If you've got some goal that you think you need to be somewhere by the time you're some age, that's so stupid," says Lynch. "Don't do it. I never had that goal."