PHOENIX — His nightmares had gotten so bad, Marine Corps veteran Roberto Pickering was drinking himself to death.
"When I got back from Iraq, I felt like an eggshell, and a basket case," he said. "And I was just doing all this self-destructive behavior that I could think of to not feel anything at all."
Pickering returned from Iraq in 2003 haunted by post-traumatic stress. He'd seen his buddies die. The transition back to civilian life wasn't easy. At one point, he was prescribed 14 different drugs.
Then he tried pot.
"I stopped all the pills cold turkey," he said. "And I picked up cannabis, 'cause in my opinion, it was either find relief or suicide."
He's one of the growing number of veterans who say medical marijuana is helping treat PTSD symptoms — and is a less addictive alternative to opioids.
Roughly 20 veterans commit suicide every day, according to a study by the Department of Veterans Affairs.
Near Phoenix, Dr. Sue Sisley is now running the first FDA-approved clinical trial of its kind to see whether marijuana is effective in treating PTSD.
"I think we're desperately seeking new treatments for PTSD," she said. "Our hypothesis is that we believe cannabis will reduce the severity of the PTSD symptoms. But we don't know that … it needs to be tested."
The trial, funded by the Colorado Department of Public Health and Environment and sponsored by California-based MAPS, an organization that promotes research into psychedelic drugs for medical benefit, is looking at the safety and efficacy of four strains of smoked marijuana to manage treatment-resistant PTSD symptoms in military veterans.
Related: Medical marijuana finds unlikely support: NFL player Derrick Morgan
Sisley has currently enrolled 23 vets in the study. She needs 76 to reach statistical significance. But recruiting has been difficult.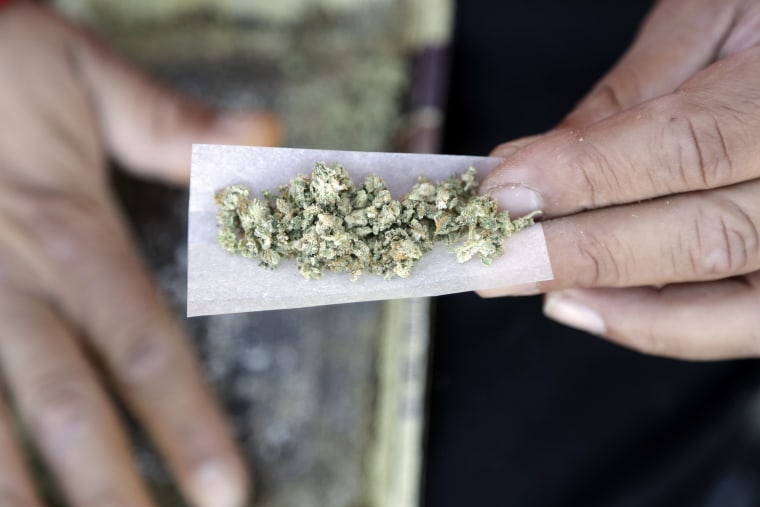 Cannabis' classification as a "Schedule 1" drug means physicians at the nation's VA hospitals can't prescribe or discuss marijuana with their patients as a possible treatment for PTSD.
Arizona alone is home to more than half a million veterans, and Sisley's lab is less than 30 minutes from the VA in Phoenix.
Medical marijuana is now legal in 29 states plus Washington, D.C., and PTSD is a qualifying condition in 23 of those states.
But a recent report, funded by the VA, found there's not enough hard evidence to make firm conclusions about the drug's effectiveness.
Related: Momentum builds for pot legalization in Nevada
"What might feel good in the short term is not necessarily good in the long term," said Kevin Sabet with Smart Approaches to Marijuana. "And rather than look at anecdote and stories, let's look at the overall picture of where this might lead in the future."
Pickering just wants more research to be done.
"These men and women went out there [and] put their lives on the line," he said. "And they're coming back from a war and they're fighting a new war here in America. And that war is a suicide and the opioid epidemic that we're essentially fighting within ourselves."