By Dr. Nancy Snyderman, NBC News Chief Medical Editor
Today was not a normal way to get to work. 
 I am in Cebu, The Philippines and it has been five days since I met a group of doctors from Mammoth Medical Mission in Los Angeles who descended on the small town of Tanauan.  There, they turned city hall into a makeshift hospital and within three days performed 100 operations.  
But they walked in knowing they would only be here for five days. And when their time was up they had also run out of supplies.  So our mission was to return to Tanauan and see how the town and people were doing.   
Our helicopter took off at 9:30 a.m. for what is normally a 50-minute ride. But today was not a normal morning. Half way over the Philippine Sea, storm clouds began gathering over the mountains and descended on us. Suddenly, our five passenger chopper was navigating between storm clouds, mountains, valleys, coastline, untouched villages and those that had been decimated.    
We crossed one island but had another to go – and it was obvious watching the pilot's posture that going further was not possible. We needed to put the chopper down soon in order to stay safe.   
Everyone started looking for a place.  The beach had too much slant and some of the fields were flooded.  Then, we saw an undamaged home with enough yard to set down. We did so just in time. As soon as we landed, the clouds opened and the tropical rain started.  The family whose house we set down next to couldn't have been lovelier. They invited us in out of the rain. Then, after five minutes of a downpour, the pilot abruptly announced that we'd have to take off if we were going to skirt the net storm front and reach our destination.  So, up we went again.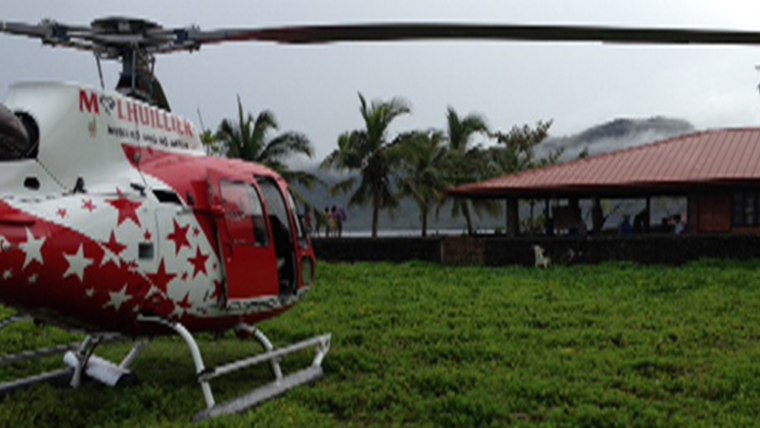 On the way we passed sights I hadn't seen all week: lush tropical forests, waterfalls, terraced crops high in the mountains.  There was even a rainbow off the left side of the chopper.We landed in Tanauan — late but safe — and got our story.  The flight back was just as dramatic as the second wave of the storm chased us, but there was no need to land this time.  
For me, it was the travel story behind the story.  And a real gift to see this country like few ever will.  The Philippines is jaw droppingly beautiful.   
As for the actual story, it will run on Nightly News Sunday night or right here on the web.