NASHVILLE — HK Derryberry is blind with cerebral palsy, but that may be the least important thing to know about him.
Derryberry can identify a person by their smell as soon as they walk in the room.
"Doctors told me HK was mentally retarded," his grandmother, Pearl Derryberry, told NBC News. "I have worked hard at helping him overcome some of his frustrations."
It turns out that dismissing HK from the start was a big mistake. He's just one of a handful of people in the world with highly superior autobiographical memory — hyperthymesia.
It's a condition that enables him to remember every meal he's eaten since childhood, and gives him total recall of the major sporting events he's listened to.
HK Derryberry has a unique way of charming people he meets for the first time, declaring the exact day of the week they were born with just a year and a date.
And, he has an unexpected sense of humor. "You don't look a day past 18," he quips with women he meets upon learning their age.
An improbable friendship that developed 17-years ago makes HK's life even more remarkable.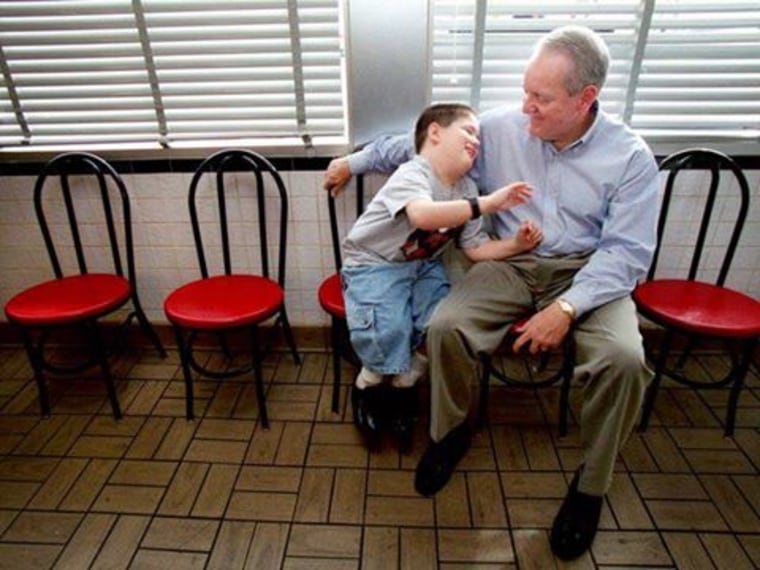 Jim Bradford, then a busy clothing executive, stopped for a cup of coffee at a now closed Mrs. Winner's Chicken and Biscuits restaurant one Saturday morning in Nashville.
Sitting in the corner, with his legs in braces, listening to a radio was 9-year-old HK.
"If I saw children with disabilities, I typically tried not to look at them for fear that their parents would catch me staring," said Bradford. "But when I saw this cute little boy with braces, I just knew something [was] wrong."
Jim says he's not sure why he stopped to say hello, but he did, and HK engaged him in a staccato conversation.
"After about three minutes I felt like I was being interrogated by the FBI," Bradford recalled about their first meeting. "I'm thinking this is the craziest kid I've ever seen."
HK was at the restaurant that day because his grandmother Pearl had nowhere to leave him as she worked her 8-hour shift behind the counter. HK's mother died in a tragic car accident while pregnant with him. His father abandoned him at age 5.
But 17-years later no one could have predicted how that chance meeting would blossom into an unlikely friendship that's now inspired a book by HarperCollins,"The Awakening of HK Derryberry."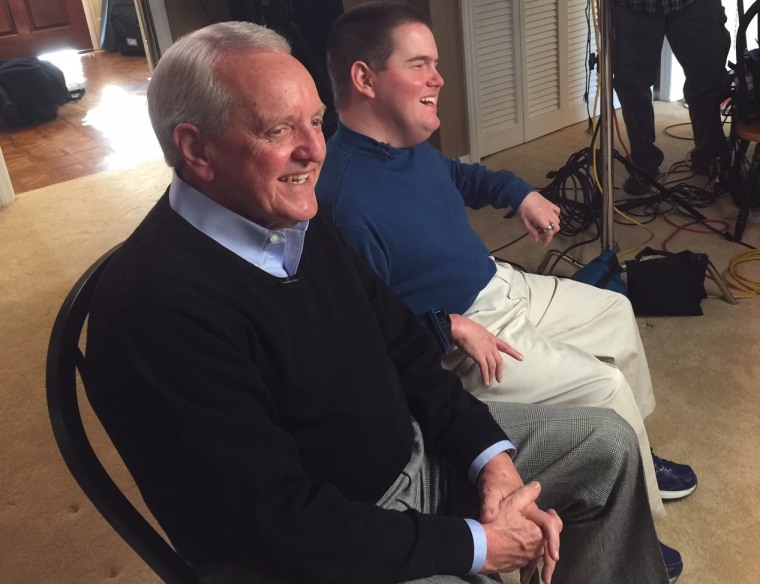 And in that time, Jim Bradford became something more than just a friend to HK — a father.
They now crisscross the country giving inspiring speeches about their relationship to all kinds of audiences.
If not for Bradford, HK's grandmother Pearl said he "would be at home sitting with me and listening to the TV with one ear and the radio with the other."
But HK's world opened up all because of a chance meeting with the man who changed his life.
"I think all of us probably have an HK out there they could meet one of these days, and it's probably not a boy with cerebral palsy," he said. "It may just be somebody who needs a good friend."
An excerpt from the "The Awakening of HK Derryberry" appears below.
I have often wondered about my choice that day to turn left instead of right. Looking back now, that insignificant decision had life-changing consequences. All I know is that on that particular Saturday morning, God was my GPS, and He had me on a mission.
I find it unfathomable that time has passed so quickly. My memory bank is full of a lifetime of heartwarming, humorous, and even a few embarrassing stories that characterize my involvement in HK's life. I could just as easily have missed the magnificent transformation of that small, shy boy with leg braces sitting alone in his own world at Mrs. Winner's Chicken & Biscuits.
HK celebrated his twenty-fifth birthday in July 2015, a mile-stone even Vanderbilt's NICU experts might consider miraculous after his touch-and-go ninety-six days in their care. I thank God everyday for his maternal grandmother's decision to let him live, and I shudder when I reflect on how she could have just as easily decided against it.
Just as he tells all the ladies he meets, HK doesn't look a day over eighteen. Today he bears little resemblance to the tiny, cute boy I met on that cold autumn morning in 1999. He's taller now, his hair is neatly trimmed, and he radiates a perfect smile, thanks to braces and expert dental care, compliments of a local dentist friend and his staff. An updated, stylish wardrobe keeps him looking preppy while his engaging personality and superb communication skills attract people like magnets.
In the same way, the reflection in my mirror bears little resemblance to the man HK met sixteen years ago. I was fifty-six then, but I'll soon turn seventy-three. I'm seriously considering retirement soon. My once-brown hair is now thinning and gray; my unavoidable crow's-feet have spread. It really makes my day to hear so-called friends remark that I look like my late grandfather.
Brenda continues her sales rep business and is a wonderful grandmother to Mac and Catherine in North Carolina. She's involved in the lives of both our daughters and has become an expert at texting, just to stay in touch. She loves spending sunny summer days at the lake house and with friends in Florida. Friday nights are still reserved for "adult functions." We reserve this night because I'm not convinced that she enjoys all of the silly stuff that HK and I do, like singing at the top of our lungs or splashing around playing bathtub basketball. But she's gracious about it and usually doesn't say much. If the rec room noise gets too loud, she'll just close the door and go on about her business.
A portion of the book proceeds will provide for HK's care and financial needs into the future.