It's been a tough year for the NFL, as public trust in players has suffered. But J.J. Watt, the most intimidating defensive lineman in the league, has scored big off the field.
With 20 sacks for the Houston Texans this season — not to mention five touchdowns — Watt is one of the handful of players ever voted an All-Star at two positions simultaneously — first-team All-Pro at defensive end and second-team All-Pro at defensive tackle. But it's with his unexpected acts of kindness off the field that he makes his biggest impact: from surprising a young boy battling leukemia to raising millions through his charitable foundation to saluting service members after every tackle to sending pizzas and a thank-you to every police and fire station in Houston.
"When you're in the National Football League and you get this window where all eyes are on you, you can use that," said Watt, who's garnering serious consideration for the league's Most Valuable Player award at the age of just 25. "You can use that platform for good."
In a day of multimillion-dollar sports contracts and off-the-field arrests, Watt is a big outlier, said Peter King, who covers the NFL for Sports Illustrated. "What I think we have too seldom in sports today is a guy whose performance off the field matches his greatness on the field," King said.
"There's no greater feeling in the world than when you can put a smile on somebody's face just by walking into a room," Watt said. "It's unbelievable. And if I have that power, who am I to waste it, you know?"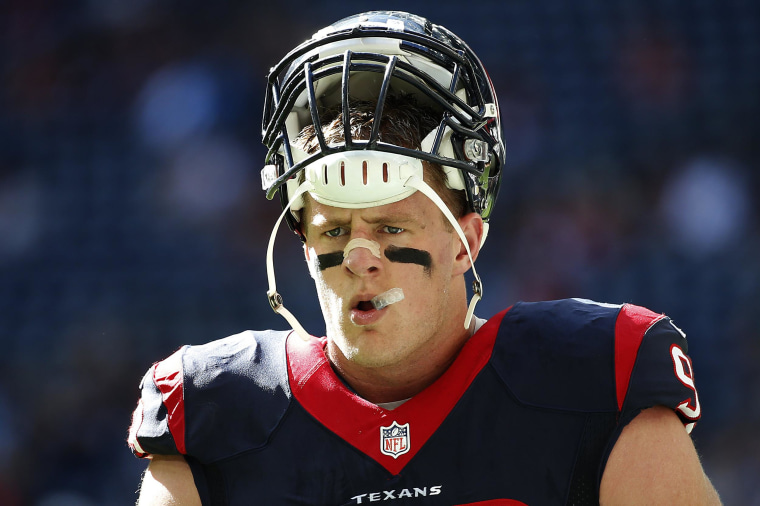 IN-DEPTH
SOCIAL