Lucas Hobbs received a lot of help in his battle against cancer.
So, when the 12-year-old's cancer went into remission, he desperately wanted to pay it forward to those who helped him fight the illness.
When Lucas got a Make-A-Wish opportunity, he didn't use it to take a trip to Disneyland or meet his favorite celebrity: Instead, the boy who loves to cook wanted to serve some special dishes for the patients and staff of the Children's Hospital and Clinics of Minnesota that helped him get well.
"I am here to give back the kindness that everybody gave me when I was sick," he said. "So I am here to return that kindness."
He was initially diagnosed with stage-3 Hodgkin's Lymphoma and didn't take the news very well, when he got it.
"When I heard my diagnosis, I was in tears," he said. "I was like, 'Am I going to die?'"
Lucas underwent chemotherapy for months. And the effect of that made him lose his appetite — especially when it came to hospital food.
"Because I had the chemo, it was messing with my taste buds and I just didn't like it that much," he said. "I just did not want to eat at all. It wasn't fun."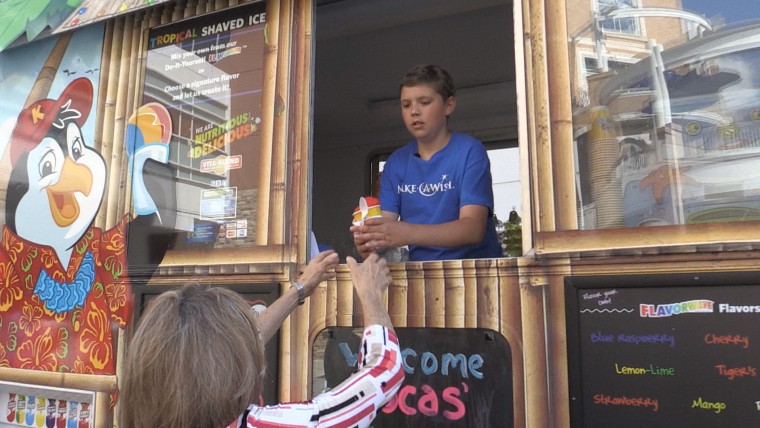 But Lucas is alleviating what can be a challenging ordeal for patients and their families, giving them good food with fun titles. A cherry flavored ice cone is what Lucas calls a "Blood Transfusion," and he even named a hot dog after his oncologist, Dr. Joanna Perkins, calling it the "Perkins Dog."
"I wanted these kids to get something different off the menu," said Lucas. "I missed all those ribs, pulled pork, all that yummy stuff, while I was at the hospital."
Lucas made sure that all of those things he missed from French fries to tacos were on the menu as he took orders from his food truck outside the hospital. And for those who couldn't make the trip outdoors, he even took the food inside.
"They saved his life," said his father, Matt Hobbs. "Just the compassion and everything, it ultimately resulted in just a little boy deciding to give some of that love back."
For Lucas, the true payoff comes when he brings food to the staff that helped him and the young patients at the hospital.
" I see just a big smile on their face, just a big smile."