To spend time with her two sons, Barbara Pritchett visits Inglewood Cemetery in southern California.
Her son D'Andre was buried there 10 months ago, right beside his brother Dovon, who was laid to rest 10 years ago.
"You never imagine and even think for a second that you're going to walk those shoes again," Pritchett said, her voice shaking with emotion.
Both of her sons were victims of gang violence in Watts, a neighborhood in South Los Angeles with rival gangs.
"My sons," Wooten said, "were killed 52 days apart."
Like Pritchett, Kathy Wooten lost two sons too soon. Both of her boys Branden and Kejuan, also were killed by gang members.
"It's just something you'll never get over," Wooten said in a whisper.
Now these mothers, from rival gang territories, do what their sons could not: bridge a deep divide in the community.
"We're just trying to break that whole cycle," Wooten said. "Just break it."
So, every day Wooten takes a drive through Jordan Downs, a public housing project that's a haven for gangs.
"I ride through three or four times day just to make sure everybody is safe," Wooten said.
And every year, she invites mothers of other murdered children to gather. This year, there were more than 200 women, many who lost a child to gang violence.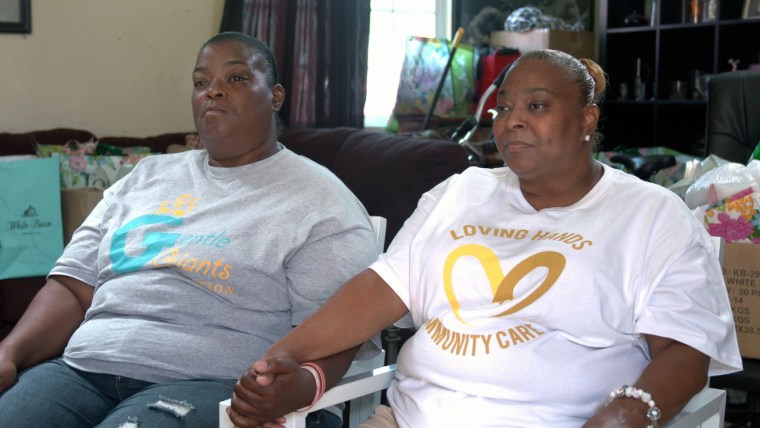 Her voice filled with emotion, one mother told the gathering, "It is my sincere honor to be here this morning to see a sea of moms just like me."
Wooten has been organizing the community event for ten years. Each year there are more new moms, 50 this time.
"We're trying to just show everybody that we're going to be united," Wooten said. "We're coming together as mothers from different neighborhoods and our children from different rival gangs."
"To let other people see and other parents know, and even the gang members know," Pritchett added. "Enough is enough."