NEW YORK — A 20-page long application, $700 fee and the requirement to know the answers to roughly 100 questions spanning the course of U.S. history — the naturalization process for those seeking U.S. citizenship is arguably difficult. Yet hundreds of thousands of lawful permanent residents, such as green card holders, take the naturalization exams each year in a bid to become American citizens.
Now one museum in New York is hoping to make that process just a little easier for green card holders living in the city.
The New York Historical Society started a new course in the summer of 2017 to help citizenship applicants explore and understand American history, using assets housed right in its building on Central Park West: artwork. With hundreds of paintings, statues and historical artifacts at their disposal, they are using the power of visual aids to help students better absorb the facts and dates.
The organization is combining a six-week comprehensive written course with daily gallery tours. Teachers like Samantha Rijkers — herself a green-card holder originally from Holland — hope that the artwork will help transcend language and cultural barriers, and convey the emotions and background of such prolific events as the Revolutionary War and women's suffrage.
"I think if it brings history alive and you can connect these stories, and if you recognize what is happening in society today, if you make connections to when you go to another museum, I think that makes people more active citizens, and that's what we want," said Rijkers.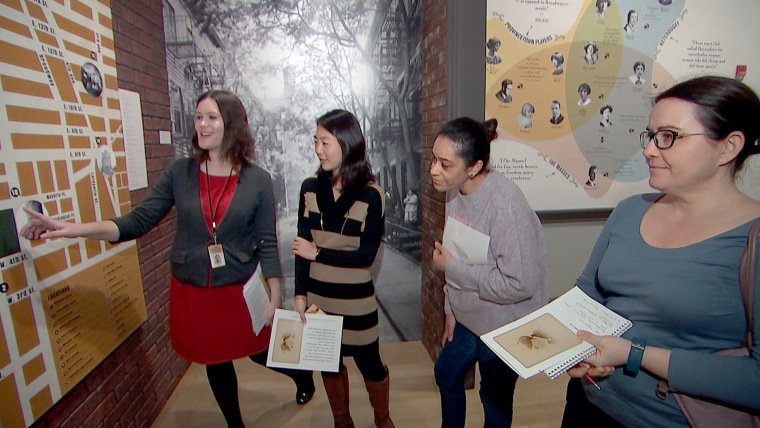 Most, if not all, of the students are not native English speakers, like current student Hiroko McVey who was born in Japan. McVey felt compelled to get her citizenship after recent changes in immigration left her concerned about her future in New York with her American husband.
Related: Group Offers 100 Days of Free Naturalization Help for Legal Residents
"When you hear what's going on in the U.S., it's a little uncertain what's going to happen for the green card holders like myself," says McVey. "It might be difficult for me to keep staying here as a resident."
McVey has found the course fascinating, particularly certain artifacts in the museum, including the actual chair that George Washington sat on during his inauguration in New York City.
"You would expect it to be a little more elaborate with gold and more throne like ... because he's the president of the United States," says McVey. "But how he decide to use this very simple, ordinary chair to basically convey ... that he is part of, among the people and he's not a part of the monarchy. So yes, now I remember that very well."
Administrators at the New York Historical Society have indicated that the program was in part started as a reaction to recent policy shifts by the Trump administration.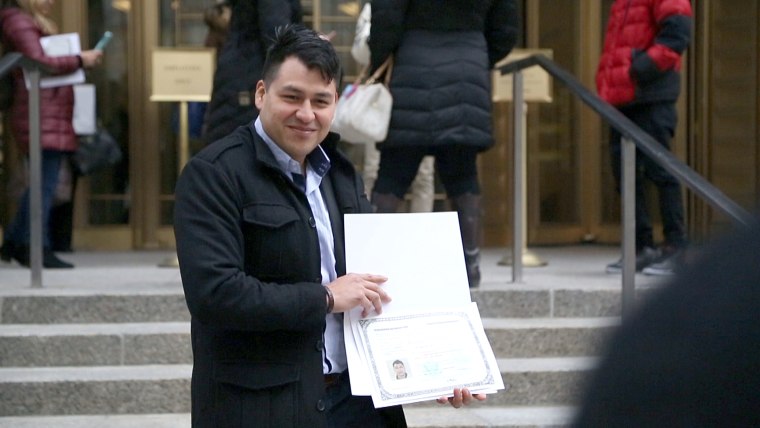 Jennifer Schantz, executive vice president of the NYHS, says that they wanted to provide a valuable tool for the vibrant immigrant community living in the U.S., and hopes that this program will spread across the country.
"I think after the travel bans, we felt like we had a long history of helping immigrants," said Schantz. "You know if you're not a citizen, you can't vote, you can't travel out of the United States without fear of maybe not being allowed back into the country; if you're arrested you could potentially be deported, so this is just a way for us to be decent and human."
This year citizenship applications have increased by more than 25 percent from last year, according to data from the United States Customs & Immigration Services.
Related: Missing Fingerprints Lead to Over 800 Wrongful US Citizenship
The New York Historical Society program has already seen several students actually pass the exam and become sworn in as U.S. citizens — like Mario Barrientos from Mexico, who says the course changed his life.
Married and with a child on the way, Barrientos says he took the course to make sure immigration concerns like deportation won't affect his growing family.
"This is one goal when I started at the museum," he said after the naturalization ceremony. "I'm going to study really hard and say that I can, I can. Every time, I say I can. And I did."
Rijkers said Barrientos' story is just the beginning.
"I've been really amazed by the interest in this program because people say that 'I want to become an informed citizen and I want to make informed decisions and I cannot do that without knowing American history,'" said Rijkers. "This class really helps them understand and it makes it easier for them to answer the test."