NFL legend Tony Dorsett says he forgets directions and suffers mood swings, but he vows that he will conquer the degenerative brain disorder that he was diagnosed with years after his incredible career.
"Sometimes it's — it's frustrating," Dorsett told NBC News' Lester Holt on Thursday in an exclusive interview. "Very frustrating. But, you know, I understand the fact that I can, I can, I can conquer this. But there's just gonna take some time."
Dorsett went public in November 2013 after he was diagnosed with signs of chronic traumatic encephalopathy. CTE, suspected of causing depression and dementia, has been linked to repeated head trauma and is a focus of the NFL's concussion crisis.
Dorsett, 60, said that he wanted to be "out front and personal" about the diagnosis so that children will "go through the right protocol" and get checked out if they suffer head trauma.
He said that his competitive spirit as an athlete is helping him fight. He said that his goal is to "beat this, to reverse it, to stop it, to do whatever I can to not let it continue on and make my life miserable."
"I'm in the fight, Lester," he said. "And most of the times when I'm in a fight, I give it my all, and I'm gonna do just like I did when I was on the gridiron."
Dorsett said that he does not fear that his legacy will be overshadowed by the disorder.
"Everybody understands the fact that, you know, uh, there are things, injuries that go along with playing that great, that great game of football," he said. "So, I mean, this is just one of the injuries that, you know, uh, that comes along with playing the game."
His wife, Janet, said that brain trauma is not just a "football problem." She pointed out that children who play many sports can suffer head injuries.
"If there is any type of a head injury involved, you need to be proactive about taking care of your children from a young age, and once that that player becomes an adult, being proactive about taking care of yourself," she said.
As for how Dorsett is coping, Janet said that it takes a lot of planning — "thank the Lord for GPS" — and she joked that he was lucky to pick an organized wife.
"And one with a lot of patience," Dorsett said with a laugh.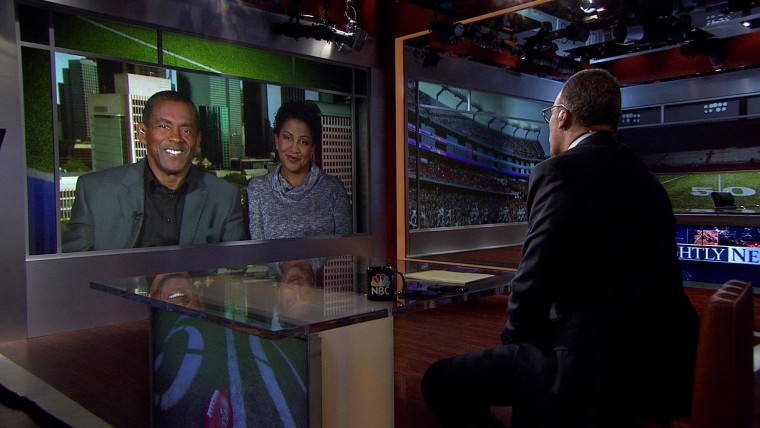 IN-DEPTH
— Erin McClam