They say you can't teach an old dog new tricks. But Throw Away Dogs, a Philadelphia-based program, is proving that rescue dogs abandoned at kennels can indeed be taught to do just that.
Throw Away Dogs founder Carol Skaziak was inspired after seeing what she said was a high disregard for canines in boarding facilities in her area. Since beginning her work, nine out of 12 dogs she has rescued are now serving in police departments across the country.
"I pour my heart and soul into it and all I ask for these departments is to just give my dogs a chance," she said.
Established in 2014, Throw Away Dogs rescues neglected shelter dogs and works to rehabilitate and train them for police work like narcotics detection and patrolling. Unlike most police dogs — specifically, expensive breeds raised in Europe — these dogs are donated to departments in need and free of charge.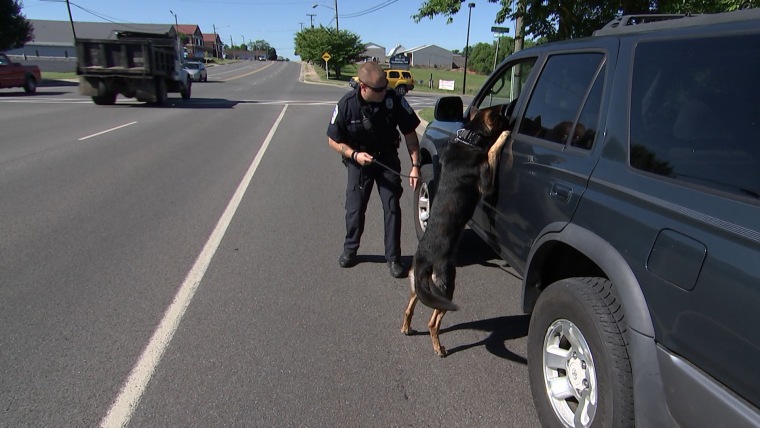 Skaziak, married to a police officer, says she's aware of the financial pressures departments face and understands the significance of training stray dogs.
"This is a huge amount of money that we are saving (a police) department," she said. "It will save them anywhere from $5,000 to $8,000, $10,000."
Those efforts are aided by K-9 officers such as Jennifer Doyle, a handler for the Abington, Pennsylvania, police department.
She says that when they choose strays to train, they search for dogs with a heightened "play drive."
"We want to watch a dog hunt for that particular object not because I'm edging it on, not because I'm giving it extra desire to do so, but because it really wants to," Doyle said.
Typically, the program trains dogs for three months, preparing them to undergo K-9 testing for a police department. Although not all of Skeziak's strays earn a spot on the force, she makes it a part of her mission to ensure they always receive a home.
"A rescue dog has the same qualities as an imported dog," Skeziak said. "I have seen it, I have proved it and I will continue to do that."