Singer Linda Ronstadt got the answer to that question she's been asking for decades: "When Will I Be Loved?"
The answer was Monday at the White House, by President Barack Obama, who hung a National Medal of Arts around her neck and revealed, "I had a little crush on her back in the day."
The honor was a particularly special moment for Ronstadt, who didn't make it to her induction to the Rock and Roll Hall of Fame in April since Parkinson's disease limits her ability to travel. A military aide brought her into the East Room by wheelchair, but she walked to the stage to receive her award as a citation was read honoring her "one-of-a-kind voice" that paved the way for generations of women artists.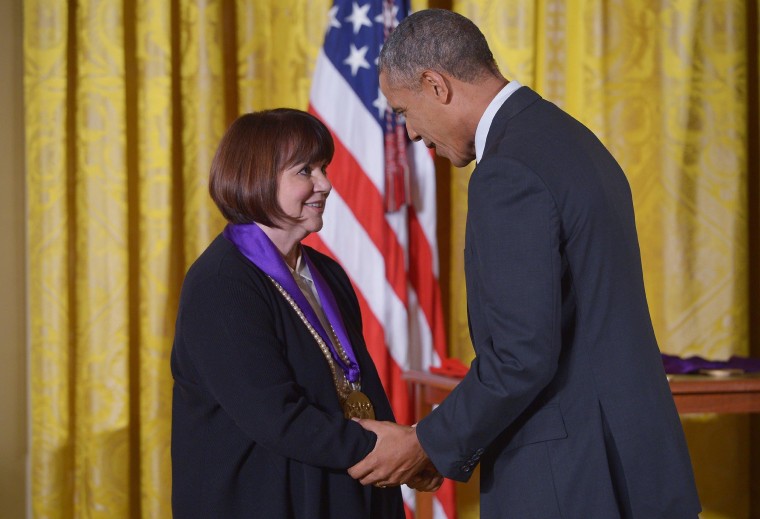 Eleven other recipients were awarded the 2013 National Medal of Arts, as the nation's highest award given to artists and their patrons, including DreamWorks Animation chief Jeffrey Katzenberg and Dominican-American writer Julia Alvarez, author of "In the Time of the Butterflies." Ten were awarded the National Humanities Medal, which honors those in fields including history, literature, languages and philosophy.
Other arts honorees included:
-- Brooklyn Academy of Music
-- arts patron Joan Harris of Chicago
-- dancer and choreographer Bill T. Jones of Valley Cottage, New York
-- composer John Kander of New York
-- writer Maxine Hong Kingston of Oakland, California
-- documentary filmmaker Albert Maysles of New York
-- architects Billie Tsien and Tod Williams of New York
-- artist James Turrell of Flagstaff, Arizona
The humanities awards went to:
-- literary critic M.H. Abrams of Ithaca, New York
-- historian David Brion Davis of Orange, Connecticut
-- historian Darlene Clark Hine of Chicago
-- historian Anne Firor Scott of Chapel Hill, North Carolina
-- East Asian scholar William Theodore De Bary of Tappan, New York
-- architect Johnpaul Jones of Bainbridge, Washington
-- filmmaker Stanley Nelson of New York
-- public radio host Diane Rehm of Washington
-- radio host Krista Tippett of St. Paul, Minnesota
-- American Antiquarian Society of Worcester, Massachusetts
—The Associated Press