Eric Riddick has spent the last 26 years in prison for a crime he says he didn't commit.
In 1992, he was convicted in the Southwest Philadelphia murder of his childhood friend, William Catlett. Riddick is currently serving a life sentence at Chester State Correctional Institution.
"That was a friend of mine," said Riddick in an exclusive interview with NBC News' Lester Holt. "In 48 years I've never taken, I've never taken a human life. I wasn't perfect, but I never was a killer."
After being released from prison in April, rapper Meek Mill brought Riddick's case to the attention of NBC News when he sat down for an exclusive interview with Holt. Mill met Riddick when he was sent to the same prison for probation violations. His lawyers are now representing Riddick.
His mother, Christine Riddick, has been there all along, knocking on doors at City Hall for his release since he was convicted.
"I definitely have felt so overwhelmed and cheated in these last 26 years because while I'm tired out here, I'm tired and free," she said. "He's tired and locked up. So that's my motivation."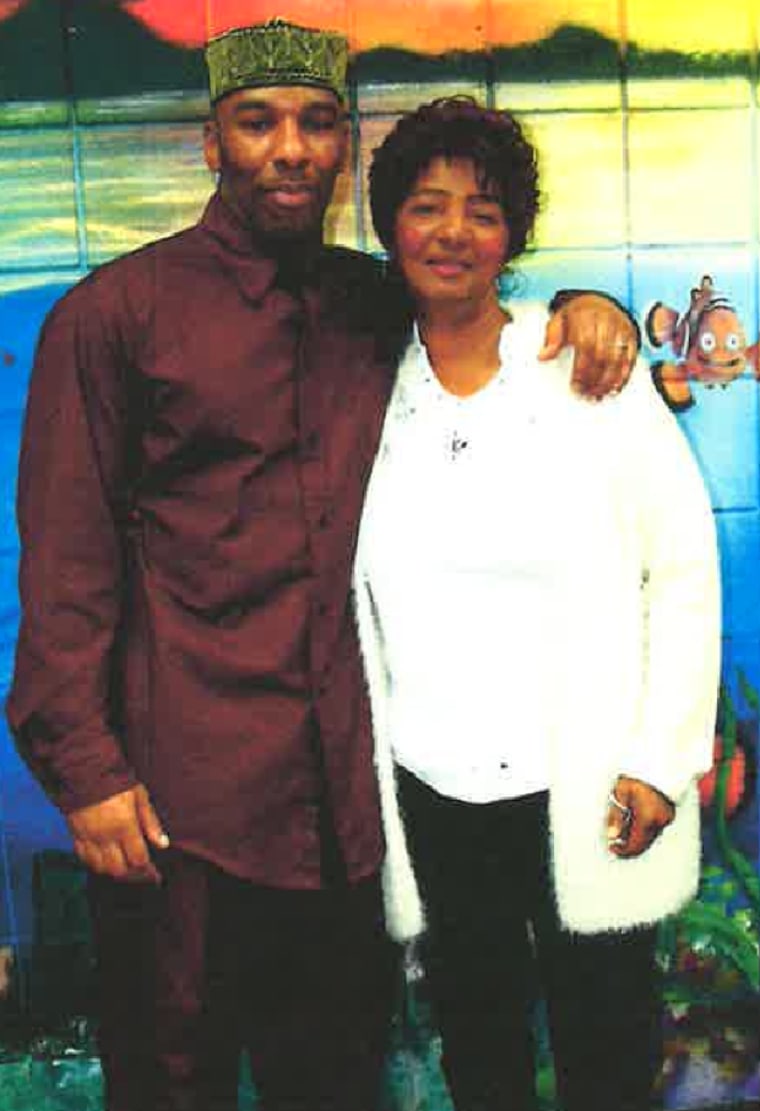 On the night Catlett was murdered, Riddick says he was two blocks away with three friends, a claim he has always maintained.
Justine Dawson corroborated his story, saying Riddick was sitting on the stoop outside her home when the shots rang out.
"He was right here with us, that's how I don't understand how he got involved in that," she said. "They never gave us the chance to come into the courtroom. We was there every time."
Riddick's court-appointed defense attorney never called the three alibi witnesses to testify. Riddick says his attorney, who declined to comment to NBC News, opted to not put on a defense.
"At the end of the D.A.'s office resting their case, he turned to me and said, 'Well, we don't have to present no case because they didn't meet the burden of proof,'" Riddick told Holt.
A notice of alibi defense was never filed, according to Philadelphia Councilman David Oh.
"Without that notice, the judge may not have allowed the witnesses to testify because it would be a surprise. It wouldn't be fair to the prosecution," he explained.
Instead, the entire trial relied on a single eyewitness. Shawn Stevenson identified Riddick as the shooter and told police he saw Riddick fire a rifle from an elevated fire escape. But he later recanted his statement in a 1999 affidavit, writing, "I, Shawn Stevenson, falsely accused Eric Riddick, of the murder of William Catlett …"
Riddick says he did not physically receive the affidavit until 2003. By the time he filed an appeal, it was too late. Under Pennsylvania's Post Conviction Relief Act (PCRA), sentence appeals require a one-year filing deadline unless new evidence is obtained, where it must be filed within 60 days. Riddick's appeal was denied.
Nine years later in 2012, an examination by forensics firearm examiner William Conrad further refuted that Riddick was the shooter. Conrad wrote that the presence of .32- and .22-caliber bullets in the victim's body meant "that at least two different firearms were used in the shooting." Conrad concluded the .32-caliber bullets could only have come from a revolver, and since police never found .22-caliber cartridge cases at the crime scene, a rifle could not have been used for that either.
Conrad also wrote in his analysis that, "any shots fired toward the street would have a downward trajectory." Philadelphia's Medical Examiner's Office performed an autopsy in 1991 after the murder, finding a total of five gunshot wounds, identifying four gunshots trajectories as "upward". Councilman Oh says the wounds to the victim proved the shots could not have come from an elevated fire escape. "The entry wound was from an upward firing. It was below to up and not top to down. And so that scientific evidence refutes that Eric Riddick could have been the shooter," he says.
In December, two of the judges who denied Riddick's latest appeal acknowledged a flaw in the system, writing, it's "clear to all that it is likely that an innocent man sits behind bars for no better reason than a poorly conceived statute."
Riddick's latest appeal to the Pennsylvania Supreme Court was denied in July, so his fate is now in the hands of Philadelphia District Attorney Larry Krasner's Conviction Integrity Unit, which has confirmed they are reviewing the case.
As the case gains more attention, Catlett's family is still mourning and continues to believe Riddick did commit the crime. At the time of his death, Catlett left behind a wife, Daminca Overton, a nine-month-old daughter, Dashay Catlett, and an unborn son. They told NBC News they believe that Riddick coerced others to lie on his behalf.
"He had just had a daughter. He always worked," Riddick said. "I want the people just to remember that, and a person did lose his life in this situation."
While Riddick looks forward to a day when he is released and able to take care of his mother, he focuses on his story from a "spiritual standpoint."
"I think that this situation happened to me so that I could eventually help others out in [my position]," he said. "That's the only way I can, I think that I'm able to digest this situation without going crazy."