Lifeguards in Los Angeles County are racing from one rescue to the next as dangerous rip currents are threatening a staggering number beachgoers.
In the last five days alone, strong rip currents led to more than 1,300 ocean rescues by L.A. County lifeguards, officials said.
"You can be in knee deep water and the waves come in and lift you off the bottom and then within seconds you're 50 feet offshore," Kenichi Haskett, a lifeguard captain with the Los Angeles County Fire Department, told NBC News.
On Tuesday, hundreds of people along the Los Angeles County coastline needed rescuing, with the L.A. County Fire Department Lifeguard Division reporting 408 rescues just on that day.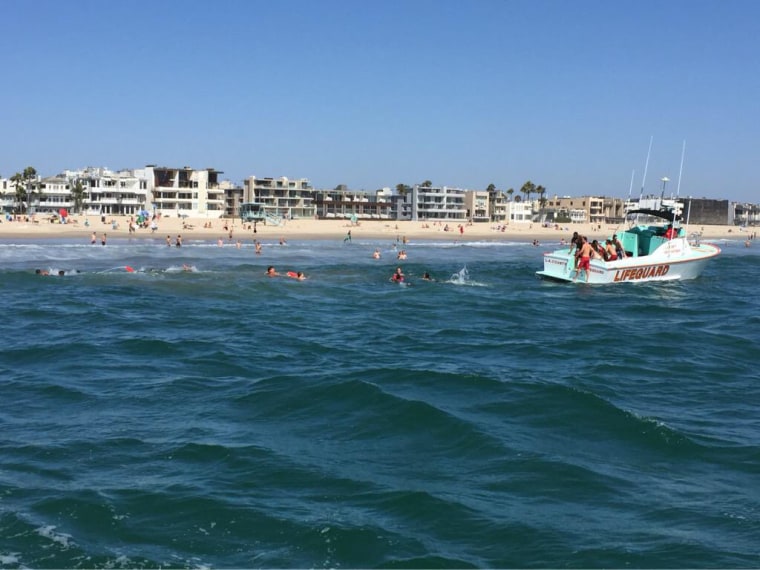 At Venice Beach on Tuesday, 18 people were pulled out to sea at the same time by fast-moving currents in what lifeguards call "a blitz." All 18 were safely returned to shore, the county lifeguard division said.
Suzy Beck was swimming with her boyfriend when they were caught in a rip current and dragged offshore.
"We were just diving into the waves and all of a sudden looked up and realized we were so far out," Beck told NBC News. "We were by the shore and then we were gone."
Lifeguard James Goldsmith, who rescued Beck and her boyfriend, said even cautious swimmers may not realize how far they're getting pulled offshore.
"They just kept getting further and further out," he said. "So when I got to them, they were trying to swim in but they weren't making any progress."
Last year, county lifeguards made a record 15,851 ocean rescues — breaking the previous record of 14,096 in 1997.
"This year, we're on track to beat that record," Haskett said.
The county beaches are busier than ever, with an estimated three million people expected this weekend, leading to more rescues, officials said. And meteorologists say storms in the Southern Hemisphere are creating more intense currents in the Pacific Ocean, and larger than normal waves.
"The hot air temperatures and larger surf than normal causes almost like the perfect storm for lifeguards," Haskett said. "The crowds at the beach, the rip current, the swell. It raises our counts of rescues."