The time has come.
After years of delays and a relentless promotional ad campaign, "Star Wars: The Force Awakens" opens Friday in theaters worldwide.
But the week's festivities begin tonight with the film's premiere at the famed Grauman's Chinese Theatre, now known as the TCL Chinese Theatre, in Hollywood, California.
The event, even by intergalactic standards, is expected to be a spectacle. A massive white tent encompassing four city blocks has been erected and security is tight around the designated areas. The red carpet is roughly four times longer than that used for the annual Oscars awards ceremony, according to The Hollywood Reporter.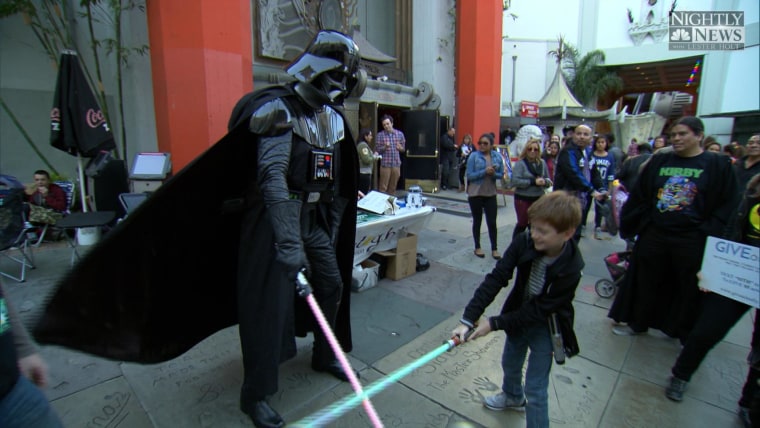 Die-hard fans began lining up outside the theater last Saturday, Dec. 5., for an early screening of the film on Thursday evening. When some of the first people on line trickle in, they will have spent, in some cases, 12 days in line, said Levi Tinker, director of tours at the theater.
"I try to fathom how someone could love a movie that much," Tinker told NBC News. "It's pretty incredible."
One Australian couple has planned their own wedding ceremony outside the theatre just before Thursday's screening. Caroline Ritter and Andrew Porters told NBC News that they flew in to Los Angeles on Tuesday, Dec. 1, and have waited in line since the Saturday the 5th.
"The chance to get married [here] is a dream," said Ritter, dressed in full Star Wars garb alongside her soon-to-be husband. "It's the best reception you could ask for."
The 1977 premiere of "A New Hope" — the franchise's first film — was also held at the theater and, Tinker noted, was relatively "low-key."
Brandon Thibodeau was just a few years old when he attended back then. On Thursday, now 41 and with children of his own, he plans to be back in line at the Chinese Theater.
"It's a full cycle [to be back]," Thibodeau told NBC News. "It's going to be a beautiful movie."
Nearly four decades later, the Star Wars franchise is one of the most successful in history. In 2012, Disney purchased Lucasfilm, and by extension the rights to Star Wars, for $4 billion. Industry experts say they expect Disney to make back the hefty price tag even before "The Force Awakens" finishes its run in cinemas sometime in the coming months. The film alone is expected to gross between $1.5 and $2 billion worldwide.
The film's ability to transcend generations, Tinker says, has been key to its lasting success. In an age of digital media, he noted that films like Star Wars still draw moviegoers of all ages to the traditional brick and-mortar cinema for that immersive experience not yet replicable online.
"It's something that families can connect with," said Tinker. "They [the films] are timeless."