BEIRUT — Noura Ghazi Safadi fell for Bassel Khartabil at a pro-democracy protest in the Syrian town of Douma, near Damascus, in April 2011.
"He had this kindness and smartness," Safadi said. "I felt like my heart started beating so strong!"
Three months later, in July, they got engaged.
It was in the middle of the Arab Spring, and thousands of Syrians had taken to the streets demanding democratic reforms. The optimistic protests had yet to descend into a vicious civil war. The Damascus suburb of eastern Ghouta — where Douma is — had not become "hell on Earth," and hundreds of thousands had yet to die in violence that has driven millions from their homes.
"I just want my love to be with me even if he's dead. Is it an impossible dream?"
It was a giddy time. She, a human rights lawyer, and he, a self-taught software engineer, became inseparable and they attended demonstrations together, desperately hoping for change from the government of President Bashar al-Assad.
But the relationship fell victim to the war, which is now in its eighth year. Khartabil was arrested in March 2012 — two weeks before his wedding — and, as Safadi learned in August, he was executed in 2015. She has yet to receive official notice from the regime that Khartabil is dead.
Instead, Safadi waits, and hurts.
"I want to go there and to talk to him like I used to do," she said.
Safadi, a small, soft-spoken woman with a steely resolve, has made it her mission to bury her beloved and mourn his loss at a gravesite, but she has been told nothing about the return of his body.
Khartabil, whose computer skills were widely known among programmers outside Syria, had long wanted to make the internet more accessible in his own country. Active as an open-source software developer, he was known to translate Wikipedia entries from English into Arabic. When anti-government protests erupted in Syria, he used his tech savvy to get around strict government censorship and posted hundreds of videos of demonstrations online so the world would learn what was happening inside the country.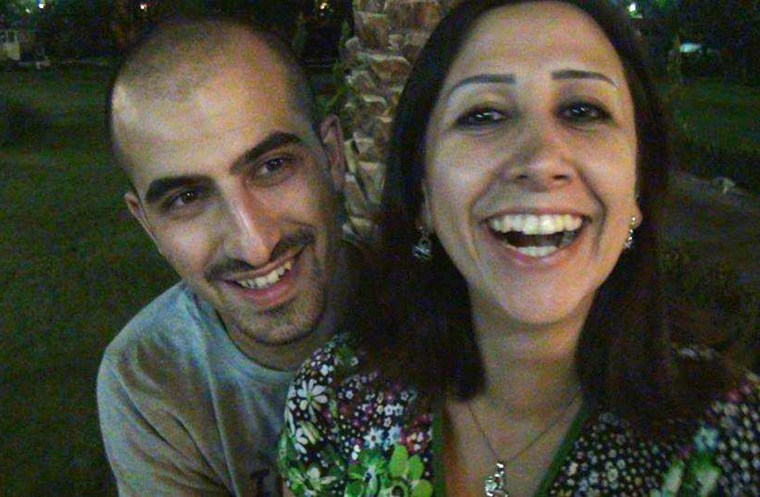 A video recorded just months after Khartabil and Safadi met shows them beaming, playfully describing the beginning of their relationship.
"We expected everything was going to be solved, and we would win," Safadi said as she watched the video alongside NBC News, referring to the changes they desperately hoped for.
But beneath the optimism ran an undercurrent of foreboding. Shortly after the demonstrations began, Assad responded with a bloody crackdown. Unarmed protesters were mowed down by bullets and tank shells. Still more were detained and tortured.
As the euphoria of the protests dissipated and darkness descended, Khartabil realized he had now something to lose.
"I never had a problem with them arresting me before we got engaged, but now I'm worried about her," he said of Safadi in the same video.
"I am always worried about him," Safadi said in the same video. "I have fears."
Khartabil's best friend, Jon Phillips, was also concerned about his safety. A decade earlier, while still a graduate student at the University of California, San Diego, Philips had met Khartabil online. The pair bonded over a mutual love of computers, collaborating on projects and meeting regularly at conferences around the world.
Phillips remembered their last meeting at a conference in Poland in early 2012, where he implored Khartabil not to return to Syria. His response was "it's OK, it's OK," Phillips recalled.
On March 12, 2012, Khartabil disappeared.
Safadi embarked on a desperate search for him. Nearly 10 months later, she found him in an overcrowded prison in a Damascus suburb.
Khartabil told Safadi that he had been kept in solitary confinement in a military prison for nearly nine months and been tortured daily and starved. A military prosecutor charged him with "spying for an enemy state." There was no trial.
He was later transferred to civilian detention where he met a journalist, Wael Saad al-Deen. The two talked every day, kept each other going with discussions of love, poetry and their revolution.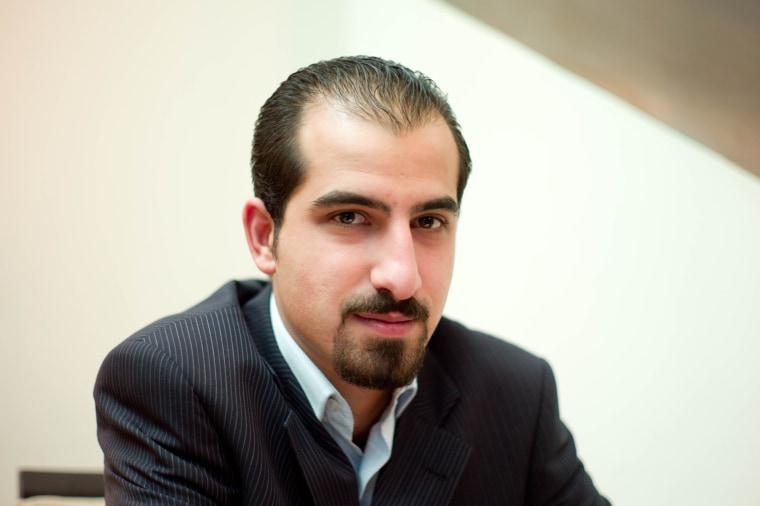 Al-Deen fled Syria after being released on bail and is now seeking asylum in Canada.
The horrors of Syria's prisons, including torture and deprivation, have been documented. An estimated 60,000 people died while in government detention from 2011 to 2016, according to the Syrian Observatory for Human Rights, a U.K.-based monitoring group.
The Syrian regime has called charges of torture and extrajudicial killings in its prisons "baseless."
Although Khartabil was imprisoned, with no prospect of being released, the couple proceeded with the wedding. Safadi's parents came to witness the vows, which the two exchanged through prison bars.
With the hashtag #FreeBassel, Phillips launched an international campaign to raise awareness of Khartabil's detention. Wikipedia founder Jimmy Wales recorded an online video in support. Then-Secretary of State John Kerry called Khartabil a prisoner of conscience.
In 2015, almost three years into his arrest, Khartabil disappeared again. He phoned Safadi before the guards took him away. She began searching.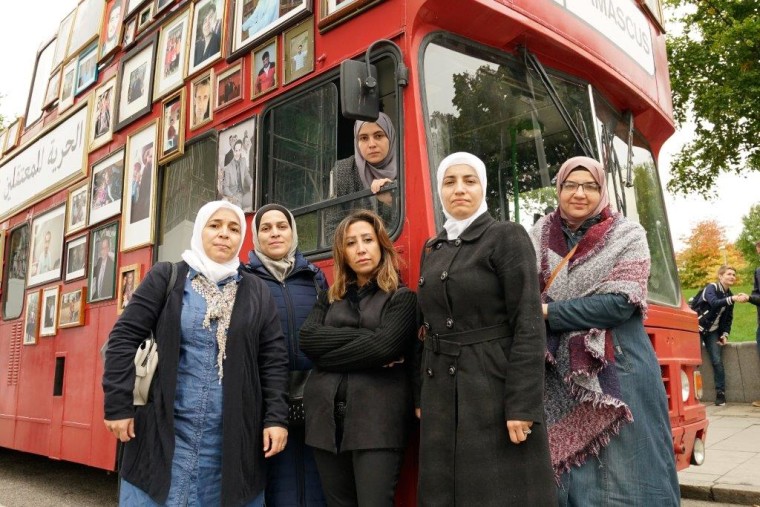 Last August, Safadi finally learned the truth: Khartabil had been executed just a few days after he was taken from prison, according to her sources who have seen official documents authorizing the execution. The Syrian regime has not confirmed his death.
"I didn't see the body," Safadi said. "Like all Syrians, I didn't get a death certificate because he was executed and they still deny this."
Phillips is still haunted by that last exchange with his friend. "We absolutely failed," he said. "We did not get him out."
Al-Deen, for his part, is also preoccupied with his final moments with Khartabil. "I can't forget him."
Safadi, who now lives in Beirut, has published a collection of poems written while Khartabil was in prison. It is titled "Waiting."
She continues to wait — for a death certificate, for the return of her husband's body.
"I want a grave for Bassel," she said, her voice trembling. "I just want my love to be with me even if he's dead. Is it an impossible dream?"
Kelly Cobiella and Yuka Tachibana reported from Beirut, and Kennett Werner from London.