At 27 years old, personal trainer and Zumba instructor Klyn Elsbury should be in the prime of her life.
But because she suffers from cystic fibrosis, a life-threatening genetic condition that causes severe damage to her lungs, the Escondido, California, resident is in and out of the hospital every few weeks, often staying for a week at a time.
A breakthrough new drug, Orkambi, offers hope for patients like Elsbury — along with sticker shock, at an annual price tag of more than a quarter million dollars.
"They put a price on my life," Elsbury told NBC News. "I think that it being priced so high is not justifiable."
Orkambi and another drug recently approved by the Food and Drug Administration, Kalydeco, treat the root cause of cystic fibrosis. Neither is a cure, but offer the promise of improving the lives of those who suffer from it.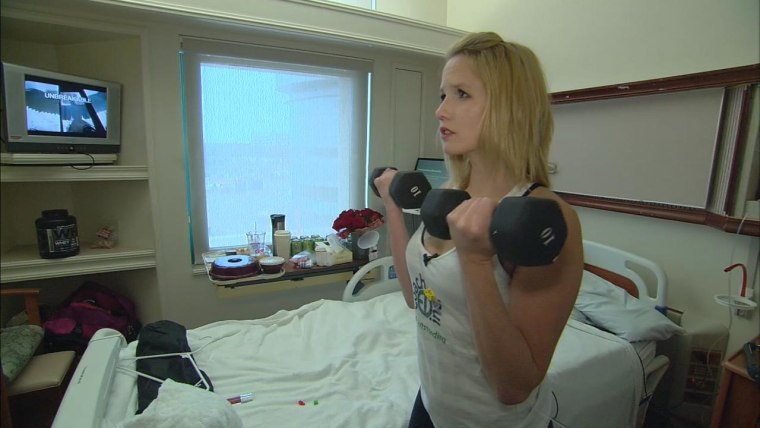 But at more than $300,000 a year, Kalydeco costs even more than Orkambi, and patients like Elsbury are begging their insurance companies to pay for them.
Dr. Brian O'Sullivan, a cystic fibrosis specialist at University of Massachusetts Medical School, said there was no doubt these drugs could change the lives of his patients, most of whom have a life expectancy somewhere in their 40s.
"My first feeling was anger," he told NBC News. "To see a price like this was a kick in the gut. It was really hard to take. I knew it would be an expensive drug. I thought it was going to be 10,000 dollars a year, not 300,000 dollars a year."
Developing a drug is risky business that can cost more than a billion dollars. Both Orkambi and Kalydeco are made by Vertex, a Boston-based pharmaceutical firm, which did not respond to NBC News' request for an explanation of its prices.
Related: Drug That Fights Complications of AIDS and Cancer Goes From $13.50 to $750
But it is hardly the first drug company to face scrutiny over its prices.
Two weeks ago, Martin Shkreli bought Turing Pharmaceuticals, then increased the cost of a life-saving drug his company makes to treat parasitic infections by 5,000 percent, from $13.50 a tablet to $750.
"This isn't the greedy drug company trying to gouge patients, it is us trying to stay in business," Martin Shkreli, the founder and CEO of Turing, told the New York Times.
In the case of the cystic fibrosis treatment, O'Sullivan says because patient groups raised millions to help fund the drug's development, they're especially upset by the price Vertex is charging them.
"I've used the term 'profiteering,'" he said. "Our patients need this drug and the only access they have to it is through Vertex. And they can charge whatever they want for it."
In a statement, Vertex said it offers comprehensive assistance programs to eligible patients who need help or don't have insurance, and it expects insurers will "move quickly to provide access for all eligible patients."
And while the company is not profitable, some shareholders question the CEO's compensation package, which last year topped $28 million — the majority in stock.
Related: Buyer Beware: A Mammogram's Price Can Vary By Nearly $1,000, Study Finds
Matthew Eyles, executive vice president at America's Health Insurance Plans, a trade association, called pharmaceutical company pricing a "black box."
"There's really no transparency in how those prices are set, and companies have no requirements to tell how they're setting a price," he said. "We think that that's a big problem."
While many new drugs debut with high prices, starting out with a six-figure price tag is a "very alarming trend," he added.
"Pharmaceutical companies and pharmaceutical prices are really an unregulated frontier," he said. "What we see out there is that they are able to charge whatever they can and whatever the market will bear, without any questions to the underlying value of a drug or its underlying cost of production."
But for Elsbury, who wakes up with a violent cough every morning, it isn't about profit or losses. On Tuesday, she got the news she has been fighting so hard for: Her insurance company will pay for Orkambi.
"My life is worth saving," she said.