Busy parents and harried business people will go to great lengths to find the newest and best relaxation method, but the stress-reducer that is soaring in popularity is something that most people haven't done since elementary school — coloring.
Producers of coloring books for adults can't seem to print them fast enough.
Illustrator, Johanna Basford's "Secret Garden" is in the top ten on Amazon's Best Seller list, ahead of Harper Lee's much anticipated "Go Set a Watchman." And Basford's two coloring books are entirely sold out, as are illustrator, Lisa Congdon's three "Just Add Color" books.
The draw, so to speak, is in the calming effect of picking up a crayon, marker or colored pencil and filling in the white spaces, proponents say.
"The popularity of coloring books right now is part of that larger movement to break away from the hustle and bustle of life and sort of the internet you know this urge to constantly look at our phone or our computer or check our email," said Congdon, who has created three different coloring book versions, and has three in the works.
Congdon said she thinks the books are successful because they give people the chance to be creative without the intimidation of staring at a blank page, or the pressure of having to learn something new.
"I think for women who don't know how to draw or don't feel comfortable or confident drawing, this is another way to socialize and have an activity that they can do with other people … and because you don't need to concentrate very much when you're coloring in a coloring book, so you can talk and have glass of wine."
That was exactly the idea that Shyla Jannusch had in mind when she started hosting coloring parties. Her Facebook group, called "Coloring for All," has gained nearly 1,500 members in less than three months.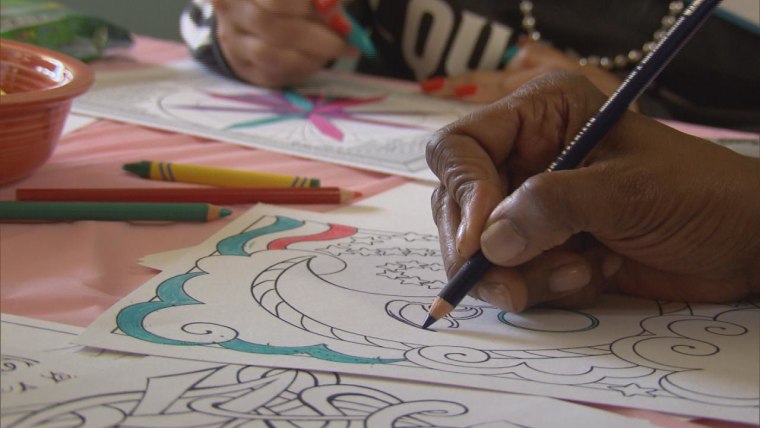 Jannusch said she is able to "shut the whole world off when I'm into my coloring book," but part of the appeal of coloring is that the activity engages the brain to a degree. "When I am coloring, I get to use my mind. I'm choosing colors, I'm figuring out shading," she said.
Officially, the American Lung Association recommends 52 stress reducers — and coloring hits a few of them: disconnecting from phones, talking problems out with friends, focusing on one thing at a time, simplifying and doing something enjoyable.
"It allows us to be innocent again, in some respects," said Jannusch, who added that one of the biggest perks of coloring is that people of any age can tap into that nostalgia. And free pages that can be printed off the internet allow even more people access to the benefits, she said.
"I always say, you need crayons and your imagination," Jannusch said. "Anybody can do this."