WILLIAMSTON, Mich. – Just weeks after police arrested five suspects accused of stealing customers' personal information from gas pumps, an intensive search is underway to find more credit card skimmers before it's too late.
"It's crazy," said Craig VanBuren, director of the Consumer Protection Section at Michigan's Department of Agriculture, the agency in charge of inspecting gas stations throughout the state. "What we're finding since August has just really blown our mind."
Inspectors are now coming across multiple skimmers a week — not just in large cities, but in small towns.
Once installed, the devices allow thieves to secretly record a customer's credit or debit card information and steal their identity.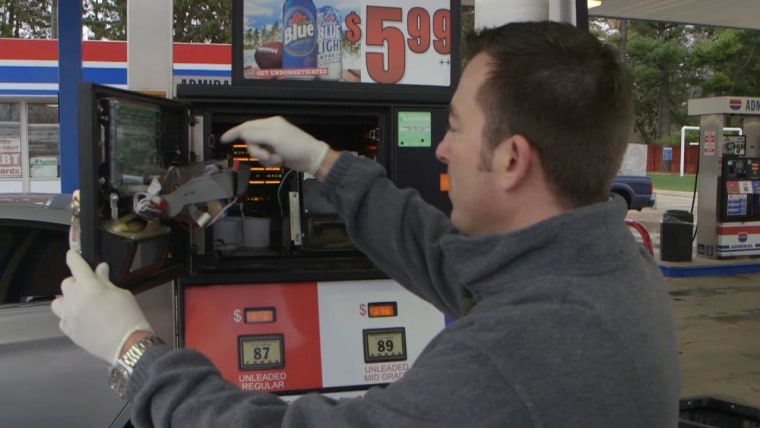 "It's just that easy," VanBuren said. "And if you don't have a reason to look at your security film, you're not going to catch them in the end."
Criminals are accessing the gas pumps with master keys they buy online — then secretly attaching the wires that lead to a computer chip.
"Your transaction goes through as normal," VanBuren said. "Unfortunately, at the same time, it's also capturing all of your credit card information."
The thieves then either return to collect the undetected device later or access the information remotely.
Charlotte Hessey and her husband lost an entire month's income — nearly $3,000 — to skimmers in Texas.
"This was the largest financial nightmare of our life," she said. "It puts your life on hold. You can't pay bills. You can't buy groceries. You can't go out for dinner. You can't buy lunch."
Related: Second Russian Man Pleads Guilty in Major Credit Card Hack
Each skimmer could compromise thousands of customers before it's discovered. They're now sold on sites like Ebay — some for less than $100.
"The technology is easy to acquire and it's smaller than you would think," said Tim Ryan, a former FBI special agent who's now a cybersecurity consultant. "It can fit in the palm of your hand."
Last year, the devices cost consumers $2 billion, according to ATM Marketplace. This year, New York police told WNBC that skimming has quadrupled in Queens and they've posted consumer warnings on ATMs.
Officials are now urging gas stations to replace locks — and use security seals to protect their pumps.
As for customers, VanBuren said they should avoid pumps farthest from the attendant's view, pay inside or with cash and regularly monitor their bank accounts.
"We're still finding them over and over," he said. "We know they're more out there but I believe we will find them."