Voters had their say Monday night for the first time in the 2016 presidential campaign, and the results could mean some measure of chaos for both major political parties.
On the Democratic side, Hillary Clinton's campaign may have eked out a victory, but the razor-thin finish suggests she has a long way to go before she can safely say she's made the sale to progressive voters. And the polling was all wrong for Republicans, with Sen. Ted Cruz triumphing over front-runner Donald Trump and a hard-charging Sen. Marco Rubio.
An unusually chastened Trump said he was "honored" to come in second, but privately the candidate, who has spent much of his time in the spotlight slamming his rivals and trumpeting his own position in the polls, must be stewing over the fact that Loser.com now redirects to his Wikipedia page.
Here are a few more takeaways from Monday night's results:
New Hampshire may be a must-win for Trump
What a difference a day makes. Just 48 hours ago, Donald Trump appeared to be running away with the Republican nomination. Polls showed him surging into first in Iowa, and with formidable leads in the upcoming primary states of New Hampshire and South Carolina, he looked poised for a clean sweep. His second place finish has now raised serious doubts about his ground game and his presumed invincibility. The good news for Trump is that New Hampshire voters are infamous for rejecting the whims of Iowans. Trump has a substantial lead there and if he pulls out a victory he could be very much in play in the states that follow. But now his challenge is figuring out who he needs to slap down more: Cruz, or Rubio.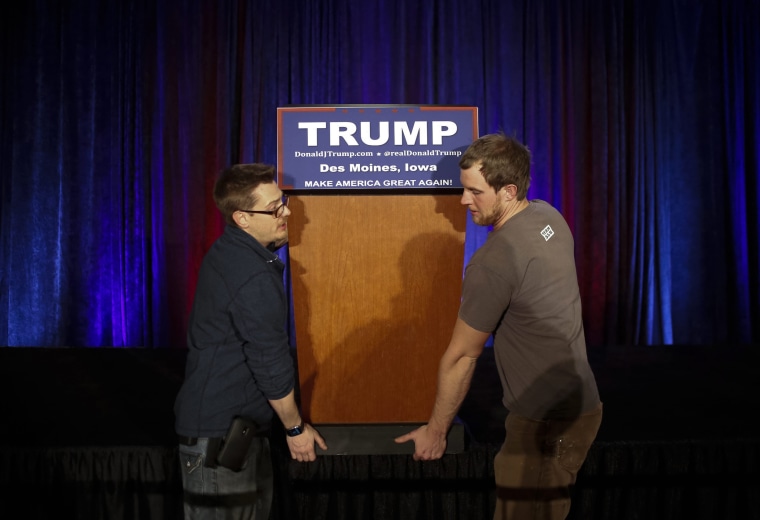 Rubio has the momentum right now
The surprisingly close third place showing of the Florida senator certainly seemed to suggest that he may have solidified the establishment Republican vote going forward. Rubio's concession speech sounded a lot more like a call to arms, setting up the showdown with Cruz that pundits have been predicting from months. Perhaps most telling, Sen. Tim Scott of South Carolina endorsed Rubio following the caucus results Tuesday morning, and several more high-profile GOP stars may align behind him soon, too. But it won't all be smooth sailing for Rubio. Bush, Kasich and Christie are all jockeying for the same constituency in New Hampshire, and Cruz has far more money in the bank.
Iowa could be the highlight for Cruz
Cruz was the winner last night, but you'd hardly know it based on today's reactions. While his organization in Iowa won the day, the campaign took some serious hits on its way to the finish line, and there is no question that Trump and Rubio were nipping at his heels. Questions of likability and electability will continue to dog Cruz as he enters New Hampshire, which is less dominated by the kind of evangelical social conservatives that were his base in Iowa. Still, he has significant funds and solid standing in several of the upcoming primary contests.
What will Ben Carson do?
Besides bolting Iowa to get some new clothes, the former top-tier neurosurgeon's role in this race will be crucial in the weeks ahead. Although he has fallen considerably in the polls, his share of the vote may hamper the ambitions of Cruz and Trump. His campaign's claims that Cruz sabotaged them in Iowa could have some traction going forward, especially if they feed into the narrative that the Texas senator is a "nasty guy." Carson's rocky performances as of late and perpetual campaign turmoil spell trouble, but he shows no signs of letting up just yet.
Can Clinton get back on track?
Hillary Clinton once had a 50-point lead in Iowa, so by any measure the Bernie Sanders finish should be alarming to the former secretary of state and her supporters. Clinton was supposed to be better organized and better positioned in Iowa, but the Vermont senator's enthusiastic supporters clearly made her ground game a wash. Next up is New Hampshire, which is even friendlier territory for Sanders – right now, he enjoys a double-digit lead there. Even though the map starts looking more favorable to Clinton after next week, she will likely want to make a race of it with Sanders in New Hampshire to avoid the narrative that her candidacy is imploding.
Sanders needs to broaden his appeal
Despite his strong showing in Iowa, Sanders is not necessarily tapping into the broader Obama coalition, which propelled the president to victory in 2008 and 2012. He still needs to make a more effective case to black voters and less ideologically purist Democratic voters in the races ahead. According to the Bloomberg Politics/Des Moines Register poll, 43 percent of Democratic voters in Iowa identify as "socialist," and New Hampshire, as a neighbor to Vermont, is essentially a hometown contest. The question remains whether Sanders' radical agenda has legs past these first two contests.
Anger won
The righteous indignation of the both the right and the left carried the day on Monday. The overwhelming majority of Republican caucus-goers expressed a dissatisfaction with the direction of the federal government, which is a little ironic considering the fact that the GOP currently controls the House and the Senate. Their anger was reflected in the one-two finish of Cruz and Trump, arguably the two most anti-establishment candidates running. The photo-finish race between Clinton and Sanders (historically, one of the narrowest margins ever, although in 2012 Santorum beat Romney by just 34 votes) could also be interpreted as a thumb in the eye of politics as usual, too. Sanders' unconventional campaign (all small donations, no overtly negative advertising) paid off, at least in the short term.
The race is still too crowded
Democrat Martin O'Malley and Republican Mike Huckabee are the only casualties (so far) of the contest in Iowa. Despite some very poor showings, candidates like Jeb Bush, Rick Santorum, Carly Fiorina and yes, Jim Gilmore, aren't about to drop out, which could shape the races to come. Super PAC money appears to be propping up longshot contenders like Rand Paul, and the dissatisfaction with the current front-runners, particularly Cruz, could give several also-ran candidates a reason to stick around, which could only prolong the nomination process.
(Almost) everyone is descending on New Hampshire
After candidates spent several weeks canvassing all over Iowa (in Cruz's case, visiting all 99 counties), it's already yesterday's news. All of the major candidates, except for the Republican Iowa winner, will be making appearances in New Hampshire on Tuesday. It's still unclear what resources Cruz will devote to the state, but the fact that his first pit stop after Iowa is South Carolina could speak volumes. Meanwhile, Trump will try to regain momentum at a campaign rally later this evening in Milford, N.H. Will the new, more subdued Trump show up? That remains to be seen.