The campaigns and allies for three establishment presidential candidates – Jeb Bush, Marco Rubio and John Kasich – have spent a combined $47.5 million in TV ads in the 2016 race so far, according to ad-spending data from NBC News partner SMG Delta.
By contrast, the campaigns and allies for the three Republicans who have been leading or surging in the most recent polls – Donald Trump, Ben Carson and Ted Cruz – have spent just $2.9 million.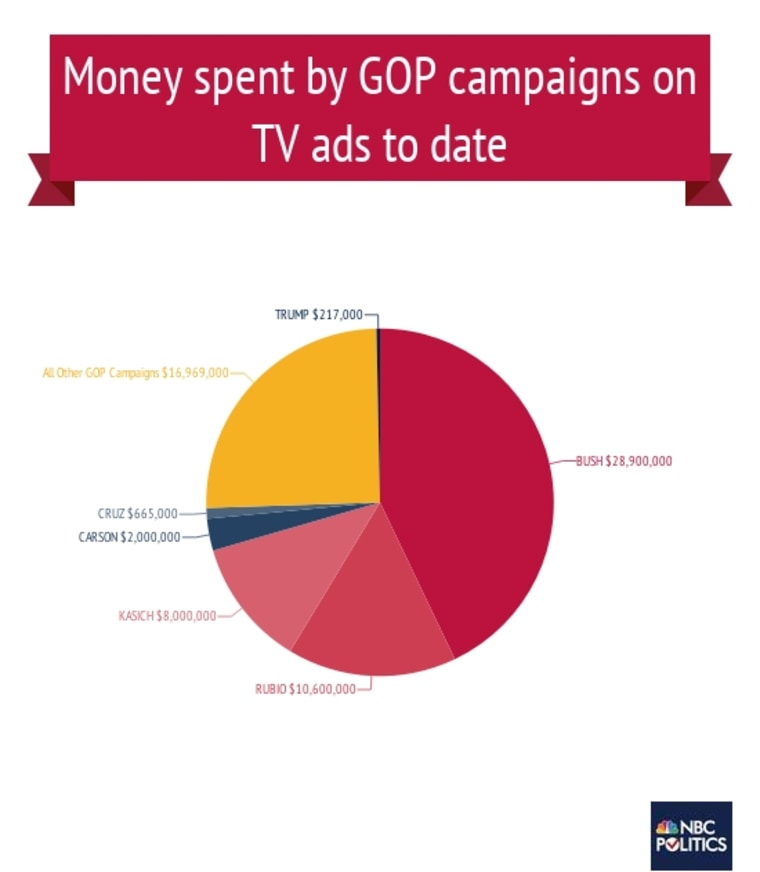 That's a 16-to-1 advantage that these establishment candidates have over their outsider rivals. (And it's more than 18-to-1 when you add another establishment Republican, Chris Christie, into the mix.)
But that ad-spending edge hasn't translated in the polls.
The biggest spender in TV ads has been Jeb Bush, whose Right to Rise Super PAC has spent more than $28 million, while his campaign has chipped in an additional $460,000. Bush, however, has been stuck in single digit in national and early-state polls.
The second-biggest spender has been Marco Rubio – with his campaign the outside groups backing him having shelled out $10.6 million. Unlike Bush, though, Rubio is in double digits in most polling.
Hillary Clinton, at nearly $10 million, is third-largest advertiser in the 2016 race, and she is leading the Democratic presidential race.
TV ad spending so far (through this week)
Team Bush: $28.9 million ($28.4M from Right to Rise Super PAC, $460K from campaign)
Team Rubio: $10.6 million ($8.5M from Conservative Solutions 501c4, $640K from Conservative Solutions Super PAC, $1.5M from campaign)
Team Clinton: $9.7 million ($9.5 million from campaign, $200K from Priorities USA Super PAC)
Team Kasich: $8 million (all from two outside groups)
Team Christie: $6.4 million ($6M from America Leads Super PAC, $400K from campaign)
Team Sanders: $4.9 million (all from campaign)
Team Carson: $2 million ($1.9M from campaign, $73K from 2016 Committee outside group)
Team Paul: $869,000 ($743K from America's Liberty Super PAC, $125K from campaign)
Team Cruz: $665,000 ($462K from campaign, rest from Super PACs)
Team Trump: $217,000 (all from campaign)
SOURCE: NBC/SMG Delta