Evan McMullin, who serves as the chief policy director for the House GOP, is launching an independent bid for the White House. His conservative candidacy could revive the opposition that anti-Trump Republicans have expressed toward their party's nominee.
In a statement explaining why he decided to pursue the presidency, McMullin on Monday wrote that Democratic candidate Hillary Clinton is a "corrupt career politician" while Republican contender Donald Trump "appeals to the worst fears of Americans at a time we need unity." He maintained that with the high stakes of this election, he could not afford to be a bystander.
"Our country needs leaders who are in it for the right reasons and who actually understand what makes this country the greatest on earth," McMullin said in the statement. "Leaders who will unite us and guide us to a prosperous, secure future, beyond the dysfunction of a broken political system."
Can it actually be done, though?
Here are five facts to know about McMullin's independent candidacy.
1. He is a vocal critic of Trump.
A supporter of the Never Trump movement, McMullin has taken on the presidential nominee throughout the election cycle via Twitter. He has categorized refusing to support Trump as a matter of "putting power over principle." In a July 21 tweet, he dubbed Trump an "authoritarian" who exploits "promises of law & order" to "consolidate control by force." McMullin also has joined ongoing calls for Trump to release his tax returns "immediately" to build transparently.
2. McMullin has never held elected office.
Although the anti-Trump conservative has never been elected to office, he was an operations officer for the Central Intelligence Agency from 1999 to 2010, according to his LinkedIn profile. He then worked as an investment banking associate at Goldman Sachs for three years. In 2013, he assumed a senior advisor position for Republicans at the House of Representatives. Two years later, he became chief policy director for the House GOP, his current position. McMullin attended Brigham Young University for his bachelor's degree and earned an MBA from the Wharton School at the University of Pennsylvania, the same school where Trump completed his undergraduate work.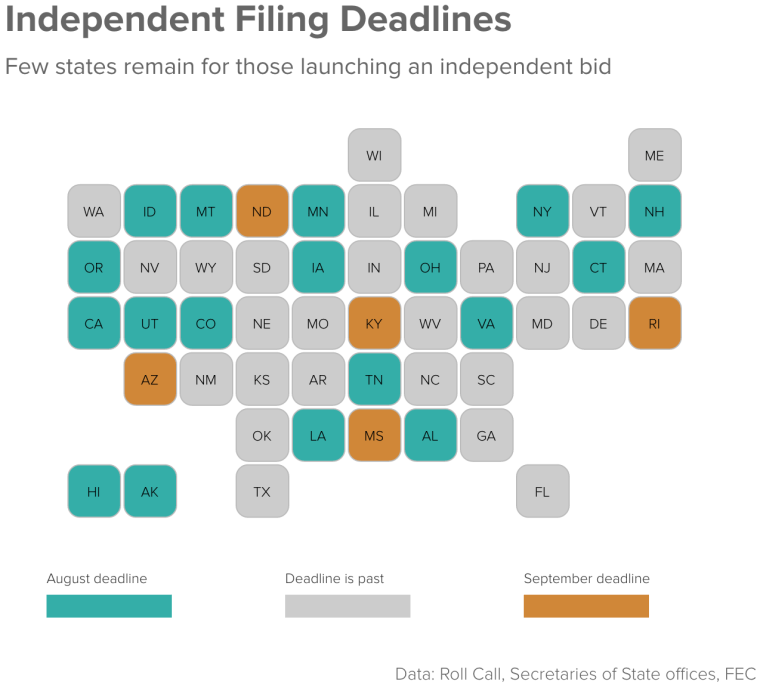 3. He appears to be the first Republican to go through with mounting third-party bid.
While McMullin seems to be the first Republican to go through with pursuing an independent bid, he is not the first one to consider it. David French, who writes for the conservative publication National Review, contemplated running for president before deciding against it in June. French said at the time that while the "independent path is wider than people understand," he did not believe he was "the right person to walk it."
4. Making it on the ballot is pretty unrealistic.
The deadline to get on the ballot has already passed in 26 states that have a total of 294 electoral votes. Translation: the most electoral votes any new candidate could get are 244, short of the 270 needed to win the presidency.
MSNBC's Joe Scarborough said Monday on "Morning Joe" that unnamed sources told him that the independent candidacy could be "well-funded" and attempt to get on the ballot in between 20 and 30 states.
"They still believe they can go past the 270 threshold, so this person will be able to be in debates," Scarborough said. "But certainly it is aimed, I believe — and this is just my conjecture, based upon the people I've been speaking with — that this has more to do with stopping Donald Trump than actually electing the president."
5. McMullin does not have considerable name recognition thus far.
While McMullin's social media presence is gaining more traction — above 18,000 followers at the time of this article's publication — many conservative commentators and journalists still predict an uphill battle.