Actress Ellen Page engaged in an extensive, six-minute back-and-forth with Republican presidential candidate Sen. Ted Cruz at the Iowa State Fair on Friday over the potential impact of religious freedom legislation on the LGBT community.
Page — who starred in movies including "Juno" and "X-Men" — came out as gay last year. She now hosts the Vice Media show "Gaycation."
The actress addressed Cruz as he stood behind a grill with a pork chop in hand, a tradition for presidential candidates at the fair.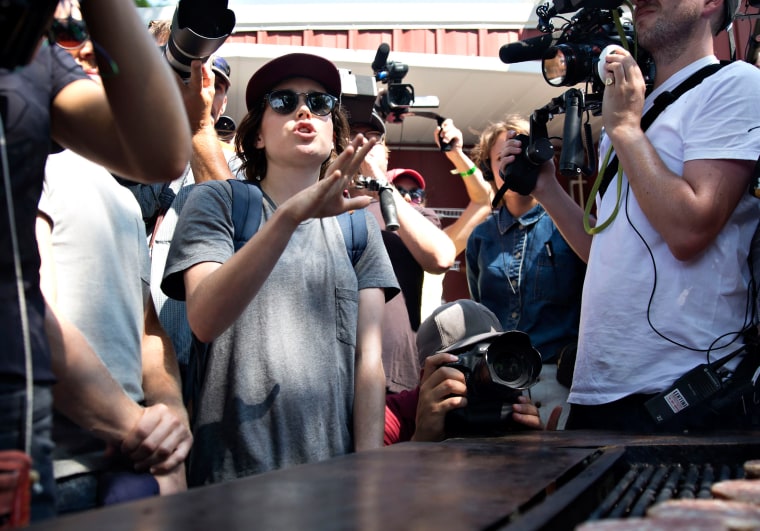 Page pushed back against what she said is an interpretation of religious liberty that other generations used to defend discrimination.
"In the past during the segregation era or when women were trying to get the right to vote, religious liberty was often used to defend and justify that discrimination," Page said.
"So a lot of people in the LGBT community have fear because of past examples that that's what's going to happen," she said.
Cruz responded: "If you look at the history of defeating slavery, if you look at the history of defeating Jim Crow, it was leaders of the church that played critical roles," Cruz said. "Reverend Martin Luther King stood up against — you know, you read the letter from the Birmingham jail, where he calls upon the conscience of Christians to stand up."
Later, Cruz insisted, "We're seeing Bible-believing Christians being persecuted."
Page cut off the U.S. Senator from Texas: "For discriminating against LGBT people."
Cruz followed: "No, for living according to their faith."
And Page countered: "Yeah, but people would use that argument in the segregation era."
Cruz suggested a gay florist should be able to decide whether he or she wants to provide flowers for an Evangelical Christian couple's wedding if they request them.
Page responded, "They should provide the flowers."
After a spring that saw a terrific national debate over states' Religious Freedom Restoration Act legislation, Cruz is making the efforts a forefront of his presidential campaign, announcing religious liberty as one of his major campaign issues during his soap box speech on Friday morning shortly before his exchange with Page.
"There is this liberal intolerance that says that anyone that dares follow a Biblical teaching of marriage that is the union of one man and one woman must be persecuted, must be fined and must be driven out of business," Cruz told Page.
The Republican candidate hosts on Friday evening a "Rally for Religious Liberty" in Des Moines with the Christian band "Newsboys" playing at the event.