For months, Republican elders cautioned Donald Trump that his wild-eyed approach was dragging down his general election campaign. In reshuffling his top staff, Trump offered an emphatic response: Don't tell me what to do.
By installing Breitbart executive Steve Bannon as campaign CEO and veteran pollster Kellyanne Conway as campaign manager, the GOP nominee is recommitting to the dark anti-establishment message that worked in the primaries but has so far turned off the general electorate.
In doing so, he's placing a campaign-defining bet on his raw political instincts to dig him out of a polling slump that's seen Clinton seize a significant lead nationally and in key swing states.
"The move is clearly to let Trump be Trump," a campaign source told NBC News. "You're not going to change him, you can't moderate him, but you can sharpen his messaging."
A second source within the campaign said the expansion of staff stems from Trump's displeasure at how his campaign has been run and with internal efforts to rein in his freewheeling message.
"He has been deeply unhappy for weeks," a source who agreed to speak anonymously to discuss internal discussions told NBC.
Trump's campaign has long been characterized by a struggle between voices pushing Trump to adopt more traditional campaign tactics and those pushing a "let Trump be Trump" mantra. The former path was personified by Paul Manafort, who was brought in to professionalize the campaign in March, and the latter by former campaign manager Corey Lewandowski, who clashed with Manafort and eventually was forced out.
Despite Lewandowski's ouster, though, Trump never became comfortable with the concept of a general election "pivot" to tighter scripts and outreach to voters outside his loyal circle of fans. He dismissed the idea of major changes in interviews and regularly ad-libbed his way into controversy, most notably his feud with the family of the late soldier Capt. Humayun Khan and his brief refusal to endorse Speaker Paul Ryan and Senator John McCain in their respective primaries.
Related: What Trump's Latest Campaign Shake-Up Means
Over the last two weeks, concerned members of Trump's inner circle plotted an intervention to try and convince Trump that he needed to mount a more traditional campaign with a more disciplined approach to attacking Hillary Clinton and appealing to swing voters.
Trump heard them out and then staged a campaign intervention of his own in the opposite direction after concluding, as the campaign source recalled him saying, "the guys in New York don't know what they are doing."
"This is him finally embracing the fact that he knows better than they do," the source concluded.
In some ways Lewandowski and his more permissive advice never left: Trump still talks to him daily, according to four sources.
From his perch as a CNN commentator, Lewandowski has cheered on the campaign and occasionally undermined Manafort, even suggesting at one point he step down over plagiarism in Melania Trump's convention speech.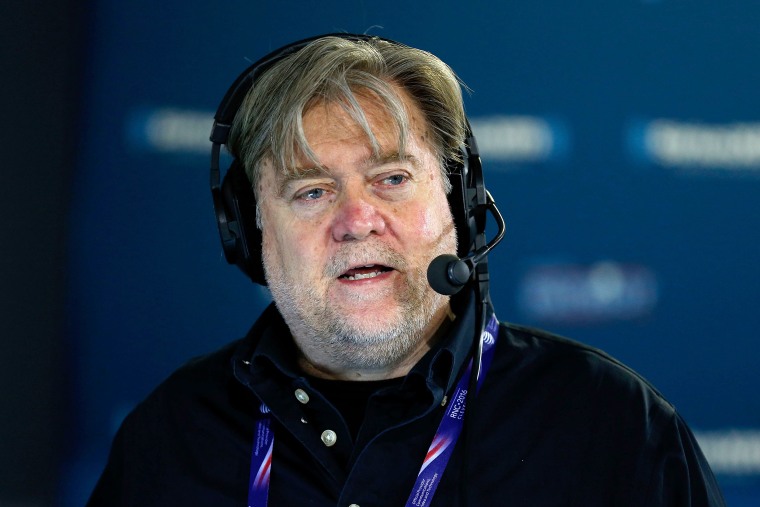 Like Lewandowski, Bannon seems unlikely to push for retreat when Trump inevitably walks into another media firestorm. Under his watch, Breitbart has cheered the nominee on at every step of his run while pushing no-holds-barred attacks on his opponents in line with the candidate's own approach.
When Breitbart staffer Michelle Fields complained Lewandowski had manhandled her at an event, Breitbart itself published a story accusing her of mistaking Lewandowski for someone else before security footage disproved the theory. When Trump fought with the Khan family, Breitbart published articles accusing Khizr Khan of vague associations with Islamic radicalism.
And when Republican leaders hounded Trump over his initial failure to endorse Ryan, Breitbart published articles with headlines like "Paul Ryan Bows Down To Nationalist Populism As His Career Flashes Before His Eyes." Now, as Trump jabs at Clinton's "stamina" this week, Breitbart is churning out articles pushing paper-thin conspiracy theories about the Democratic nominee's health.
Related: Meet Team Trump's New Bosses
"Hiring Bannon is a sharp pivot to the dark side for Trump," conservative radio host Charlie Sykes said. "We can expect more gratuitous insults, conspiracy theories, and attacks on the media, critics, other Republicans, and the kinds of viciously personal attacks on Hillary that could end up backfiring by making her an object of sympathy."
Bannon's arrival comes as Trump is increasingly obsessed with unsubstantiated plots by corrupt forces to derail his campaign. In recent weeks, the nominee has -- without evidence -- warned of a "rigged" election, speculated the Obama administration will delay an upcoming enrollment period for health insurance to swing the race, accused the president of bribing New York's attorney general to launch a lawsuit against the now-defunct Trump University, and accused Clinton of bribing the United States Attorney General to avoid criminal prosecution despite the FBI's recommendations not to pursue charges.
Outside the campaign, many Republicans critical of Trump interpreted Bannon's entry as an obvious concession to the nominee's worst political behavior.
"Hiring Bannon to run the campaign in the midst of its crisis is insane," Republican consultant Rory Cooper said. "Trump needs a 75 day plan. He needs a political ground strategy. He needs an organization. Instead he's bringing in someone who will encourage him to speak to the same ten people who have supported him from day one."
"Trump's entire goal is to win the votes of his 13 million primary votes a second time," Matt Mackowkiak, a GOP strategist, tweeted bitterly in response to the news.
Others saw it as a necessary reboot. Citizens United president David Bossie, who said he introduced Bannon and Trump in 2011 when the nominee was exploring a presidential run, described the changes as a positive move.
"There's a group of people who want to see a very scripted Donald Trump because they feel that's a better way to go, but that's not who Donald Trump is and didn't win him the nomination," Bossie said.
He added that Trump was "clearly" unhappy with Manafort's management, which Bossie said produced more missteps than happened on Lewandowski's watch.
Publicly, the Trump campaign pushed back against the notion that the Bannon and Conway moves represented a major shift away from Manafort. Instead, they framed it as an expansion that would split responsibilities into more manageable chunks. Manafort himself called it an "exciting day" in a campaign memo.
"It's the busy home stretch to Election Day, and we just need to sort of beef up the senior level roles in a way that we are, you know, dividing and conquering," Conway told Fox News on Wednesday.
Republicans outside the campaign are hoping in particular that Conway, a respected and experienced pollster, will serve as a soothing good cop to complement Bannon's more pugilistic bad cop.
"The Kellyanne promotion was essential," GOP strategist John Feehery said. "The Bannon thing was shocking. Obviously Trump wants to run as an outsider and this confirms that he has no interest in trying to please the establishment in any way, shape or form."
Under the new roles, Conway will travel with Trump day-to-day, giving her a chance to try and keep him on message between events. Two campaign sources predicted she would be a "calming presence" who could say "no" to Trump when he needs it.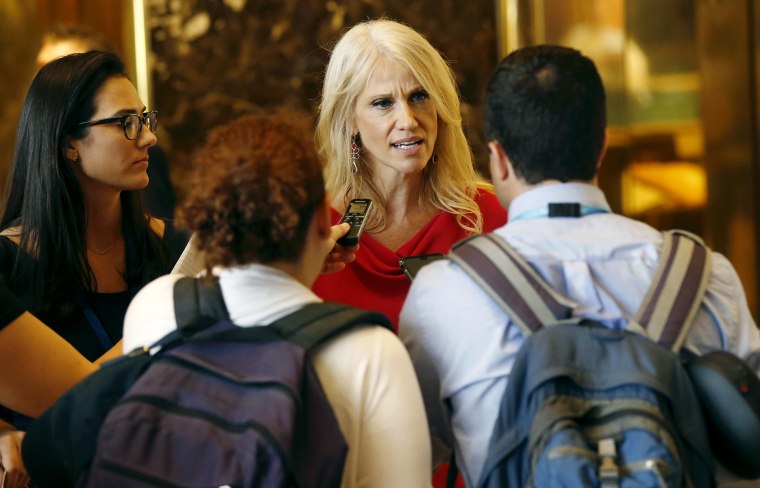 Bannon, by contrast, will be tasked with finding the "big ideas" that Trump will use to frame the race, according to sources within the campaign.
As for Manafort, who never officially served as Trump's campaign manager, he is still expected to operate as a liaison between the campaign and Republican supporters in Washington. Roger Stone, a longtime adviser to Trump who is close to Manafort, indicated in an interview with Miami radio station WIOD that both he and Manafort favored the changes.
Looking to smooth the transition, Bannon also phoned the RNC, according to a source with knowledge of the call, to reassure them he would cooperate despite his site's penchant for bashing GOP leaders. There's little the RNC can do either way: They depend on Trump to raise funds for their down-ballot operations as well.
But not everyone was so sanguine. "All I can say is wow," one Manafort ally told NBC News, attributing the change to Trump's failure to appreciate his campaign chair's "sophistication."
"The only positive spin I can put on [the changes] in my mind is that somehow Trump realizes that New York has to have its own culture and that Washington needs Paul, because that's really where he's more comfortable," the source reasoned. "Then he gets the best of both."
A senior Trump adviser described the candidate as "apathetic" towards Monday morning quarterbacking from Washington Republicans, and more determined than ever to cement his outsider brand.
Trump's public statements point to a more combative approach. He told a Wisconsin crowd on Tuesday night that "I'm fighting, all of us across the country are fighting, for peaceful regime change in our own country," adding, "the media-donor political complex that's bled this country dry has to be replaced with a new government of, by, and for the people."
"I don't want to change," he said in an interview with WKBTV the same day. "Everyone talks about 'Oh well, you're going to pivot, you're going to' — I don't want to pivot. I mean, you have to be you. If you start pivoting, you're not being honest with people."
NBC News' Leigh Ann Caldwell contributed to this report.