COLUMBUS, Ohio — Amid yet another cloud of controversy, Donald Trump took the stage here Monday night, ready to drum up some more.
Speaking to a crowd the campaign would only describe as "thousands and thousands" strong, Trump nailed rival and hometown Governor John Kasich (whom he incorrectly called Kay-sitch instead of Kay-sic) right off the bat — "I heard he was dropping out — before drilling down on his promise to be tough on national security, saying he would approve water boarding again "in a heart beat."
"You bet your ass" he roared, "I would approve that and more ... if doesn't work, they deserve it anyway."
Trump is flying high off new weekend polls that show the billionaire with a double-digit lead over his nearest competitor, Dr. Ben Carson.
PHOTOS - On the Stump: Donald Trump's Presidential Campaign
The front-runner is now acting invincible — he even told NBC News in a phone call that he has "the world's greatest memory" — despite intense push back on his latest claims, including that "thousands and thousands" of U.S. Muslims were cheering in Jersey City, N.J., after the Twin Towers came down on 9/11.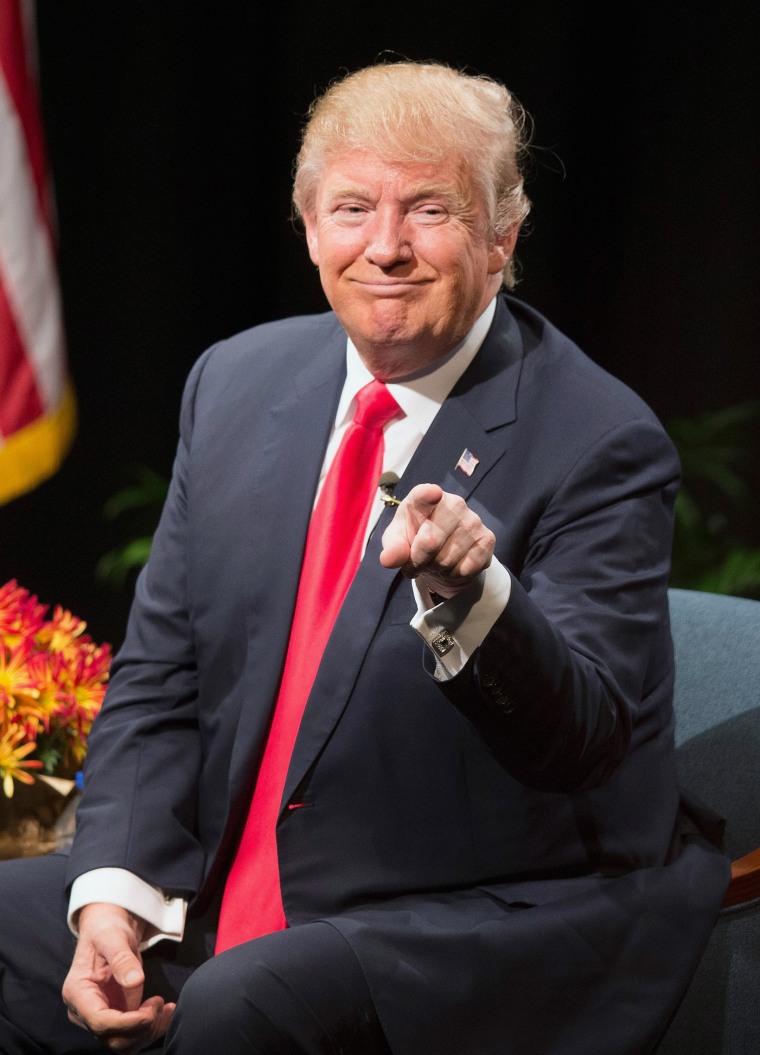 But in Ohio, Trump pressed on. Pounding the crowd with "evidence" from a Washington Post article dated September 18, 2001, which he read aloud in part:
"In Jersey City, within hours of two jetliners' plowing into the World Trade Center, law enforcement authorities detained and questioned a number of people who were allegedly seen celebrating the attacks," he said.
On Monday the reporter of that article, Serge Kovaleski, told MSNBC's Steve Kornacki the paper spent a lot of shoe leather reporting in and around Jersey City at that time.
Kovaleski conceded much has faded from memory, but said "I do not recall anyone saying there were thousands, or even hundreds, of people celebrating."
No matter, Trump told the potential voters the paper would probably say they made a mistake, or "find some reason to call it a typo"
But in a sign the campaign and Trump himself may be at least a little concerned about the way his comments are perceived, the Donald made an impromptu call to NBC News Monday afternoon.
Offering reassurance that he had indeed seen video of the celebrations on television on and "all over the Internet," Trump said, "I have the world's greatest memory. It's one thing everyone agrees on."
Truth or lie, supporters lining up for Monday's rally told NBC News it didn't matter.
"The only thing I can say and I don't think its bad because it is a human trait, there might have been a slight exaggeration," said Richard Snowden of Nashville, TN who travelled to Ohio to see Trump for the 9th time this political season. "For the most part I don't think it's a criminal offense."
Michaelene Clevenger of Columbus also admitted Trump may "bend the truth" and that there are things about him that she wished he wouldn't say, "but the bottom line is he will get American great again."
Chuckling to himself, Rick Spring explained he was laughing "because when the media asks questions about him [Trump] bending the truth" he thinks about Washington, D.C.
"There's never been more truth bending in our lives," he said.
"The American people still love him because he listens to [them] and he's trying to everything he can to be in [their] corner. Period."
The GOP frontrunner also went further on his comments about waterboarding, telling the crowd – that Secret Service estimated was about 14,000 — "you bet your ass I would" approve waterboarding. "In a heartbeat."
Citing the gruesome tactics employed by ISIS, including beheading and use of cages, Trump said he would "approve more than [waterboarding]" assuring the crowd "don't kid yourself, folks, it works. It works. Only a stupid person would say it doesn't work. It works."
Of course, a 2014 Senate Torture report brought to light information that showed waterboarding was not effective in eliciting information from prisoners.
But "even if it doesn't work, they deserve it anyway for what they're doing," Trump said.
Someone who was turned off by Trump's words Monday night was Ohio Republican Party Chair Matt Borges.
He told reporters after, as well as reiterated in an online statement, that he urged Trump backstage not to go after the governor during his speech.
"One crowd, one poll pales in comparison to a governor (Kasich) who has worked for the past five years to pull our state out of the doldrums, solve a projected $8 billion budget shortfall, add nearly 380,000 jobs to the economy and cut taxes by $5 billion," Borges said in a statement after the Trump rally.
When news of Borges' comments reached the Trump campaign, one of Trump's senior advisors Dan Scavino tweeted, "so much for @GOP Chair (Ohio) remaining 'NEUTRAL' 2all republican presidential candidates. Why have pledge?" he finished, tagging RNC Chair Reince Priebus in the tweet.