Voting rates in pivotal North Carolina are down so far from 2012 in nearly all the counties that cut early voting locations, a new analysis shows.
The numbers follow reports of long lines at polling sites in several places across the state. Some Charlotte voters said they waited three hours to cast a ballot Thursday.
The voting drop-off and the long wait times may bear out recent concerns that the controversial Republican-backed cuts to early voting, in combination with other voting changes and population growth, could restrict access to the ballot in some areas.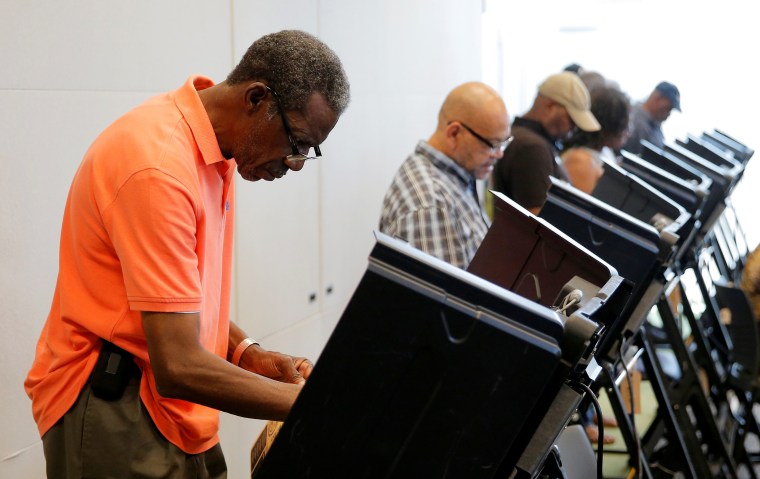 Seventeen North Carolina counties reduced the number of early voting locations from 2012. Of those, fifteen saw lower in-person turnout in the first two days of early voting in the state, Thursday and Friday, according to an analysis by Michael McDonald, a University of Florida political science professor and a leading authority on voting rates.
Several of those counties, including Mecklenburg County, the state's largest, saw only modest drop-offs. But in at least six, the in-person voting rate declined by around 50 percent, McDonald found. And Guilford County, home to the predominantly African-American city of Greensboro, cut early voting locations from 16 to just one. It saw in-person voting decline from 21,560 votes in the first two days of the 2012 voting period to just 3,295 this year—a drop off of roughly 85 percent.
Most of the counties that added early voting sites or kept the same number saw increased turnout, McDonald found. The contrast appears to offer evidence that reducing voting locations can lead to lower turnout.
In Charlotte, which is in Mecklenburg County, some voters said they stood in line for three hours on Thursday, according to local reports. One man, deterred by the wait, left and returned in the afternoon, only to find the line longer than it was the first time. A woman told a reporter she would have to leave without voting, but would try again Sunday.
Twitter users posted pictures of long lines in several other places, including Durham County and the Chapel Hill area.
In July, a federal appeals court struck down the heart of North Carolina's restrictive 2013 voting law, finding that it targeted African-Americans "with almost surgical precision," and the U.S. Supreme Court in August deadlocked over reinstating it.
The ruling ensured that the state would offer 17 days of early voting, but it meant county election boards, which are currently controlled by Republicans, could decide for themselves on the number of locations and hours offered. After the head of the state GOP sent an email urging counties to cut hours and locations in order for partisan gain, many did so.
A state board blocked some of the most restrictive plans, and total early voting hours across the state are up from 2012.
Still, voting advocates have pointed to two additional factors that they could still cause problems. The first is that the 2013 voting law eliminated straight-ticket voting — a time-saving device in which voters can press one button to select all of a party's candidates. That provision of the law wasn't challenged in court.
Around 56 percent of North Carolina voters used straight-ticket voting in 2012, and it was particularly popular among African-Americans, many of whom are loyal Democrats. The loss of straight-ticket voting, advocates fear, could greatly increase the time it takes to vote, and add to wait times, especially in heavily minority precincts.
In addition, North Carolina's population has grown rapidly, even since 2012. Between July 2014 and July 2015, the state added over 102,000 people, more than all but five other states. Much of that growth has been in the Charlotte and Raleigh metro areas, which are Democratic strongholds.
North Carolina is among the most crucial states for this year's election. It's tightly contested in the presidential race, where polls show Hillary Clinton holding a slim lead over Donald Trump. It's also playing host to a competitive Senate race that could determine control of the chamber, and a close governor's race.