A pair of outside groups opposing Donald Trump have spent almost $1.7 million on TV ads in Wisconsin to try to halt Trump's momentum before the state's primary next Tuesday.
The ad buys by Our Principles PAC ($865k) and anti-tax organization Club for Growth ($801k) combine to make the anti-Trump effort from conservative outside groups the biggest spender to date in the state's presidential contest.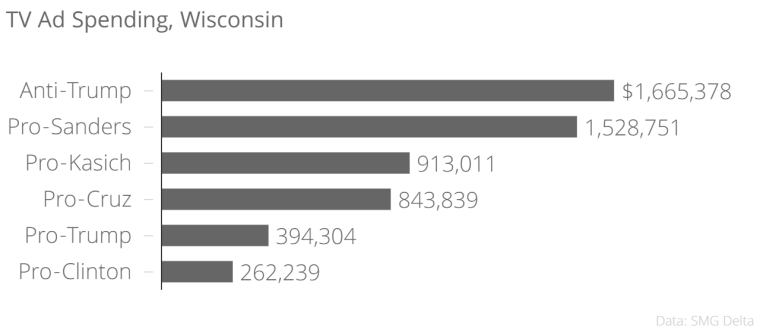 Bernie Sanders' campaign is also spending big on the airwaves, shelling out about $1.5 million, compared to just about $262,239 for Hillary Clinton's campaign so far.
Donald Trump's campaign has spent about $394,000 on ads in the state, less than half of the amounts spent by John Kasich and his backers ($913k) or by Ted Cruz's combined campaign and super PAC ($844k)
Here are the total amounts spent in Wisconsin to date:
Total anti-Trump outside groups: $1.7m
Our Principles PAC - $865k
Club for Growth $801k
Total pro-Sanders: $1.5m (all from campaign)
Total pro-Kasich: $913k
Campaign: $441k
New Day for America (total): $472k
Total pro-Cruz: $844k
Campaign $502k
Trusted Leadership PAC - $342k
Total pro-Trump - $394k (all from campaign)
Total pro-Clinton - $262k (all from campaign)
SOURCE: SMG Delta