Republicans in multiple states complained Sunday night of "intimidation" tactics from party leaders who they said seemed aimed at preventing a revolt against presumptive Republican nominee Donald Trump at the party's convention next month.
A North Carolina delegate said the delegates in her state "are very much under direct threat from our state with a $10,000 fine," adding that she had been "threatened" by the state GOP "vice-president" over Facebook and asked about the possibility of a legal fund being established to defend them.
"I think that that's definitely going to affect very many people who are not going to be willing to step up in front of the committeemen" and contest votes for Trump at the convention, she said.
She also noted that delegates in Arizona are required to sign a pledge committing to vote for Trump or they'll be barred from the convention.
A man who identified himself as a candidate for the statehouse in Arkansas said he had been called a "threat, a coward, a communist" because he refused to support Trump.
Republican Party chairmen in North Carolina and Arizona confirmed to NBC News that their parties do, in fact, have rules barring delegates from voting for any candidate other than the one to whom they're bound.
Former North Carolina GOP Chairman Claude Pope couldn't remember when the rule was passed, while Arizona GOP Chairman Robert Graham — who appeared at a rally with Trump this week in his state — noted that the rule was in place for the last few convention delegations.
The concerns were aired on a 90-plus-minute nationwide conference call hosted by a group of grassroots conservatives hoping to oust Trump at the convention by passing a rule change to allow delegates to vote their consciences.
Related: Campaign to Dump Trump at Republican Convention Emerges
The call, which organizers said had nearly 1,000 people listening in, was intended as an informational session for convention delegates and other Republicans supportive of the cause.
The organizers of the effort, who are calling themselves "Free the Delegates," acknowledged the threat of a backlash, but they encouraged delegates on the call to "do the right thing, not necessarily the easy thing," as Colorado delegate Regina Thompson, a spokeswoman for the group, put it.
"We want you to be proud to tell your children and grandchildren that the person we have nominated and are ready to elect as president is a moral person who will take seriously the oath of office. Will you be able to tell them that you were not afraid of public opinion or party leaders?" she asked.
Steve Lonegan, a spokesman for Courageous Conservatives PAC, an outside group supporting the effort, said the group is raising money "to provide you support should you be threatened on the state level with some form of retribution."
The PAC also plans to pay for staff and to establish a "command center" at the convention to help whip votes for the rule change and strategize on the convention floor.
Lonegan encouraged Republicans listening in to get the word out by calling in to talk radio, writing letters to the editors of their newspapers and calling their own delegates to encourage them to vote for the change.
It was clear on the call that there was plenty of interest in the effort — but lots of details still to be hammered out.
It's no small task to change Republican National Convention rules — first, 57 of the 112 Rules Committee members must vote in favor; then, a majority of the more than 2,400 delegates at the convention must vote for it.
Trump has dismissed the effort, calling it a "hoax" and "illegal" at a campaign rally Saturday.
Related: Trump Tells Phoenix Crowd: 'I Feel Like a Supermodel
Kendal Unruh, a Rules Committee member from Colorado and leader of the effort, told those on the call that if they managed to get it through the Rules Committee, she's confident it'll easily pass.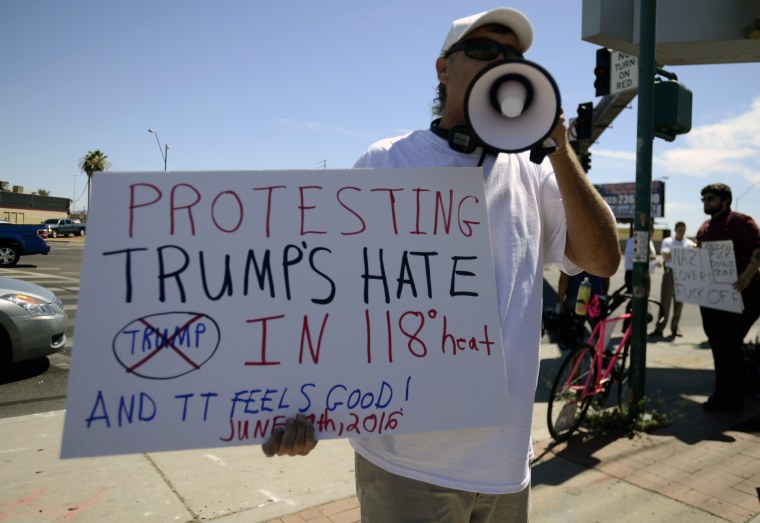 "It's just kind of an easy sell. And I don't think that there's going to be enough organized resistance on the other side to defeat it," she said.
But the group still has a long way to go. The website it launched Sunday was still missing key information, like state-based contacts and talking points for supportive Republicans hoping to persuade delegates to vote for the change.
The part of the site collecting information from supportive Republicans lacked a "submit" button.
In the question-and-answer session after the call, delegates expressed confusion over conflicting interpretations of the party's rules and the legality of voting against the presumptive nominee.
Lonegan acknowledged that they were starting from scratch.
"This has never been done before, so we're sort of writing the textbook and making calls on how to do it," Lonegan said.
But with four weeks to go, Unruh said, she is confident that there is enough momentum to ensure success.
"I'm just very glad that we've just all come together so quickly, because we have a monumental task to actually accomplish. But I will tell you the momentum that I have seen within the last week — it is just astonishing how fast this has come together," she said.
"We're going to be hitting our peak right at convention time."