Donald Trump's star on the Hollywood Walk of Fame was damaged again early Wednesday — but this time, the celestial symbol was smashed beyond recognition, video of the vandalism appears to show.
The star — located near Los Angeles' Dolby Theatre, where the Oscars are held — was defaced at around 5:45 a.m. local time, Deadline.com first reported.
A video obtained by the site shows a man in a construction worker's vest and surrounded by traffic cones and barriers using a pick-ax to pulverize Trump's pink terrazzo and brass star.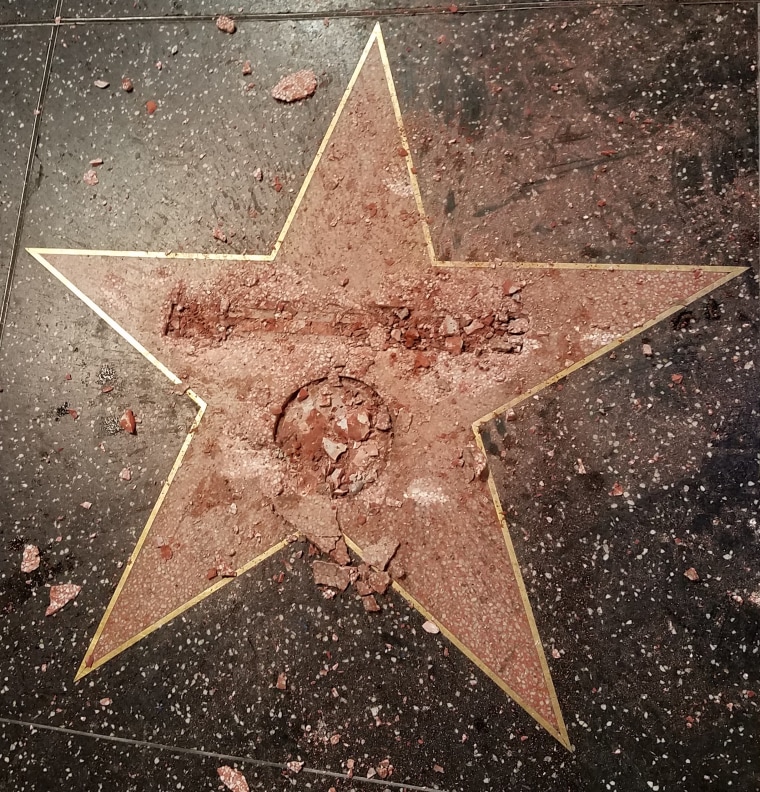 The man told Deadline that he was trying to remove the object so that he could auction it off in support of the nearly dozen women who have accused the GOP presidential nominee of sexual assault in decades past. Trump has denied all of the claims.
Los Angeles police told NBC Los Angeles it was investigating the vandalism and there were no immediate reports of an arrest.
Trump first received the star in January 2007, while he was still hosting his reality TV show, "The Apprentice."
Since running for president, the star has been targeted.
It was defaced with graffiti of a reverse swastika and a mute symbol. In July, an artist placed a miniature razor-wire wall around the star — a reference to Trump's campaign pledge to build a real-life wall along the U.S.-Mexico border.
In those past incidents, the markings were scrubbed off.
Trump's campaign did not immediately respond Wednesday to the repeated destruction of his Walk of Fame star.
A committee selects the celebrities who are granted a prestigious place along Hollywood Boulevard, where more than 2,500 stars are located. Money must be raised to pay for the plaques themselves, which cost $30,000.
But the Hollywood Chamber of Commerce said in a statement that Trump's defiled tribute will be repaired within the next several days.
"When people are unhappy with one of our honorees, we would hope that they would project their anger in more positive ways than to vandalize a California state landmark," said Leron Gubler, the chamber's president. "Our democracy is based on respect for the law. People can make a difference by voting and not destroying public property."