A British social campaign group says it will hire a plane to fly a banner over Donald Trump's Scottish golf course inviting him to visit local mosques.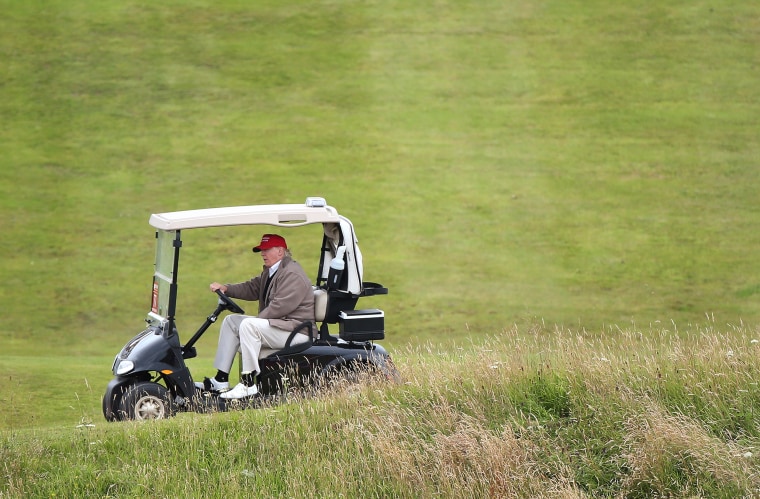 Petitions website 38Degrees said it is collecting signatures calling on the presumptive GOP presidential nominee to accept an invitation from Scottish mosques to learn more about Islam when he visits Scotland later this month.
"We have a proud tradition of celebrating all our different cultures. And so we call on Donald Trump to accept the invitation of Edinburgh's Annandale Mosque and Roxburgh Street Mosque to visit them and educate himself about Islam," 38Degrees said.
The petition, the group added, will be "handed in to Donald Trump's spokesperson in Scotland, and we'll hire a plane to fly a banner over his golf course to make sure he gets the message."
The website has already collected more than half its target of 2,000 signatures.
It was unclear when the petition was posted, but it came after Scottish mosques earlier this week invited the billionaire to learn more about Islam "before he makes another inflammatory speech."
Trump is expected to visit his Turnberry golf course and hotel in Ayrshire on Scotland's west coast to reopen it following a £200 million ($287 million) facelift.
The presumptive Republican presidential nominee has made a series of controversial remarks about Islam, including a call in December for a temporary ban on Muslims entering the United States following a deadly mass shooting in San Bernardino that officials said was inspired by ISIS.
"Muslims in Scotland and elsewhere are working together with people of all faiths to build understanding and peace across the world and tackle extremism," said representatives of the Annandale Mosque and the Roxburgh Street Mosque and Islamic Centre in a statement sent to Scotland's Herald newspaper.
"Before he makes another inflammatory speech, Mr. Trump should learn more about the Muslims that he offends almost every time he opens his mouth.
"We would welcome the opportunity to show him the work that we are doing in the community in Edinburgh when he comes to Scotland later this month."
After Christianity, Islam is the second-most common faith in Scotland according to a 2011 census, with 77,000 adherents out of a population of some 5.3 million people.